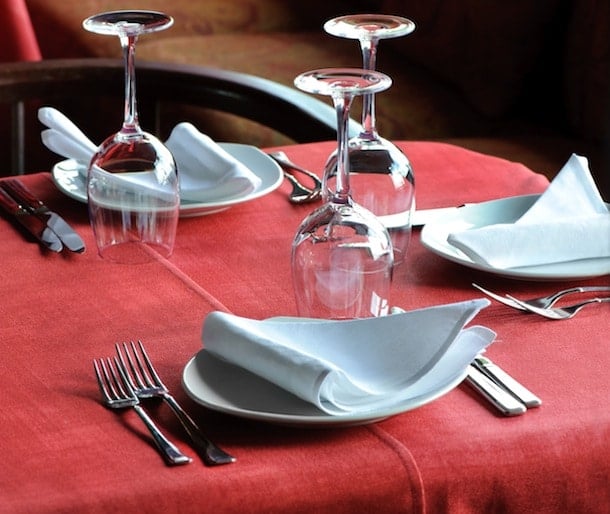 I got glutened. And it was my fault.
Let me explain.
Last Friday night, I met my friend (who also has celiac disease) for dinner. We went to PF Chang's and, coincidentally, ordered the same meal: egg drop soup and Spicy Chang's chicken.
When the chicken came, it felt too crispy to me. I asked my friend if she thought it was too crispy and her response was noncommittal. And, thus, I made a bad decision. I ate the chicken.
What I would advise anyone to do and what I normally do: Stop eating. Call the waitress over. Ask about the chicken.
What I did: ate the chicken. Prayed to all things holy and good that this was the one time I was wrong and that the chicken didn't contain wheat. (Of course it contained wheat. And, of course, I got sick the next day.)
There are lots of excuses–good excuses–I could give you about why I ate the chicken. I'd had a really rough week or My friend hates it when people make a scene in a restaurant or I couldn't "prove" that the chicken was coated with flour.
Honestly, and this part hurts to admit, I didn't want to deal with it. I really had experienced a rough week. I wanted to sit in a restaurant with my friend and eat. What I didn't want to do is have to advocate for myself for the umpteenth time. Call the waitress over. Make the scene.
Food allergies and celiac have shaped my life. In school, I was bulled mercilessly. Kids would taunt me that I couldn't sit with them at lunch. They'd tell me that they'd brought some food from home that would "kill me." As an adult, I had a professor at culinary school tell me that I was a wasting his time. He believed because I was food allergic, I'd never work in the food service industry. I've sat at restaurants and watched as servers roll their eyes at me. One time, a chef came out of the kitchen to yell at me when I asked about a panko-topped tomato that was included on my "gluten-free" plate.
I'm tired of having to be leery of a gluten-free label. I'm tired having to explain to a newly diagnosed celiac that just because it says gluten-free, doesn't mean it is gluten-free. I'm tired of having to tell people that eating out isn't a great idea when you have celiac disease–that it's a risk. I'm tired of not being able to trust that food included on a gluten-free menu is actually gluten-free.
And that brings me back to last Friday night at Chang's.
I rarely eat out. Why? Because I know what happens all too often behind the swinging door of a kitchen. I know that food allergies often aren't taken seriously, even by places advertising a "gluten-free" menu. At conferences and on my personal Facebook, I hear chefs and others mock diners who come in with an allergy request. And, yet, these restaurants seem fine with making money off gluten-free diners.
It irritates me to no end that I was clearly served a meal that wasn't gluten-free. This wasn't an error of accidental cross-contact. Someone coated my Chang's chicken with wheat batter, fried it, and then served it to me and said it was gluten-free.
Today, with a bevy of "gluten-free" menus popping up at restaurants this is an all too common occurrence. It's why I, and many others, recommend that if you have celiac disease you limit dining out. Repeated exposure to gluten for someone with celiac disease leads to increased rates of cancer, osteoporosis, infertility, and other serious health issues.
Yet, I hardly ever dine out and I got sick. So staying home didn't help me at all. (Staying home 100% would help but I'd like to eat out occasionally.) You know what would have helped me? Being served a gluten-free meal.
Here's a radical idea: if restaurants are going to put a gluten-free claim on a menu, they should be responsible for what goes on the plate. Without us telling them, they should understand cross-contact. They should maintain a kitchen that respects those with food allergies. They should do their job.
One of my beloved instructors at the Culinary Institute of America once told me, "Never forget, it's food service. We're here to serve people." When it comes to dealing with food allergies, to this day, I see very little "service." Imagine if a restaurant routinely served raw chicken to guests? If a guest had to say, "Now, I'm ordering the chicken. Will that be cooked to 165 degrees? You won't put the cooked chicken on the same cutting board as raw chicken, right? If you do that, I'd get sick. How about the salad? You didn't store the salad greens in the walk-in under pans of raw chicken did you? Because that would make me sick."
This is absurd to imagine. We trust restaurants to serve safe food. When they don't, we write them up for health code violations. However, it seems fine to serve an unsafe meal to someone with celiac and/or food allergies. Then, all too often, when a gluten-free diner complains, they get an insincere apology or are told that they are "dining at their own risk".
Now, of course, there are places that do a great job handling gluten-free meals. However, they are still the exception. If you're a gluten-free eater, I know you know this. We are still wowed when we get great service. They changed their gloves! They mentioned a dedicated fryer! They told me they use gluten-free soy sauce! The chef came out to the table and actually talked to me! I was treated like a person and not a huge bother. I didn't get sick, imagine that!
As it stands, I still don't trust "gluten-free" menus. Most restaurants make good money off the gluten-free community but do very little to actually ensure consistent, safe dining experiences.
I know that accidents happen and human error occurs. This is more than that. This is routine, unacceptable poor treatment.
I'm tired of it. And I'm really sorry I ate the chicken.