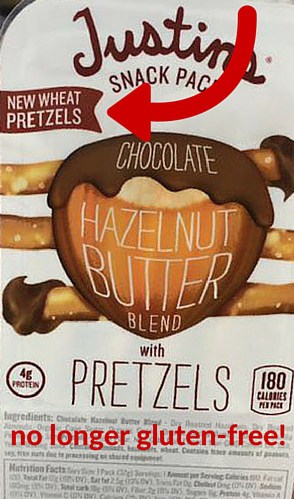 UPDATE: NO LONGER GLUTEN-FREE
May 10, 2016
Please NOTE: The Justin's Pretzel snack packs are no longer gluten-free! They now contain wheat pretzels. This applies to ALL of the snack packs with pretzels and nut butter.
This is another good reminder to always read ingredient labels, as products change often without warning.
UPDATE: NO LONGER AVAILABLE

. Justin's Almond Butter and Pretzel Snack Pack
Have you seen this new snack pack from Justin's? Did you realize it was gluten-free? Honestly, if I hadn't seen on Facebook that the pretzels contained in the package were gluten-free, I would have passed these by.
It's kind of like the reverse of hidden gluten. It's hidden gluten-free. Nowhere on my package do the words, "gluten-free" appear. For me, this is a miss. Lots of folks, especially those new to the diet, have no idea that the "gf" that appears on the lower left side of package is the symbol for a product certified by the Gluten Intolerance Group. You'd have to read the ingredients for the pretzels to notice that this is a gluten-free product.
Don't get me wrong. I'm really excited that these are gluten-free! Snack packs are a nice option to have. A small note about the gluten-free nature of the product, I think, would be helpful.
AnyWAY. They are gluten-free. So let's try 'em.
The Taste
Look how cute this is! I opened my pack and kind of expected that a pretzel or two would be broken. That always seems to happen with gluten-free pretzels. Happily, not one pretzel was broken.
That didn't last long. I picked up a pretzel, dipped it into the almond butter, and promptly broke the pretzel. You know how almond butter usually has a generous layer of almond oil sitting on top of it? That was absent in this almond butter. I'm sure it's so the oil doesn't leak out and make a mess. Without that oil, this is more like an almond paste than almond butter.
I loved the taste. The salty pretzel with the sweet-nutty almond butter was perfect. This one is kind of a simple equation. If you love gluten-free pretzels + you love almond butter = you are going to love this snack.
On my second attempt, now that I knew the texture of the almond butter was firm, I didn't break the pretzel. The almond butter did make dipping challenging. It was more of a stab than a dip. By the end of the package, I quit trying to dip and just dug out the almond butter with a spoon and ate the pretzels separately.
The size of the package felt just right. It wasn't too big but it didn't leave me starving either.
The Ingredients
You know how gluten-free and food allergic folks ALWAYS have to read labels? Justin's makes this challenging by printing the ingredients in light gray. Gah! Here they are in case you can't read them in that picture. (It's just as hard to read in real life.)
Maple Almond Butter – Dry Roasted Almonds, Maple Sugar, Palm Oil, Sea Salt.
Pretzels – Corn Starch, Potato Starch, Rice Flour, Soluble Corn Fiber, Palm Oil, Salt, Sugar, Cellulose Gum, Soy Lecithin, Sodium Bicarbonate, Yeast Extract, Sodium Acid Pyrophosphate, Citric Acid.
As you can see, the almond butter contains palm oil. Has Justin's almond butter always contained palm oil? I seriously don't remember it containing palm oil before but maybe I'm forgetting. (I tend to make my own almond butter now that I have a BlendTec. More about that in another post!)
The Cost
Yikes. One package costs $1.99. I got them at Target and when I looked these up online for this review, I found that they are only being sold at Target. I'd hoped to see these at gas stations or other places where convenience foods are sold. If you want them, you're going to have to head to Target. Also, they are only sold individually. This is one of those things that I'd buy in a five pack or something. If you wanted to eat one a day at work, it would cost you $10.00 per week. For me, that's too much.
Overall
Grade: C