Print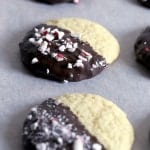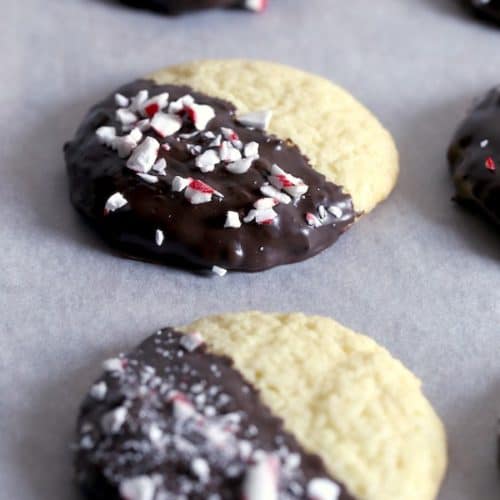 Gluten-Free Peppermint Bark Cookies
Glutino's Sugar Cookies make the base for these peppermint bark cookies. To make life easy, I like to dip the cookies into Merckens Dark Chocolate Coating. This way, I don't have to worry about tempering the chocolate. If you use regular dark chocolate, store the cookies in the refrigerator.


1

(15 ounce)

box Glutino's Sugar Cookie Mix

6

tablespoons

butter, softened

(3 ounces; 85 grams)

2

large

eggs

(3 1/2 ounces; 100 grams)

1

teaspoon

vanilla extract

4 to 5

standard size peppermint candy canes

crushed

1

pound

Merckens Dark Candy Coatings or 1 pound dark chocolate

chopped or (see note above)
Preheat oven to 350 degrees F.

In a large bowl, cream butter until light and fluffy. Add cookie mix. Blend to combine. Mixture will look dry and sandy. This is normal. Add eggs and vanilla. Mix until a soft dough forms.

Drop dough, about 1 tablespoon each, onto a parchment-lined baking sheet. Space dough about two inches apart as cookies spread during baking.

Bake cookies until the edges are golden brown, about ten minutes. Remove cookies from oven and allow to cool on the pan for about three minutes. Transfer cookies to a wire rack to cool completely.

Once cookies are cool, melt the chocolate. Place the chocolate into a 2 cup glass cup. Microwave for 30 seconds. Remove chocolate from the microwave and stir. It won't look melted at this point. That's fine. Stir it anyway. Repeat until chocolate has melted.

Dip cookies into chocolate and place onto a parchment-lined baking sheet. Immediately sprinkle cookie with crushed candy canes. If you are using candy melts, allow the cookies to set up at room temperature. If you are using dark chocolate, place the cookies in the refrigerator to harden.

Store cookies in an airtight container for up to one week.
Gluten-Free Peppermint Bark Cookie Variations
Double Peppermint Add a few drops of pure peppermint oil to the dark chocolate before dipping the cookies. Pure peppermint oil is strong. Add a drop or two (seriously, use an eyedropper) and stir. Taste the chocolate. Add more peppermint oil if needed.
Double Chocolate 
Add one cup chocolate chips to the cookie dough before baking. Stir in the chocolate chips with a wooden spoon after the dough has come together.