Print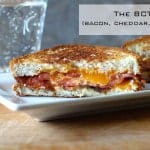 Gluten-Free BCT (Bacon, Cheddar, and Tomato Sandwich)
This recipe is a guide. Adjust it to make as many sandwiches as you need.
butter

gluten-free bread for as many sandwiches as you want to make. You need two slices of bread per sandwich

cheddar, about one ounces per sandwich

smoked bacon, two slices per sandwich, cooked

thin tomato slices, about two per sandwich
Butter two slices of bread generously. Heat nonstick griddle pan (or large nonstick skillet) over medium heat. Place the bread, butter side down, onto the pan. On one of the slices of bread, sprinkle the cheese. Place the tomato slices directly onto the pan for about 20 seconds. Just long enough to warm the tomatoes. Transfer the warm tomatoes directly on top of the cheese. Top with bacon. Peek under the bread, using a spatula to lift. When it just begins to brown, top with the second slice of bread. Flip the sandwich. Press down firmly with a large metal spatula. Cook until cheese melts and bread browns.

Remove from pan, cut, and enjoy.