Print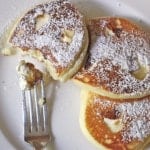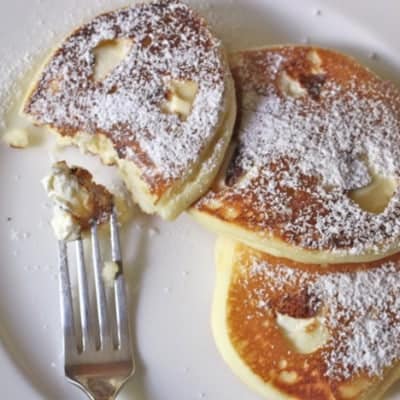 Gluten-Free Cheesecake Pancakes
For savory pancakes, replace the cream cheese with goat cheese, reduce the granulated sugar from 1/4 cup to 2 tablespoons, and add a generous pinch of freshly ground black pepper.
1

cup

white rice flour

(4 ounces; 113 grams)

1/2

cup

cornstarch

(2 ounces; 57 grams)

1/2

cup

sweet rice flour

(2 ounces; 57 grams)

1/4

cup

granulated sugar

(1 3/4 ounces; 50 grams)

1

tablespoon

baking powder

1/2

teaspoon

salt

1/4

teaspoon

xanthan gum

2

large

eggs

(about 4 ounces, 100 grams)

1

cup

milk

(8 ounces; 226 grams)

1/4

cup

vegetable oil

(1 3/4 ounces; 50 grams)

1

teaspoon

vanilla extract

2

ounces

cream cheese, cut into 1/2 teaspoon size pieces
In a medium bowl, whisk together white rice flour, cornstarch, sweet rice flour, granulated sugar, baking powder, salt, and xathan gum. Add eggs, milk, vegetable oil, and vanilla extract. Whisk until smooth.

Lightly oil a flat griddle pan. Heat griddle over medium-high heat. Pour batter, approximately 1/4 cup, onto griddle. Batter should "sizzle" when it hits the pan. Dot the surface of each pancake with a few pieces of cream cheese.

Cook for approximately 3 minutes. Flip pancakes when bubbles appear all over the surface of the pancake and begin to pop. The pancake should begin to look almost dry. Flip and cook another 1-1 1/2 minutes.