Print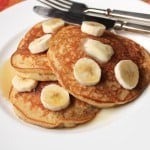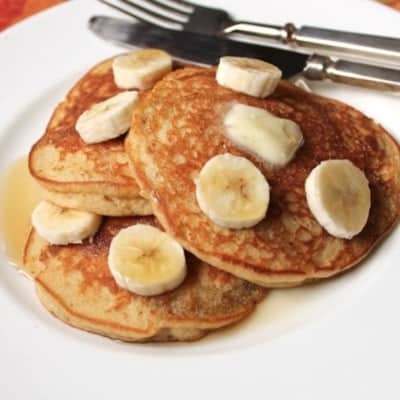 Gluten-Free Banana Pancakes
Light and fluffy, these pancakes are great on their own. However, sliced bananas, blueberries, chocolate chips, and chopped nuts also pair well with the pancakes. Note: If desired, replace the sorghum and quinoa flour for the brown rice flour called for in the recipe. You can also add up to two tablespoons of ground flax meal for an additional nutty flavor.
For the Pancakes

2

large

ripe bananas

1/4

cup

dark brown sugar

(1 3/4 ounces; 50 grams)

1

cup

brown rice flour

(4 ounces; 113 grams)

1/2

cup

sweet rice flour

(2 ounces; 57 grams)

1

tablespoon

baking powder

1/2

teaspoon

salt

1/4

teaspoon

xanthan gum

1

cup

milk

(8 ounces; 226 grams)

2

large

eggs

(about 4 ounces; 100 grams out of shell)

1/4

cup

vegetable oil or melted butter

(1 3/4 ounces; 50 grams)

1

teaspoon

vanilla extract
In small bowl, mash together bananas and sugar with a fork. Allow to stand for ten minutes. In a medium bowl, whisk together brown rice flour, sweet rice flour, baking powder, salt, and xanthan gum. Add milk, eggs, vegetable oil, vanilla extract, and banana mixture. Stir until batter forms. If batter is thick, add an additional tablespoon of milk.

Lightly oil a flat griddle pan. Heat griddle over medium-high heat until hot but not smoking. Pour batter onto griddle into rounds approximately 1/4 cup each. Cook until bubbles appear all over the surface of the pancake and begin to pop, approximately 3 minutes. (If desired, add a sprinkle of chocolate chips or blueberries to the cooking pancakes.) Flip pancakes and cook another 1 to 1 1/2 minutes.

Serve with butter, syrup, and, if desired, sliced bananas, blueberries, or a sprinkle of chopped nuts.