Print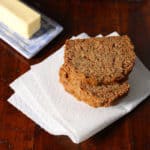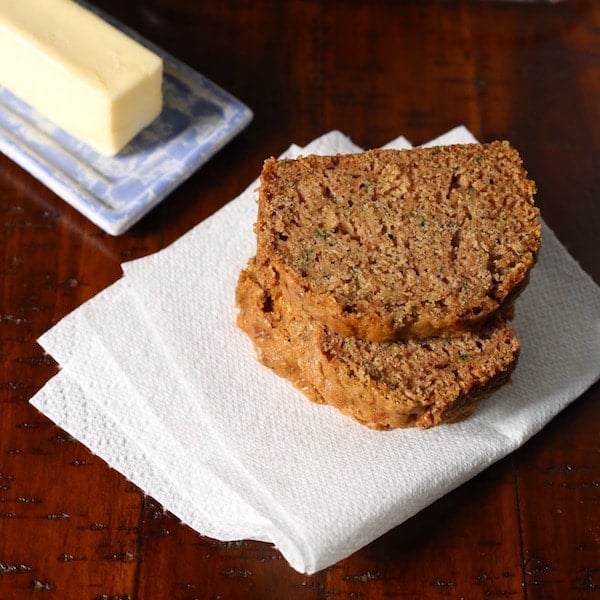 Gluten-Free Zucchini Bread
Loaded with spices, this recipe gluten-free zucchini bread makes two loaves. Enjoy one now and put one in the freezer for later! Or share one with a friend!
Ty to select small to medium zucchini for this loaf. If all you have on hand is a large, overgrown zucchini, split it in half and scrape out the seeds before grating. The seeds in large zucchini tend to be tough and bitter.
Total Time
1
hour
5
minutes
Servings
2
8x4 inch loaves
Gluten-free non-stick cooking spray

1

pound

(2 small-medium) zucchini, grated (3 to 4 cups) (see note above)

300

grams

(1 1/2 cups) granulated sugar

283

grams

(2 1/2 cups) white rice flour

57

grams

(1/2 cup) cornstarch

1

tablespoon

ground cinnamon

2

teaspoons

baking soda

1 1/2

teaspoons

salt

1

teaspoon

xanthan gum

1

teaspoon

ground ginger

1/4

teaspoon

ground cloves

4

large

eggs

3/4

cup

vegetable oil

1/4

cup

apple juice or water

1

cup

raisins, optional

1

cup

chopped walnuts or pecans, optional
Preheat oven to 350 degrees F. Grease two 9x5-inch baking pans with nonstick cooking spray.

Place grated zucchini on a clean dishtowel. Fold towel around zucchini and twist to remove excess liquid. Set zucchini aside.

Whisk together sugar, white rice flour, cornstarch, cinnamon, baking soda, salt, xanthan gum, ginger, and cloves in a large mixing bowl. Add eggs, oil, and apple juice. Blend until smooth with a handheld mixer or whisk. Batter will be thick. Add zucchini. Fold in with a spatula. Add raisins and nuts, if using. Stir just to combine.

Divide evenly between prepared pans.

Bake until golden brown, about 50 minutes. A cake tester inserted into the center of the loaf should come out clean.

Remove pans from the oven and place on a wire rack. After five minutes, remove bread from pans and place directly on the wire rack to cool.

Store bread wrapped tightly in plastic wrap on the counter for up to four days. Freeze bread, wrapped first in plastic wrap and again in aluminum foil, for up to three months. Allow bread to thaw on the counter.