Gluten-free zucchini bread is one of the best parts of summer! This recipe makes two spicy and moist loaves. Eat one now and freeze one for later—or share one with a friend, if you can bring yourself to part with it.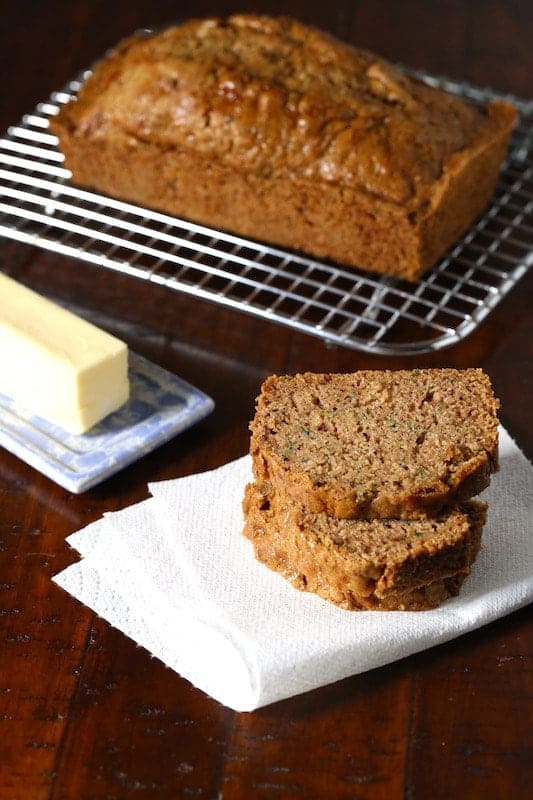 Thank goodness for flops! They make success so much sweeter! Take this zucchini bread, for example. The first time I tried the recipe, I used a commercial gluten-free flour blend. The loaves came out of the oven looking great. I couldn't wait to cut a a slice.
Then I cut a slice.
My heart sank. The interior was gummy. Really, really gummy. Have you ever had that happen with gluten-free baked goods? They look great but the texture is off? This was one of those times.
Normally I don't toss a flopped recipe. This one was so bad that it had to hit the bin. I knew what was wrong: the blend contained too much xanthan gum–and probably too much tapioca starch. See, zucchini contains a ton of moisture. And xanthan gum holds on to moisture like nobody's business. When the loaf baked, the moisture got trapped in the loaf, leaving me with a gummy loaf of zucchini bread.
There was a simple solution for this problem: control the amount of xanthan gum in the recipe. I mixed up a simple blend of white rice flour and cornstarch with just enough xanthan gum to hold everything together. The result was AMAZING. I joked on Facebook that I planned to post the recipe with this intro: Oh.my.god. This is SO FRIGGIN' GOOD. Actually, no, that's not right. I'm sorry. This bread is GREAT. Go make it. Now.
The loaf turned out spicy and moist but not gummy at all. It's one of those recipes you'd never guess was gluten-free.
(BTW, Just to be clear, I don't hate all gluten-free flour blends. In fact, I really like Bob's Gluten-Free Baking flour. I've used it for a gluten-free chocolate chip cookie recipe and gluten-free blueberry muffins. It's just that in some cases, like this one, an all-purpose flour blend struggles to produce something with really good texture. If I'm going to spend my time baking, I want an awesome result.)
Here's how I made it!
Gluten-Free Zucchini Bread: Step-by-Step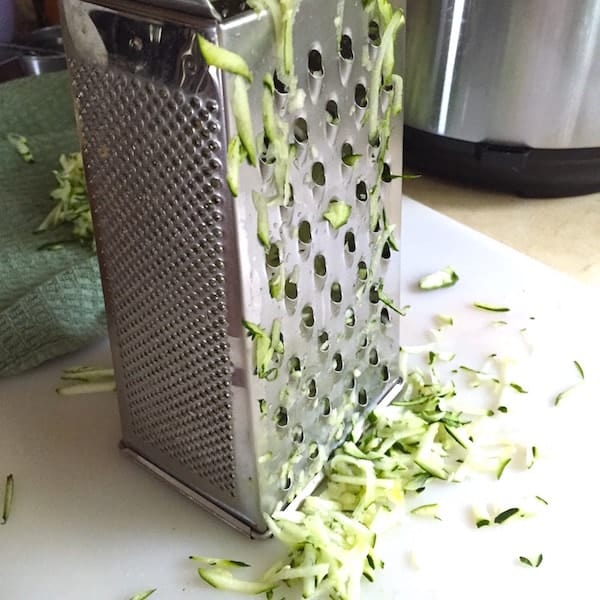 Start by grating two small-to-medium zucchini. (You need one pound of zucchini.) Try to avoid using a huge zucchini because the seeds in those are big and bitter. If all you have are giant zucchini from your garden, cut it in half, and scrape out the seeds before using.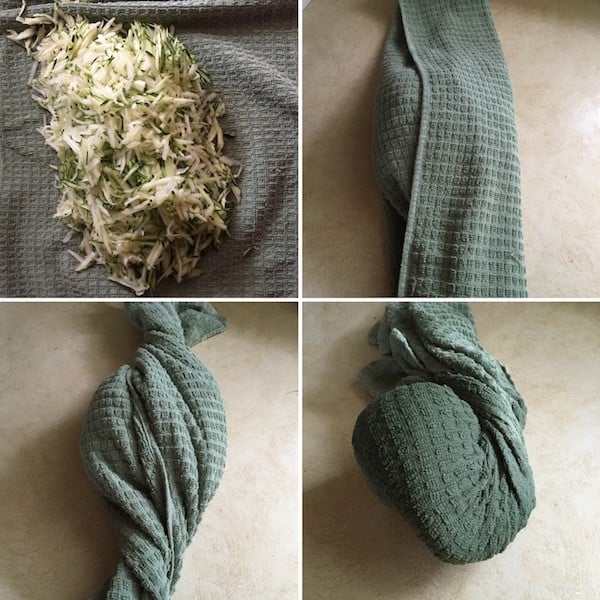 Since zucchini contains so much water, it's best to wring it out before using it in zucchini bread. If the zucchini is too wet, you risk getting a soggy or gummy loaf of bread, even if everything else in the recipe is perfect.
After grating your zucchini, put it on a clean towel. Wrap the towel around the zucchini and squeeze out the liquid. You'll be surprised how much comes out! Let the grated zucchini sit while you mix up the batter.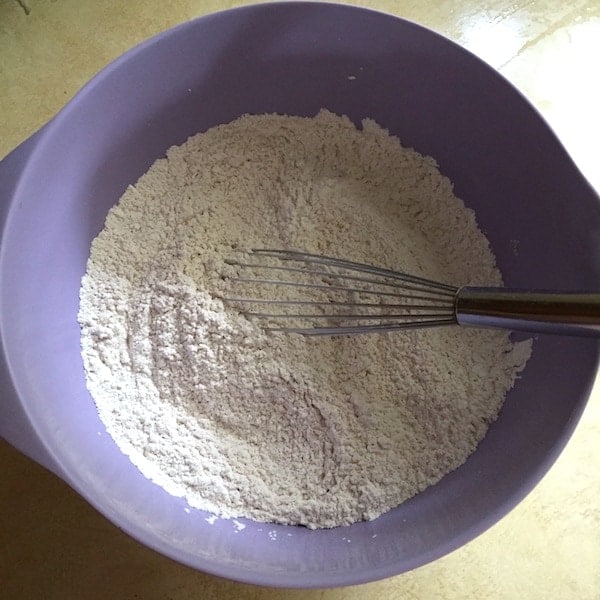 Inspired by the simple flour blend used in my gluten-free pumpkin bread, I used a blend of white rice flour and cornstarch for this bread. If you want a whole grain flour, try my whole grain gluten-free zucchini bread recipe or replace the white rice flour with sorghum flour. And if corn doesn't work for you, go ahead and use potato starch in the recipe. I recommend staying away from tapioca starch for this one since it might turn things gummy when combined with the moisture-rich zucchini.
Since zucchini bread should be a spicy affair, I also added ground cinnamon, ginger, and cloves to the flour blend. Oh my goodness! The kitchen smelled so good!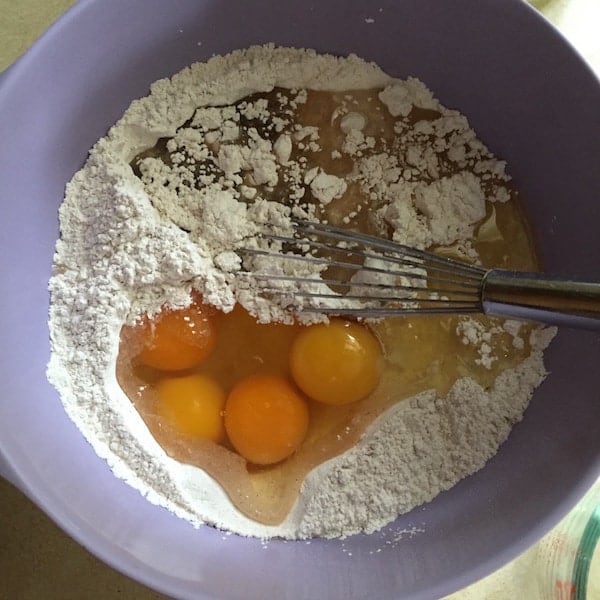 In went the eggs, oil, and apple juice. Confession: I mixed this batter by hand. Unless you are looking for a workout, I don't recommend it. The recipe makes two loaves and about halfway through, I wished I'd pulled out the electric hand mixer.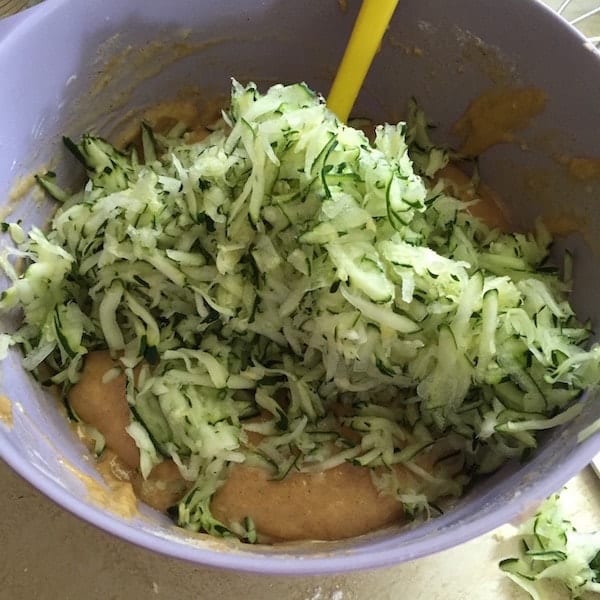 The star of show: the zucchini. Even though you've wrung it out to remove excess moisture, you'll notice when you stir in the zucchini, the batter loosens right away. It's kind of neat!
I like my zucchini bread plain. If you want to add raisins or chopped nuts (or both!) this would be the time to stir them in. Some folks even add chocolate chips to their zucchini bread. Now that I think about it, that sounds kind of awesome. Hmmm…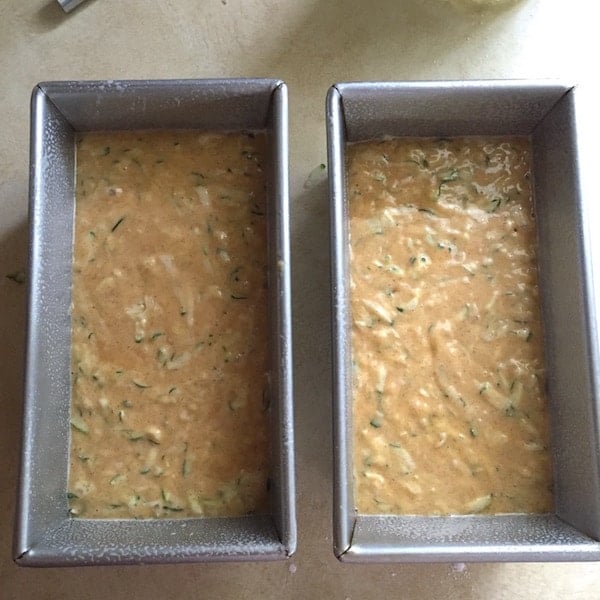 Divide evenly (or as evenly as you can by eyeballing) between two 9 by 5-inch loaf pans. (Actually, the pans I use are 8.5 x 4.5 but 9×5 work just fine.)
I have to say that I'm in love with my Chicago Metallic Pans.(affiliate link) The sides are nice and straight; so loaves come out looking really nice. Good bakeware is the best!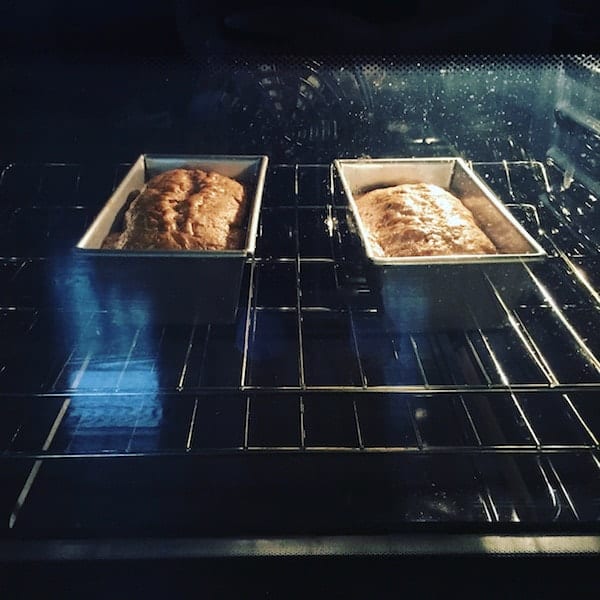 Bake. This is the best/worst part. The loaves take about an hour to bake and the house smells so good that it's hard to wait for them to finish baking. It's worth it, though. I promise!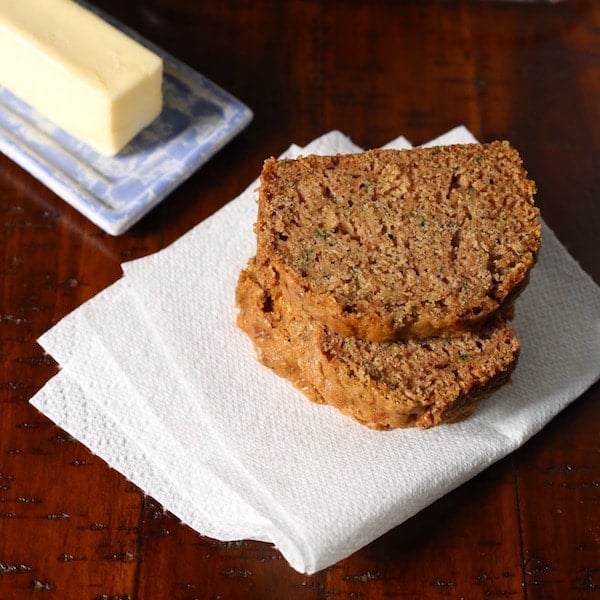 Yum! The loaf bakes up nice and dense but not heavy or gummy. If you like spice cake, you'll love this loaf!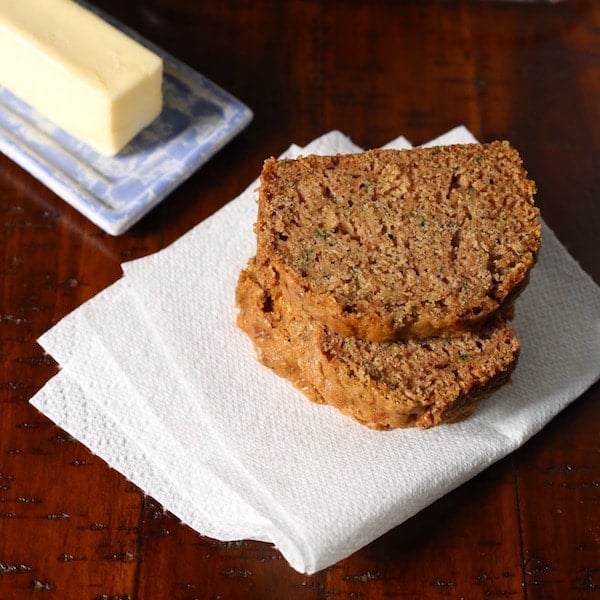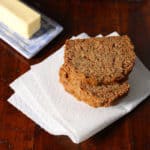 Gluten-Free Zucchini Bread
Loaded with spices, this recipe gluten-free zucchini bread makes two loaves. Enjoy one now and put one in the freezer for later! Or share one with a friend!
Ty to select small to medium zucchini for this loaf. If all you have on hand is a large, overgrown zucchini, split it in half and scrape out the seeds before grating. The seeds in large zucchini tend to be tough and bitter.
Total Time
1
hour
5
minutes
Servings
2
8x4 inch loaves
Ingredients
Gluten-free non-stick cooking spray

1

pound

(2 small-medium) zucchini, grated (3 to 4 cups) (see note above)

300

grams

(1 1/2 cups) granulated sugar

283

grams

(2 1/2 cups) white rice flour

57

grams

(1/2 cup) cornstarch

1

tablespoon

ground cinnamon

2

teaspoons

baking soda

1 1/2

teaspoons

salt

1

teaspoon

xanthan gum

1

teaspoon

ground ginger

1/4

teaspoon

ground cloves

4

large

eggs

3/4

cup

vegetable oil

1/4

cup

apple juice or water

1

cup

raisins, optional

1

cup

chopped walnuts or pecans, optional
Instructions
Preheat oven to 350 degrees F. Grease two 9x5-inch baking pans with nonstick cooking spray.

Place grated zucchini on a clean dishtowel. Fold towel around zucchini and twist to remove excess liquid. Set zucchini aside.

Whisk together sugar, white rice flour, cornstarch, cinnamon, baking soda, salt, xanthan gum, ginger, and cloves in a large mixing bowl. Add eggs, oil, and apple juice. Blend until smooth with a handheld mixer or whisk. Batter will be thick. Add zucchini. Fold in with a spatula. Add raisins and nuts, if using. Stir just to combine.

Divide evenly between prepared pans.

Bake until golden brown, about 50 minutes. A cake tester inserted into the center of the loaf should come out clean.

Remove pans from the oven and place on a wire rack. After five minutes, remove bread from pans and place directly on the wire rack to cool.

Store bread wrapped tightly in plastic wrap on the counter for up to four days. Freeze bread, wrapped first in plastic wrap and again in aluminum foil, for up to three months. Allow bread to thaw on the counter.