The BEST gluten-free pancakes you'll ever try! This easy-to-follow recipe makes light and fluffy pancakes. Mix all the ingredients together in one bowl. No whipping eggs or buttermilk needed.
These pancakes are for everyone. Dairy-free and egg-free variations are included with the recipe.
Looking for a gluten-free and grain-free pancake recipe? Try these fluffy almond flour pancakes or these cute coconut flour pancakes.
This recipe for gluten-free pancakes is so easy you can make a batch while still half asleep. Grab a bowl, whisk everything together, and cook. That's it! No whipping egg whites. Not buttermilk. Just light and fluffy pancakes that gluten-free eaters will gobble up.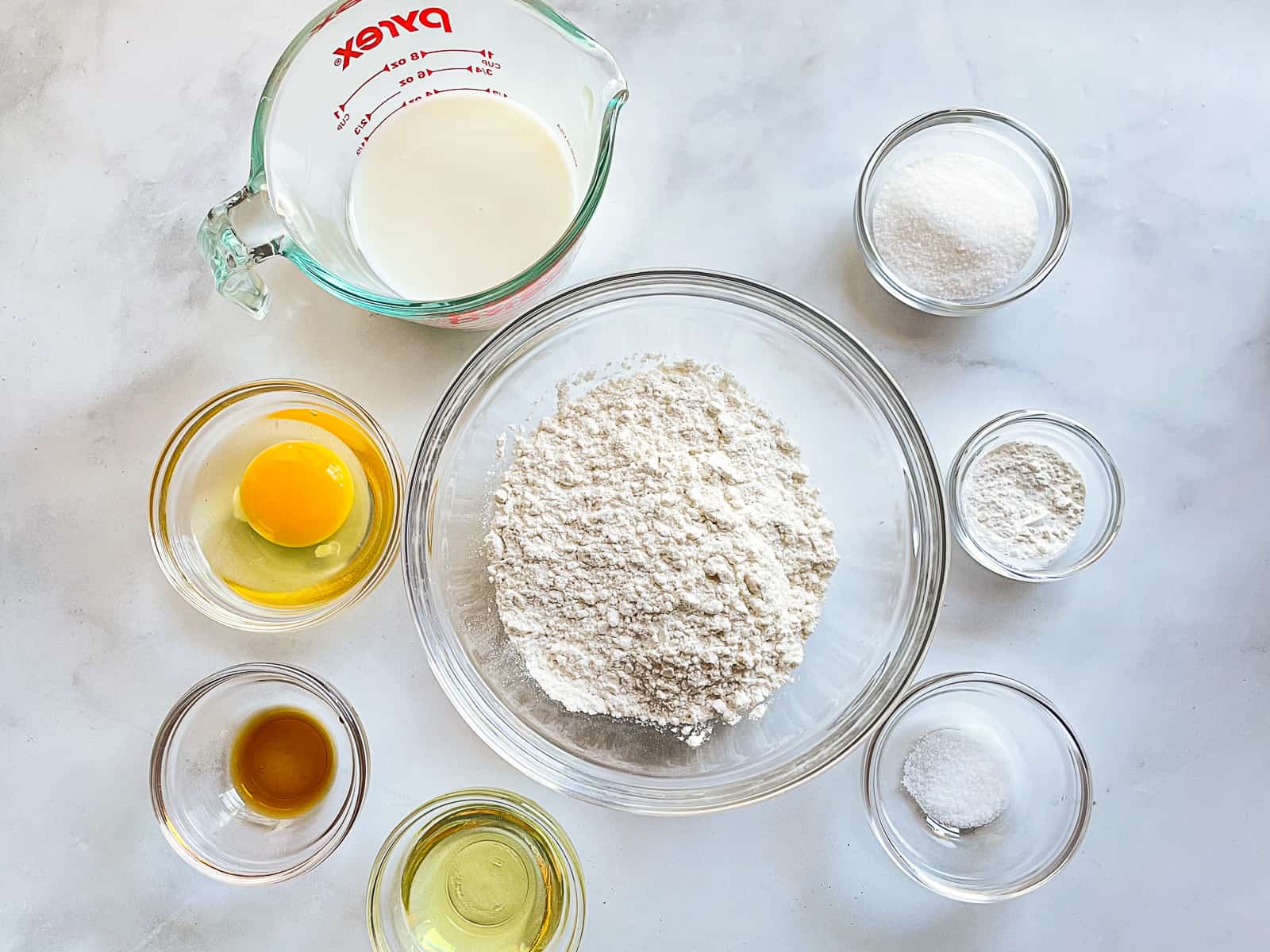 Gluten-Free Pancakes: Key Ingredients.
Gluten-Free Flour. To make life easy, this recipe uses a gluten-free flour blend. Unlike wheat flour, gluten-free flour blends vary greatly from brand to brand. This recipe was developed with Bob's Red Mill 1:1 Gluten-Free Flour blend.
Granulated Sugar. A little granulated sugar helps the pancakes to brown and adds a touch of sweetness.
Baking Powder. The fluffy texture of these pancakes comes from baking powder. Always use fresh baking powder. The container should have an expiration date on it. If you're unsure about its freshness, test it. Stir one teaspoon of baking powder into a half cup of hot water. The mixture should bubble immediately.
Salt. A little salt helps to bring out the flavor of the pancakes. Without it, the pancakes taste bland. Use table salt (fine salt) for this recipe. It blends easily into the batter.
Milk. Any milk works. If you want to make gluten-free and dairy-free pancakes, use your favorite dairy-free milk.
Egg. One large egg helps to give the pancakes structure and flavor.
Oil or Melted Butter. The best pancakes are a little rich and tender. This richness comes from the egg yolk and the addition of oil or melted butter. Oil works great for dairy-free pancakes (and you don't have to melt it!) and butter, whether traditional or dairy-free, adds flavor. If you're using melted butter, allow it to cool a little before adding it to the batter.
Vanilla Extract. The half teaspoon of vanilla extract is totally optional. I like the flavor it brings to the pancakes. I think it makes them taste more pancake-y. Lemon or almond extract are also great in pancakes.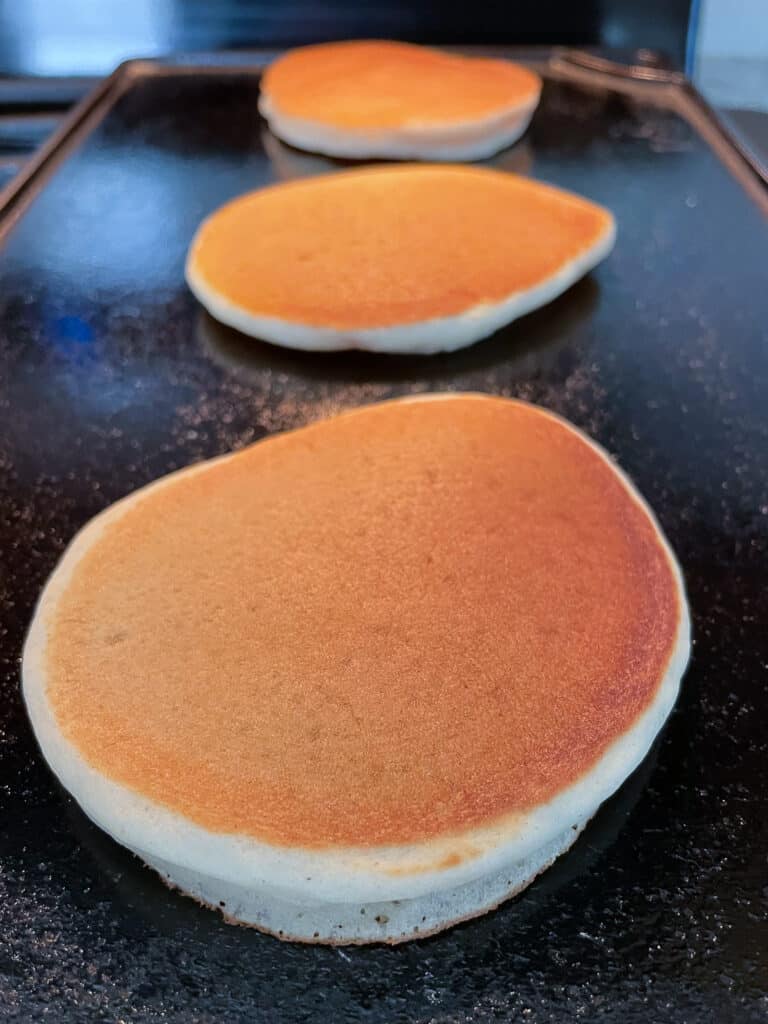 Steps for Success.
1. Make the Batter.
Grab a large bowl and whisk the dry ingredients together. Doing this mixes the baking powder throughout the gluten-free flour, making sure each pancake is light and fluffy. It's a simple but important step.
Add the wet ingredients. Mix the batter until smooth. It should be thick but easily drop from a spoon. Run a rubber spatula along the bottom and sides of the bowl. Sometimes gluten-free flour clings to the bowl and doesn't mix into the batter. If you see a clump of dry flour, mix it gently into the batter.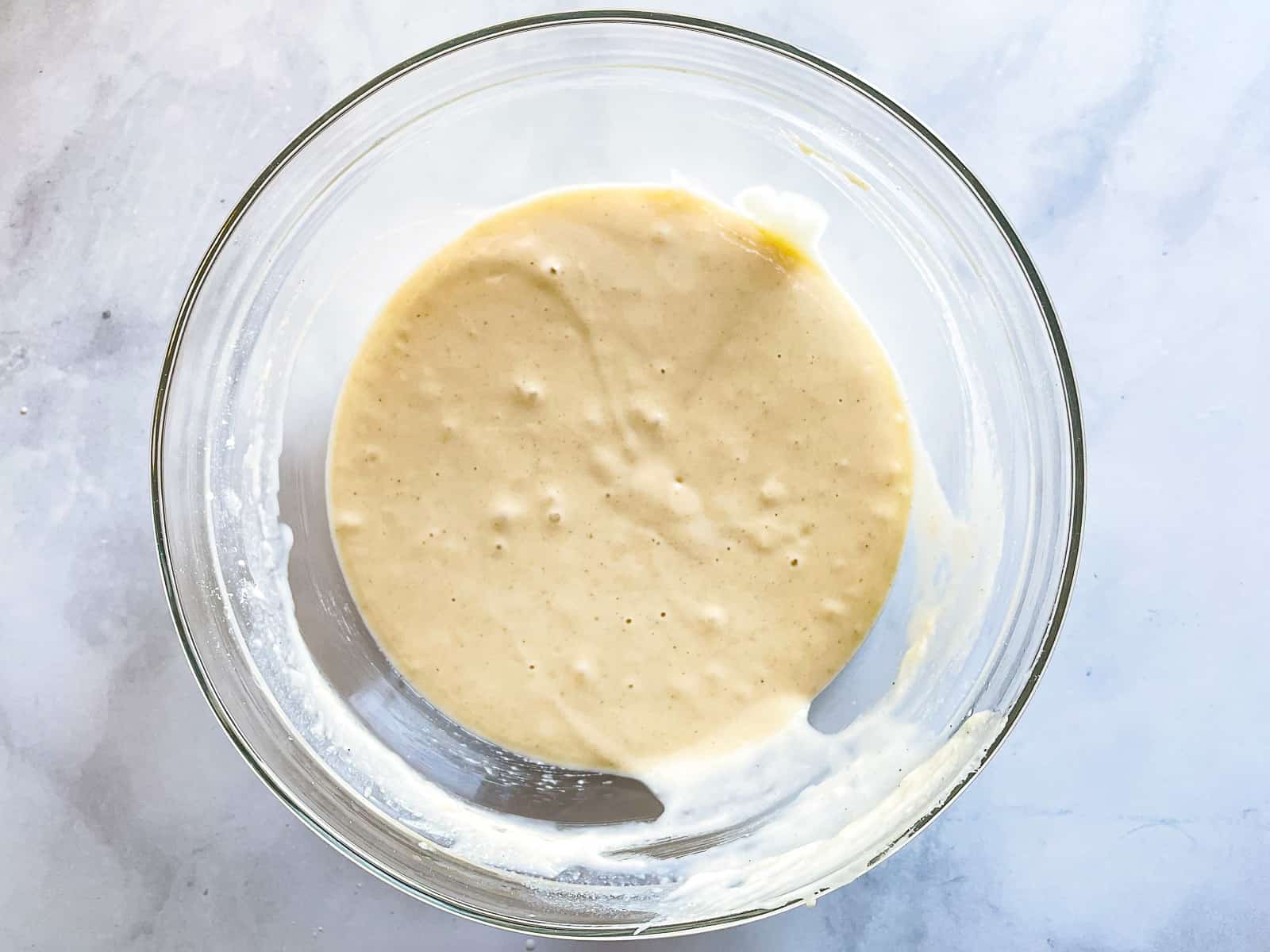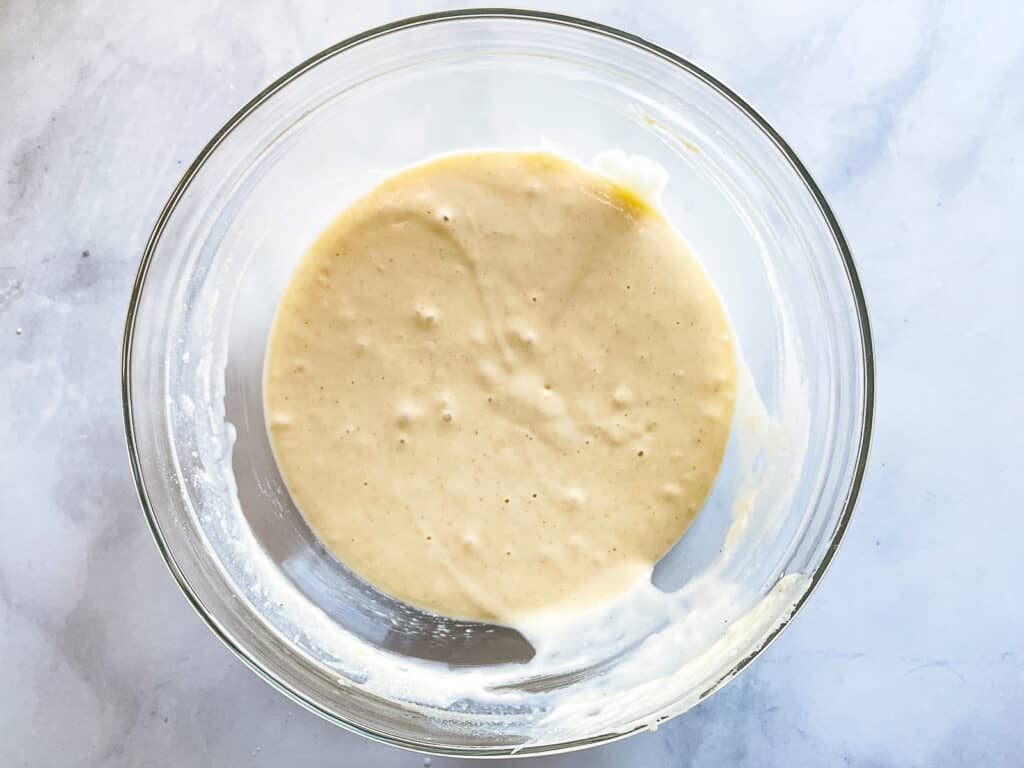 2. Let the Batter Rest.
After mixing, let the batter rest (sit on the counter) for between 5 and 15 minutes. This rest doesn't just give you time to sip coffee. It also helps the gluten-free flours and starches fully absorb the liquid in the batter. Why does this matter? It improves the pancake's texture, making it less gritty, and the pancakes spread less on the griddle.
The batter thickens as it rests. If after resting the batter is too thick to drop from a spoon, stir in a tablespoon or so of milk.
3. Cook on a Hot, Greased Griddle.
A nonstick or cast-iron griddle is the perfect pan for pancakes. Its flat, even surface and lack of sides makes it easy to flip the pancakes.
Before cooking, heat and grease the griddle. If you cook pancakes on a cold pan, they won't brown or rise nicely.
Heat the griddle to about 350 degrees. If you're using an electric griddle, it's easy to know when it reaches the right temperature. But how can you tell if you're using the stove? Do the water test. Place a few drops of water on the pan. They should bubble and then disappear. If the water sits on the griddle for more than a few seconds, the pan isn't hot enough. If the water sizzles and quickly disappears, it's probably too hot.
4. Test the Batter.
If pancake batter is too thick, you get heavy pancakes that don't cook in the center. If it's too thin, the batter spreads all over the pan before the pancake cooks.
To avoid this: make a small test pancake. Spoon about one tablespoon of batter onto the hot, greased griddle.
If you like how the batter cooked, you're ready to go. If it seemed thick, add milk. If the batter seemed thin, stir in a little more gluten-free flour.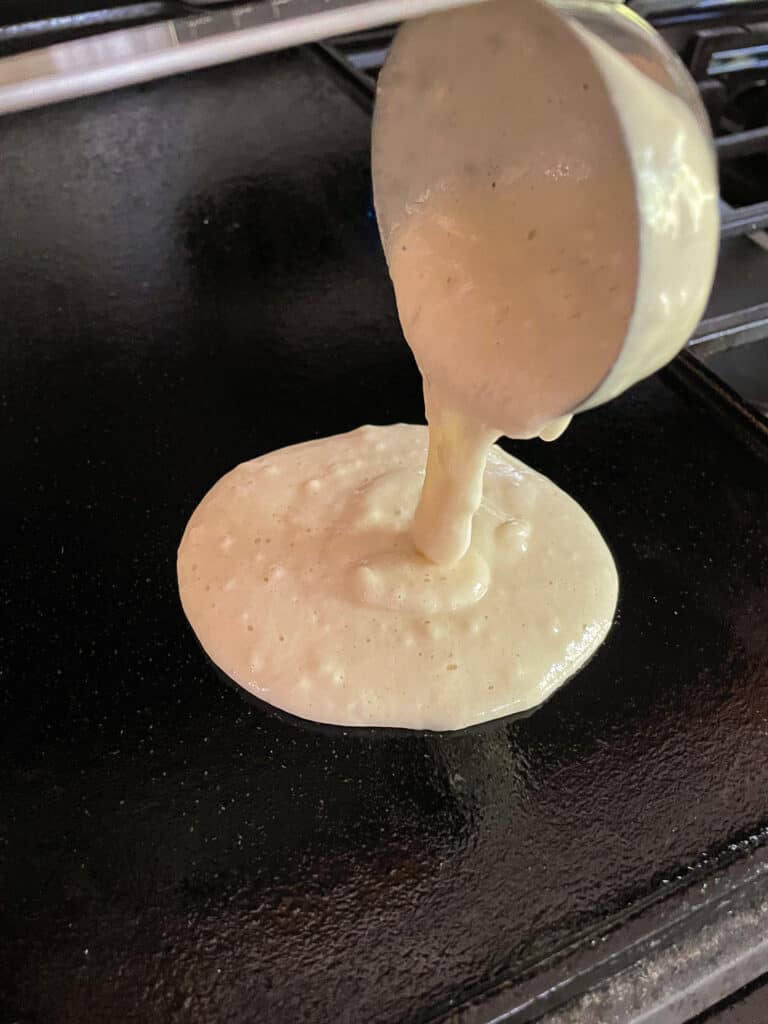 5.Use a ¼ Cup Measure.
Once the batter has rested and your griddle is greased and hot, it's time to make pancakes.
For even pancakes, use a small 2-ounce ladle, a muffin scoop, or a ¼ cup measuring cup. When all the pancakes are the same size, they cook evenly. No big pancakes that are underdone and tiny ones that are too dark.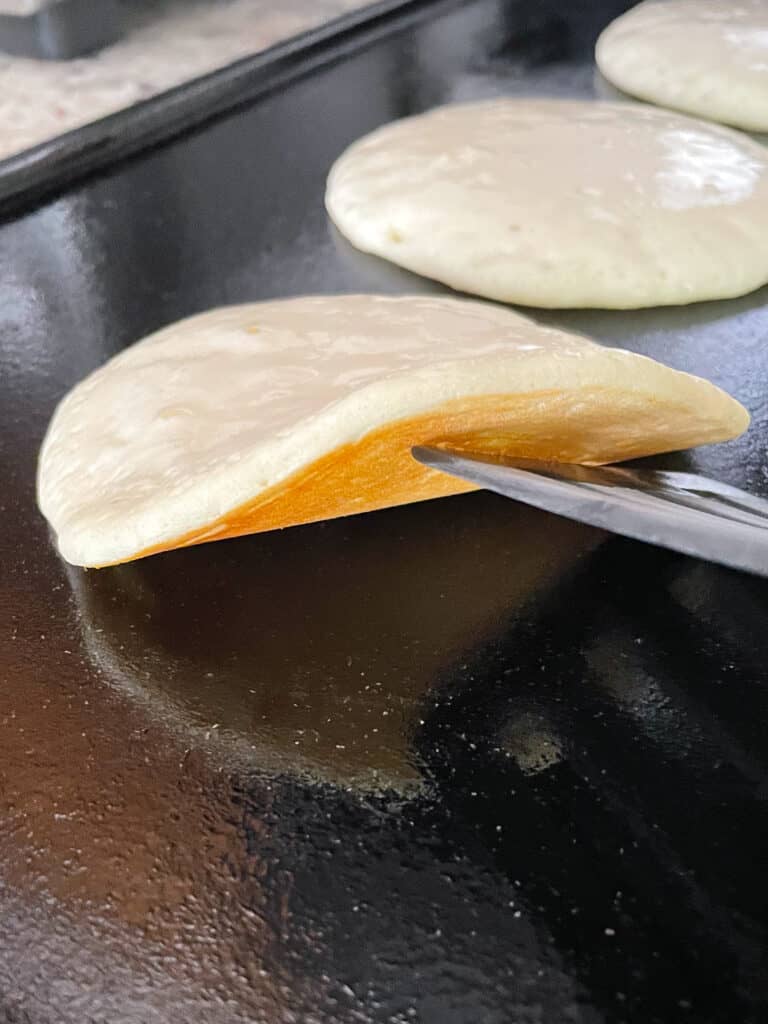 6. Check for Doneness.
Before flipping the pancakes, check them for doneness. After about two minutes, look for the batter to lose its shine, especially along the edges. You should notice a few bubbles all over the surface of the pancake. When this happens, gently slide the spatula under the pancake and carefully lift the edge. Look for the bottom of the pancake to be golden brown. If it's still pale, let it cook for another minute or so.
7. Flip Quickly and Gently.
The best tool for flipping pancakes is a wide, thin, flexible spatula. I like to use a plastic spatula so I don't have to worry about scratching my pan. If the spatula is too small, it's hard to get under the pancake to flip it.
Even with the best spatula, there's a bit of an art to flipping pancakes. Slide the spatula under the pancake. It should slide easily. If it doesn't the pancake hasn't cooked long enough.
Lift the pancake a little. There's no need to lift it very high off the pan. Then, using your wrist, quickly flip the pancake. Think of it more like a turn, than a flip.
8. Keep Them Warm Before Serving. (If you want.)
If you want to keep the pancakes warm before serving, place a parchment-lined baking sheet into the oven before you mix the pancake batter. Heat the oven to 225°F. As you make the pancakes, transfer them to the warm baking sheet. Pancakes keep for about 30 minutes in a warm oven. After that, they start to dry out.
Tip: Make Spotless Pancakes. Ever notice your first batch of pancakes sometimes look spotty? Here's why! When you grease the pan, sometimes there are tiny puddles of oil all over the pan. These small puddles create a barrier between the hot pan and the batter and heat doesn't move as quickly from the pan to the batter. The result is pale spots.
If you want to prevent this, wipe your griddle lightly with a paper towel after greasing it. Don't wipe it too hard. You want some oil on the pan so the pancakes don't stick.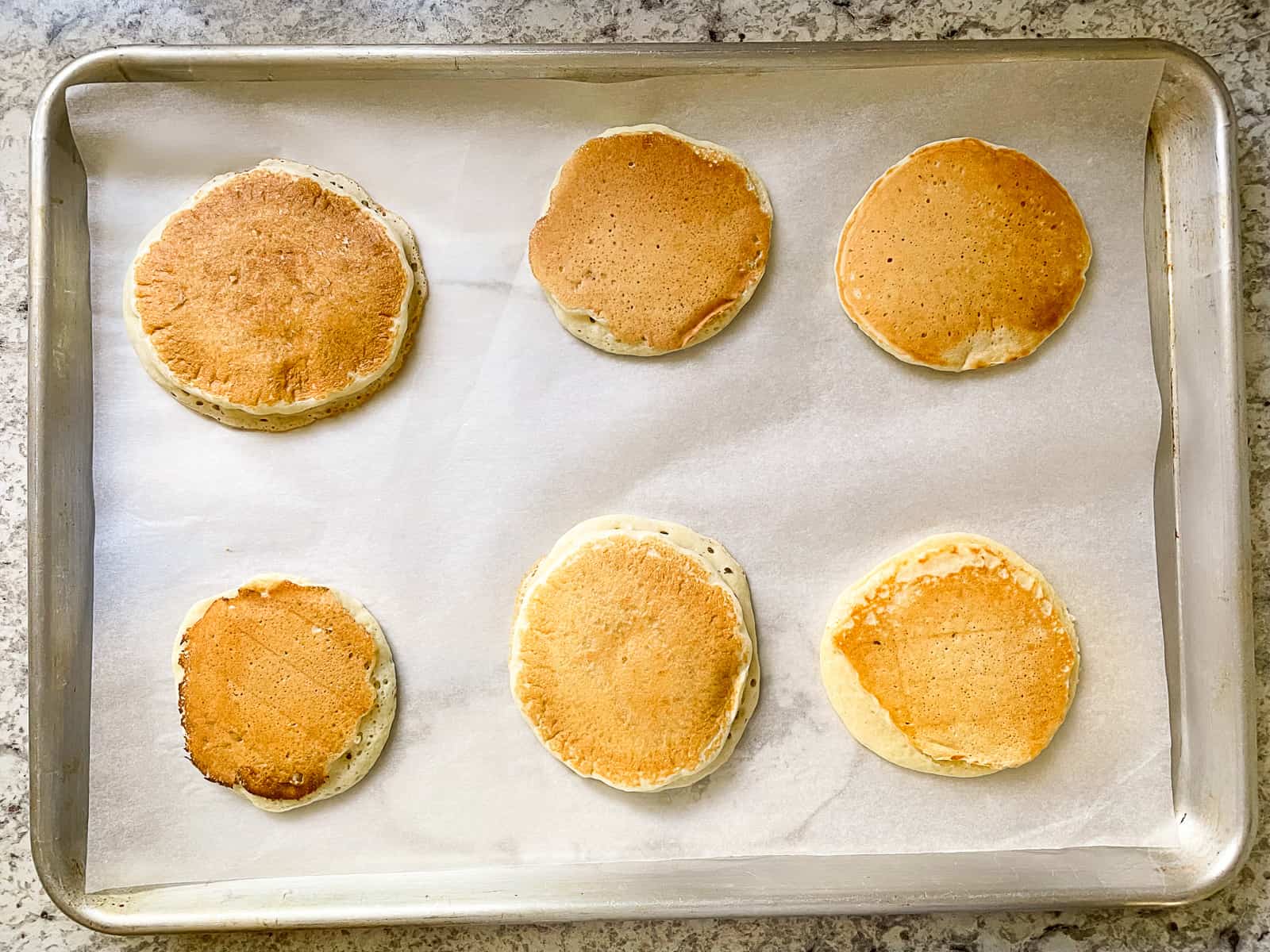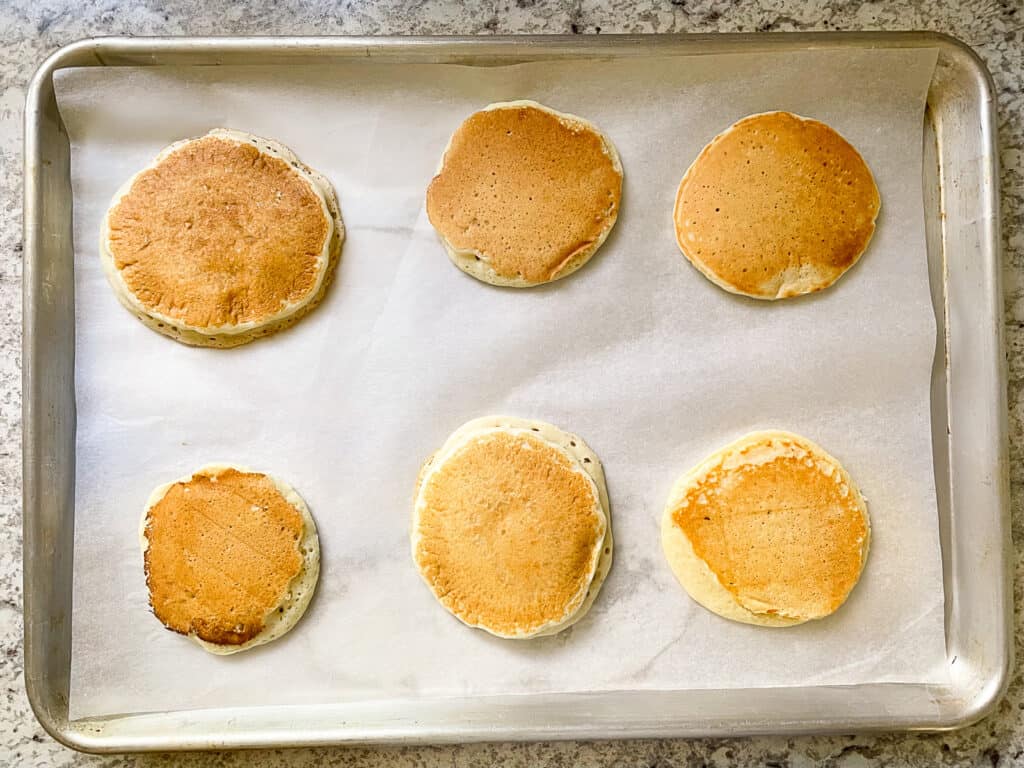 How to Freeze and Reheat Gluten-Free Pancakes.
Premade pancakes make for a quick gluten-free breakfast. These pancakes freeze and reheat beautifully.
Freezing.
Prepare the pancakes as directed.
After cooking, place the pancakes on a wire rack to cool. Doing this lets steam escape, preventing soggy pancakes. Don't top with any syrup or butter.
When the pancakes are cool, place them into a freezer bag or container. If you're going to stack them, place a piece or waxed or parchment paper between the pancakes.
Frozen gluten-free pancakes maintain their freshness for about two months. After that, they start to dry out in the freezer.
Reheating.
Microwave. Place frozen pancakes in a single layer on a microwave-safe plate. Heat on medium-high for one minute. Flip the pancakes and heat for another 30 seconds or until warm. Time varies depending on your microwave.
Toaster. If you want to reheat one or two pancakes, use your toaster. Place one pancake(s) in the toaster slot. Toast on low until warm.
Air Fryer. Place the frozen pancakes in a single layer on the tray of your air fryer. (If you
Oven. If you're serving a group and need to reheat a lot of pancakes, this is the best method. Heat the oven to 325 degrees F. Place the frozen pancakes on a baking sheet. Heat until warm, this usually takes about 10 minutes.
Variations.
Blueberry Pancakes: Stir ½ cup of fresh or thawed blueberries into the batter.
Chocolate Chip Pancakes: Replace the granulated sugar with light brown sugar and sprinkle a few chocolate chips onto the batter immediately after you spoon the batter onto the griddle. Serve with a dollop of whipped cream.
Note: This recipe was originally published in 2017. It has been updated to use a gluten-free flour blend. Here is the link to the original gluten-free pancake recipe.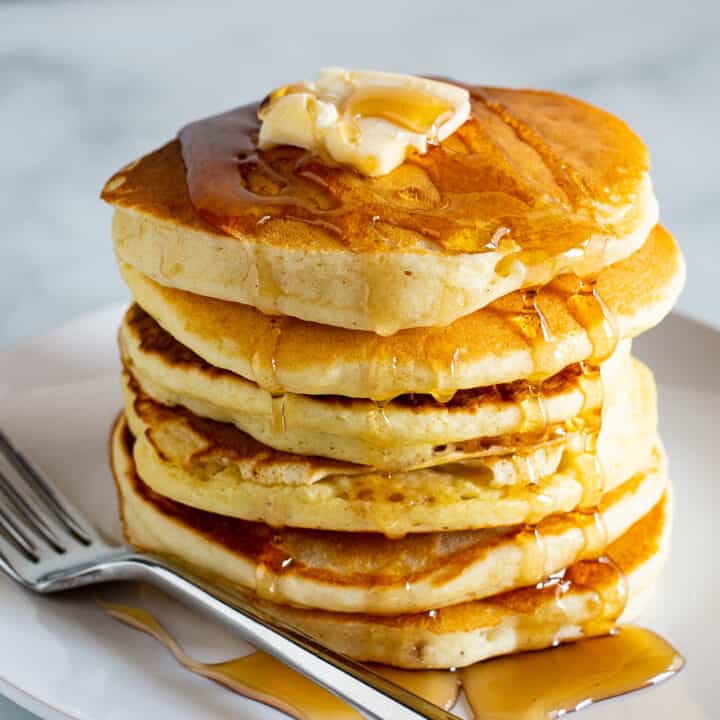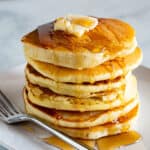 Fluffy Gluten-Free Pancakes
These gluten-free pancakes are incredibly light and fluffy. For the best texture and rise, let the batter rest for at least five minutes before cooking. A hot, greased skillet ensures the pancakes don't stick.
Ingredients
1

cup

gluten-free flour (Bob's Red Mill 1:1 Gluten-Free Baking Flour recommended)

(5 ounces; 142 grams)

2

tablespoons

granulated sugar

(1 ounce; 28 grams)

1 ½

teaspoons

baking powder

½

teaspoon

salt

¾

cup

milk

(6 ounces; 170 grams)

1

large

egg

(2 ounces; 56 grams)

2

tablespoons

oil or melted butter

(1 ounce; 28 grams)

½

teaspoons

vanilla extract
Instructions
Whisk the gluten-free flour, sugar, baking powder, and salt together in a medium bowl. Add the milk, egg, oil, and vanilla extract. Let the batter rest for 5 minutes. (Batter can rest up to 30 minutes.)

Heat a nonstick griddle or skillet over medium-high heat. Lightly grease the griddle with oil or butter.

Spoon about ¼ cup of batter onto the skillet. Cook until the edges look set and bubbles appear all over the surface of the pancake, about two minutes. To check for doneness, lift the edge of the pancake with a spatula. It should be golden brown.

Flip the pancake and cook until golden brown, about two additional minutes.

Repeat with the remaining batter. Serve with butter and syrup.
To Keep Pancakes Warm
Before making the batter, place a parchment-lined baking sheet in the oven. Heat oven to 225°F.

Transfer cooked pancakes to the baking sheet. Don't overlap the pancakes. Keep warm for up to 30 minutes.
Recipe Notes
Ingredients and  Substitutions
Gluten-Free Flour. For best results, use a gluten-free flour blend that contains xanthan or guar gum. If your blend doesn't, whisk in ¼ teaspoon. The recipe was tested with Bob's Red Mill 1:1 Gluten-Free Flour Blend. 
Milk. If you want to make gluten-free and dairy-free pancakes, use dairy-free milk. 
Egg. Use a large egg. If you'd like gluten-free and egg-free pancakes, use an egg replacer and follow the directions on the package for replacing one egg. Please note: I tested the recipe using Bob's Red Mill's egg replacer and a flax egg. Both work. The pancakes made with Bob's egg replacer turned out a bit lighter than those made with the flax egg. Both were a little heavier than pancakes made with an egg. Since egg-replacers vary from brand-to-brand, use your favorite. 
Oil. Any neutral oil, like corn or canola oil, works. Melted butter may also be used. After melting the butter, let it cool for a few minutes before adding it to the batter.
Freezing and Reheating
Place pancakes in a freezer bag or container. To keep them from sticking, place a piece of waxed or parchment paper between each pancake. 
To reheat in the microwave: heat on low power for one minute. Flip and heat an additional minute as needed.
To reheat in the oven: Preheat the oven to 325℉. Place frozen pancakes on a baking sheet. Heat for about 10 minutes. 
For additional information, including air fryer and toaster directions, see above.