Fluffy and light, these almond flour pancakes are perfect for weekend mornings. This easy recipe is grain-free, gluten-free, and dairy-free.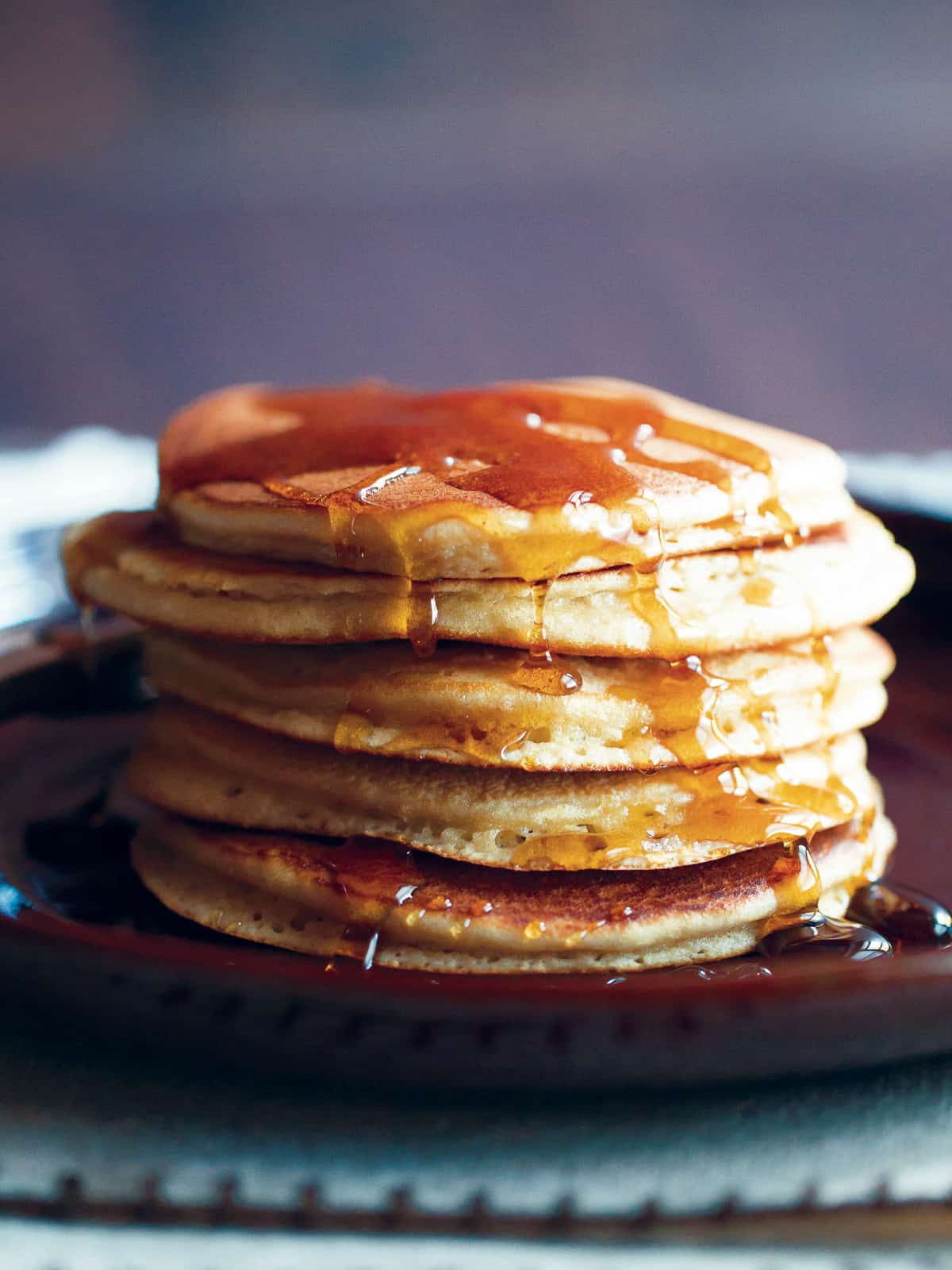 Why You'll Love These Easy Almond Flour Pancakes
Light and fluffy
One bowl recipe
Easy to make
Important Ingredients
Almond Flour. For light and fluffy pancakes, use finely ground almond flour.
Tapioca Starch. A little tapioca starch makes the pancakes tender.
Eggs. With no grain in this recipe, eggs provide structure to help the pancakes rise and keep their shape. Please note: the recipe has not been tested with an egg replacer.
Maple Syrup. If you like a little sweetness in your pancakes, use two tablespoons of maple syrup in the batter.
Milk. Almond flour works great in this recipe. However, you can also use traditional or another dairy-free milk. The milk helps to smooth out the batter and add color and flavor. Avoid full-fat coconut milk. It's too thick and rich for this recipe.
Making Almond Flour Pancakes: Four Keys for Success
Whisk the dry ingredients together. Since almond flour likes to clump, it's important to whisk it together with the other dry ingredients before adding the eggs and milk. This helps to evenly distribute the tapioca starch, baking powder, and salt.
Add additional milk. After mixing, the batter should flow slowly and easily from a spoon. If it drops off a spoon in clumps, add a little more milk, about a tablespoon, to thin the batter.
Cook on a hot griddle. You want the pancake batter to sizzle when it hits the pan. This gives you pancakes with a lovely golden color. To test the griddle, drop a little water onto it. The water should bubble and evaporate quickly.
Look for bubbles. The pancakes are ready to flip when small bubbles appear all over the surface.
Can I replace the almond flour with coconut flour?
No. Coconut flour doesn't work in this recipe.
Can I use gluten-free flour?
This recipe was developed to use almond flour. Here's a gluten-free pancake recipe that uses traditional gluten-free flours.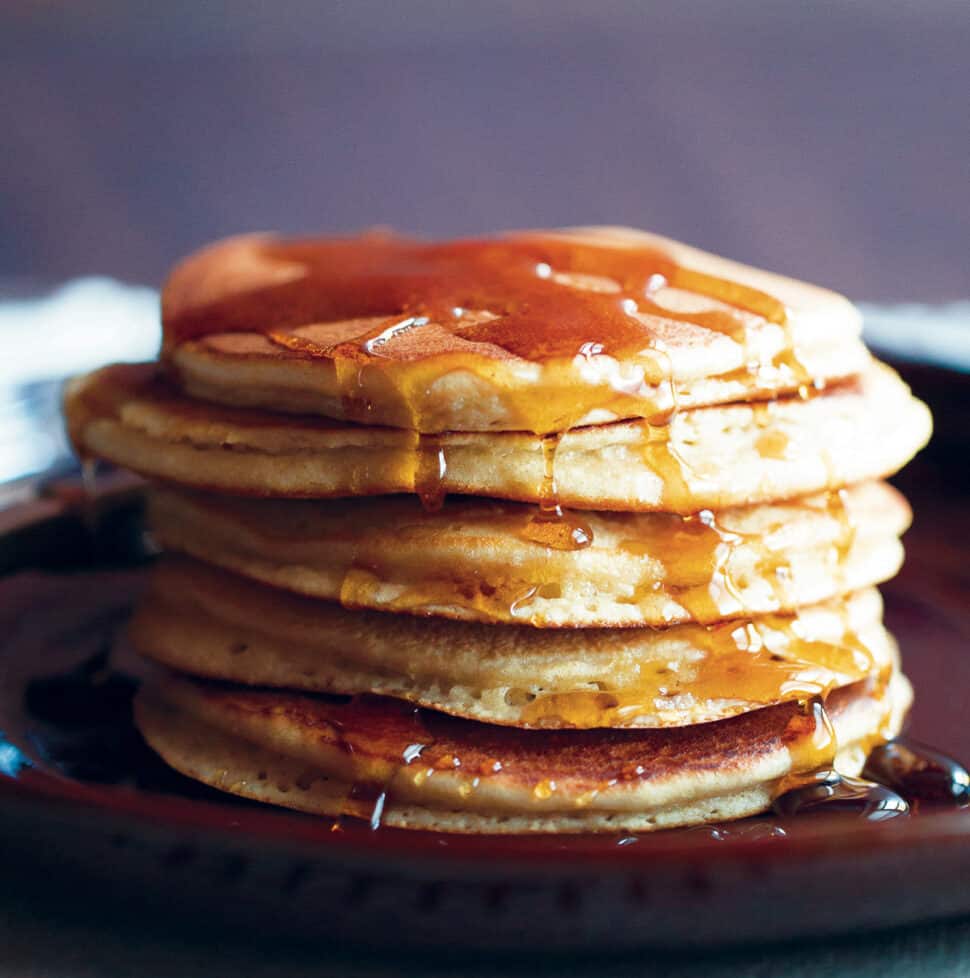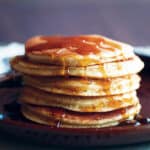 Almond Flour Pancakes
Fluffy and light almond flour pancakes. These are perfect for weekend mornings. Grain-free, gluten-free, and dairy-free recipe.
Ingredients
1 ¼

cups

finely ground almond flour

(5 ounces / 142 grams)

½

cup

tapioca starch, see note

(2 ounces / 57 grams)

1 ½

teaspoons

baking powder, homemade or store-bought, grain-free

½

teaspoon

salt

3

large

eggs

(about 6 ounces / 168 grams out of shell)

2

tablespoons

maple syrup, optional

2

tablespoons

almond milk or dairy-free or traditional milk

1

teaspoon

vanilla extract
Toppings, optional
maple syrup

almond butter

fresh fruit

whipped coconut cream
Instructions
Combine the almond flour, tapioca starch, baking powder, and salt in a medium mixing bowl. Stir together with a fork. Add the eggs, maple syrup, milk, and vanilla extract. Stir with a wooden spoon until a batter forms. If batter is too thick, add an additional tablespoon of milk.

Heat a flat griddle over medium-high heat. Lightly grease the griddle.

Spoon batter, about three tablespoons per pancake, onto hot griddle. Cook until bubble appears at the edges of the pancake. Flip and cook for an additional minute or two.

Serve warm with maple syrup, almond butter, or whatever toppings you love.
Recipe Notes
Freezing Almond Flour Pancakes
Leftover pancakes freeze well. Allow the pancakes to cool. Stack them with a piece of parchment or waxed paper between each pancake. Slide the stack into a freezer bag and freeze for up to six weeks. When you are in the mood for pancakes, thaw them for about 30 seconds in the microwave.
Variations
Blueberry-Lemon Pancakes
Stir the zest of one lemon and 3/4 cup washed blueberries into the batter just before cooking.
Chocolate Chip Pancakes
Replace the maple syrup with two tablespoons of coconut sugar or organic cane sugar. Sprinkle two teaspoons of dairy-free chocolate chips onto the pancakes as soon as you spoon the batter onto the pan.