These light and fluffy almond flour pancakes are tasty and easy to make. Made with almond flour and a little tapioca starch, the pancakes are naturally gluten-free and grain-free. For a perfect pancake, use about a 1/4 cup of batter and spoon it onto a hot, greased griddle.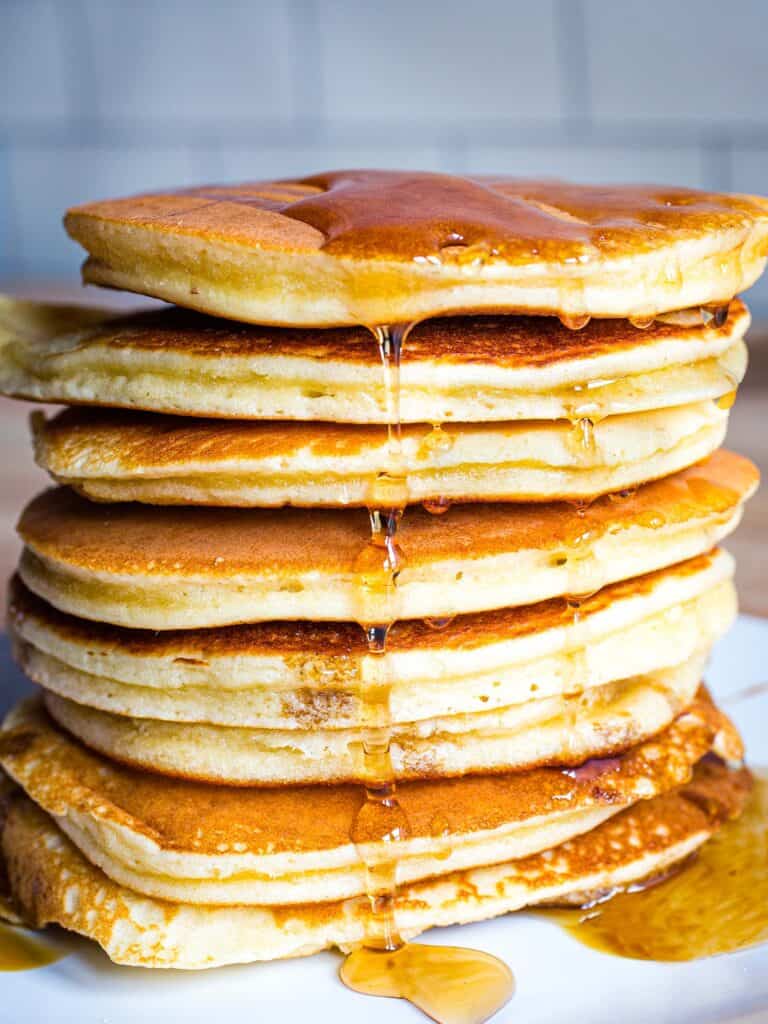 How to Make Fluffy Almond Flour Pancakes.
Whisk the dry ingredients together. Almond flour tends to clump. Before adding other ingredients, break up any clumps with either a fork, whisk, or your fingers. Then add the tapioca starch, baking powder, and salt. Whisk to combine. This step distributes the baking powder throughout the flour, giving you fluffy pancakes.
Make the batter. Stir in eggs, milk, and vanilla extract. If you like almond flour pancakes with a hint of sweetness, add a little maple syrup.
Check the thickness. Almond flours vary by brand. If your pancake batter seems too thick, add additional milk. If the batter seems thin, add a tablespoon of almond flour.
Cook on a hot griddle. Pancake batter to sizzle when it hits the pan. This gives you pancakes with a lovely golden color. To test the griddle, drop a little water onto it. The water should bubble and evaporate quickly.
Flip once. The pancakes are ready to flip when the edges look set and a few bubbles appear on the batter. Cook the first side for about two minutes and the second side for about a minute.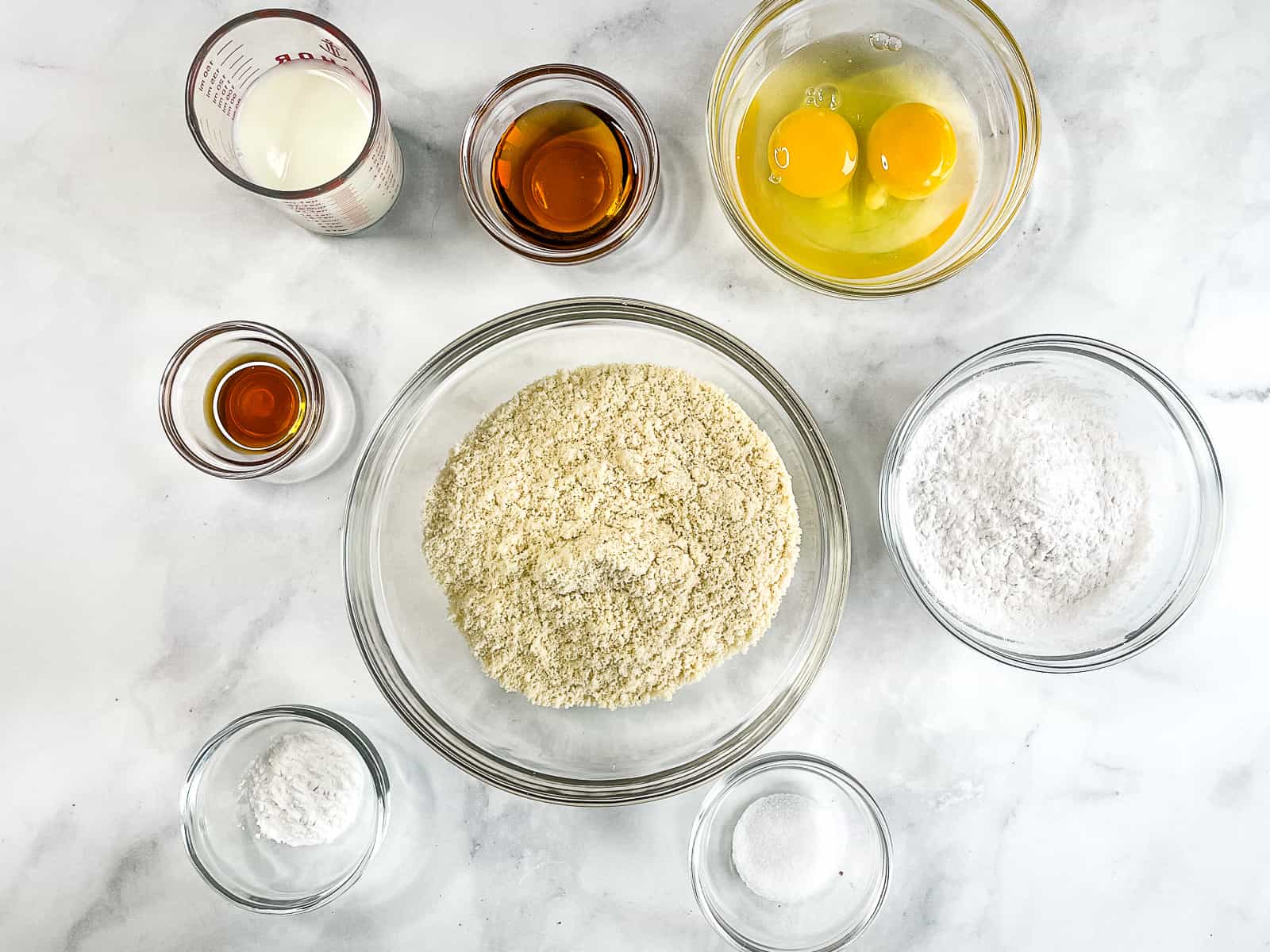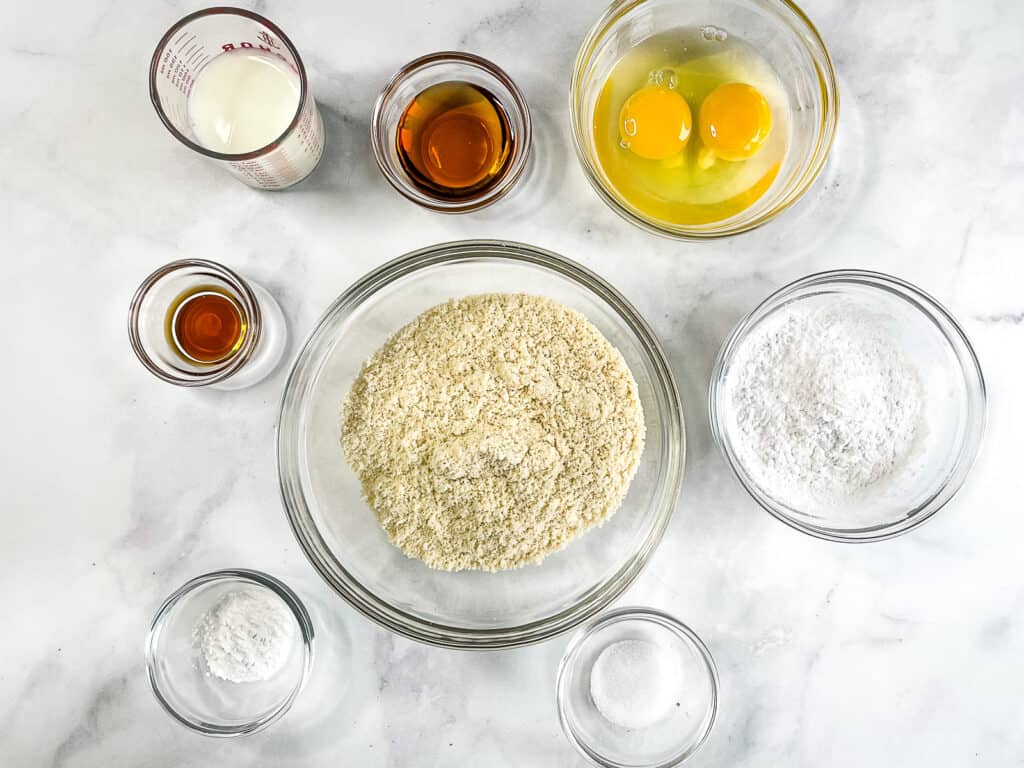 Almond Flour Pancakes: Key Ingredients. What to use. What to avoid.
Almond Flour.
The main flour in this recipe is almond flour. It gives the pancakes a wonderful flavor. Due to the oil content, almond flour tends to clump. If your flour contains a lot of large pieces, sift it or whisk it with a fork to break up the clumps.
Use finely ground blanched almond flour for light and fluffy pancakes.
Avoid: very coarse almond flour. If the almond flour is gritty and coarse, the pancakes turn out heavy and lumpy.

Tapioca Starch.
The addition of tapioca starch makes the batter smooth and pancakes tender. It also helps the pancakes hold together and makes them easier to flip.
Use: tapioca starch. This is sometimes labeled "tapioca flour" or "tapioca starch flour."
Avoid: Tapioca pearls. 

Baking Powder.
Helps the pancakes to rise. Commercial baking powder is "double-acting." This means it rises when it comes in contact with liquid and again when it's heated. If you use homemade baking powder, it only rises once, when it comes in contact with a liquid. Almond flour pancakes made with homemade baking powder don't rise as high.
Salt.
Adding salt to pancake batter enhances the other flavors.
Use: table salt (fine salt).
Eggs.
The eggs help pancakes to rise, lend important structure since the batter is gluten-free, and give the pancakes a nice flavor.
Use: large eggs.
Maple Syrup. 
The addition of maple syrup is optional. It gives the pancakes a subtle sweetness and helps them brown.
Use: dark maple syrup for the best flavor.
Milk.
Helps to smooth out the batter and adds color and flavor.
Use: Any milk you love. Almond milk, cow's milk, soy milk, and oat milk work great in this recipe.
Avoid: full-fat coconut milk. It's too thick and rich for the batter.
Vanilla Extract.
A teaspoon of vanilla extract helps balance the almond flavor and makes these pancakes taste like…pancakes!
Ingredient Questions
Does baking powder contain grain?
It depends on the brand. If you want to use a grain-free baking powder, look for one made with tapioca starch or make homemade baking powder.
Can I replace the almond flour with coconut flour?
Coconut flour doesn't work in this recipe. If you'd like to make pancakes with coconut flour, use the recipe for coconut flour silver dollar pancakes.
Can I use gluten-free flour?
This recipe was developed to use almond flour. Here's a gluten-free pancake recipe that uses gluten-free flour.
Common Pancake Questions Answered.
What's the Best Griddle Temperature for Pancakes?
If you use an electric griddle, set it to 350 degrees F. If you a burner, set it to medium-high.

To test that your griddle or pan is at the right temperature, spoon about a tablespoon of batter onto the griddle. Cook the pancake for about a minute and then flip. If it's too pale, increase the heat. If it's too dark, decrease the heat. And if it looks perfect, the pan is ready.
How do you know when to flip a pancake?
Look for the edges to look set and almost dry. The batter in the middle will have a few bubbles. Gently lift the pancake with a spatula. If it releases easily from the pan, the pancake is ready to flip.
How long do you cook a pancake?
These almond flour pancakes take about two to three minutes to cook on the first side and about a minute on the second side. Cook time varies depending on your griddle and your burner. It's best to cook a test pancake and adjust the cooking time for each batch.
Why are there light and dark spots on my pancakes?
If you've ever made pancakes and they turned out "spotty", you're not alone. The cause of this is usually oil on the griddle. If there are tiny pools of oil on the pan, they keep heat from transferring from the pan to the batter, resulting in light spots. To prevent spotty pancakes: grease your griddle and then wipe it with a paper towel to remove any puddles of oil.
Why do my almond flour pancakes fall apart when I flip them?
Almond flour pancakes are gluten-free. This means they're delicate since there is no gluten to hold them together.
When developing this recipe, I noticed that pancakes made with only almond flour often fell apart during cooking. Adding tapioca starch helps the pancakes keep their shape.
As important as the tapioca starch is when you flip the pancakes. Allow the pancakes to cook on the griddle until the edges are set. If you flip them too soon, they won't be cooked all the way through. Undercooked pancakes tend to break.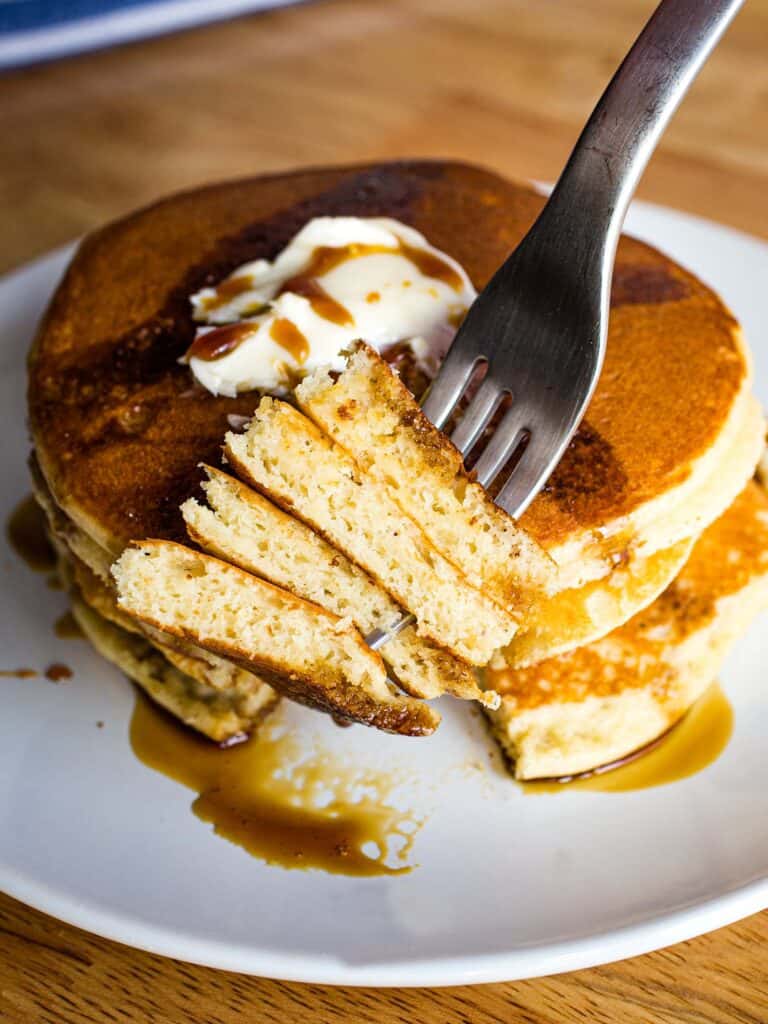 How to Freeze Pancakes and Reheat
Cook the pancakes as directed. Let them cool on a wire rack. Place the pancakes in a freezer bag or container. To keep them from sticking, place a piece of parchment or wax paper between each pancake. Freeze the pancakes for up to two months.
When you're ready to eat, heat the pancakes in a 350° F oven. A toaster oven is perfect for this.
Almond Flour Pancake Variations
Almond-Blueberry Pancakes. Spoon batter onto the griddle as directed. Place fresh or frozen blueberries onto each pancake. This ensures each pancake contains as many (or as few!) blueberries as you like. If you're not comfortable placing blueberries onto the pancakes while in the pan, stir about 1/2 cup of fresh or frozen blueberries into the batter.

Almond-Chocolate Chip Pancakes. Spoon batter onto griddle as directed. Sprinkle each pancake with chocolate chips. Cook pancakes as directed.

Almond-Lemon Pancakes. The flavor of almond and lemon are fantastic. Stir in the zest of one lemon or 1/2 teaspoon lemon extract into the batter along with the eggs, milk, and vanilla extract. Cook pancakes as directed.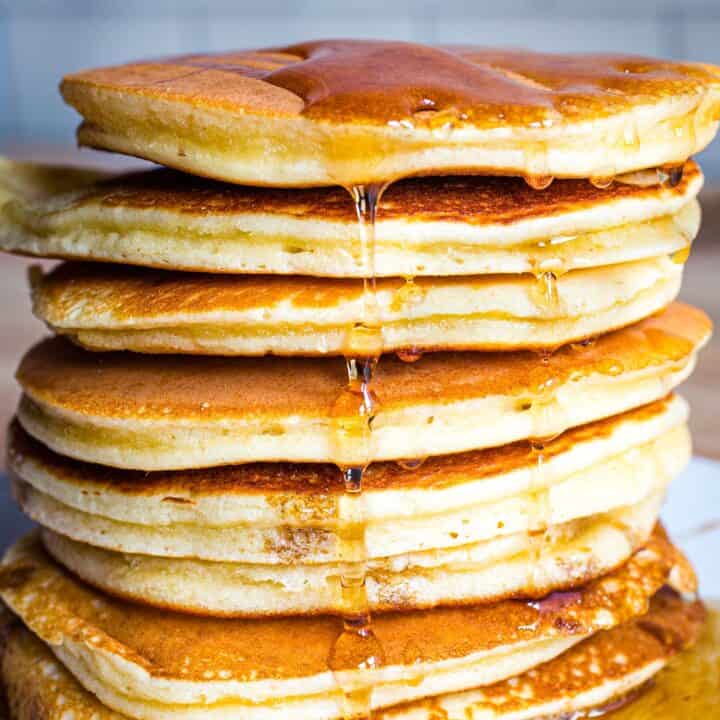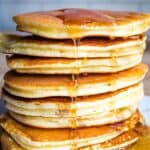 Almond Flour Pancakes
Fluffy and light almond flour pancakes. These are perfect for weekend mornings. Grain-free, gluten-free, and dairy-free recipe.
Ingredients
1 ¼

cups

finely ground almond flour

(5 ounces / 142 grams)

½

cup

tapioca starch, see note

(2 ounces / 57 grams)

1 ½

teaspoons

baking powder

½

teaspoon

salt

2

large

eggs

(about 4 ounces / 113 grams out of shell)

2

tablespoons

maple syrup, optional

(about 1 ounce)

6

tablespoons

almond milk or dairy-free or traditional milk

(3 ounces/ 85 grams)

1

teaspoon

vanilla extract
Instructions
Combine the 1 ¼ cups almond flour, ½ cup tapioca starch, 1 ½ teaspoons baking powder, and ½ teaspoon salt in a medium mixing bowl. Stir together with a fork to break up any lumps.

Add 2 large eggs, 2 tablespoons maple syrup (optional), 6 tablespoons milk, and 1 teaspoon vanilla extract.

Stir until a batter forms. If batter is too thick, add an additional tablespoon of milk.

Grease a nonstick griddle lightly with oil. Wipe griddle with paper towel to remove any puddles of oil. Heat pan over medium-high heat.

Spoon batter, about ¼ cup per pancake, onto the hot griddle. Cook until the edges look set and bubbles appear on the pancake, about two minutes. Flip and cook for an additional minute or two.

To keep warm: Place cooked pancakes in a preheated 200°F oven on a wire rack set in a pan.

Serve with maple syrup and butter.

To freeze pancakes: allow pancakes to cool. Place a piece of parchment or wax paper between each pancake to prevent them from sticking. Place pancakes in a freezer bag or container. Freeze up to three months.

To reheat: place frozen pancakes in a 350°F oven until warm.