This recipe first appeared on GlutenFreeBaking.com in 2017 and is based on the gluten-free pancake recipe in my original cookbook, Easy Gluten-Free Baking (published 2006). It uses individual gluten-free flours.
If you love this recipe, enjoy it!
If you prefer a recipe that uses a gluten-free flour blend, I've got you covered! Here's the link to the best gluten-free pancakes.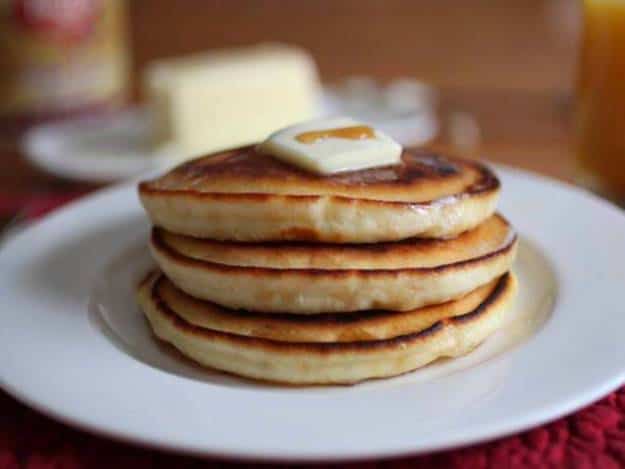 Gluten-Free Pancakes: Tips for Success
Pre-measure the flour. The night before you plan to make pancakes, measure the dry ingredients. Then, in the morning, all you have to do is add the eggs, milk, and oil. Use either my suggested flours or your favorite gluten-free blend. Just be sure it contains xanthan gum, this ingredient makes for the fluffiest pancakes. If your gluten-free flour blend doesn't include xanthan gum add a 1/4 teaspoon.
Use a nonstick griddle. To prevent gluten-free pancakes from sticking to the pan, use a nonstick griddle or frying pan. I prefer a flay griddle because the lack of sides makes it easy to flip the pancakes.
Grease the pan. Lightly oil the pan, even if it's nonstick, with either cooking spray or a little vegetable oil. This step ensures the pancakes won't stick and makes them easy to flip. For a different flavor, add a pat of butter to the pan and allow it to brown slightly. The brown butter adds a subtle flavor and crunch to the pancakes.
Serve right away or keep warm. Pancakes are best served hot from the pan. If you'd prefer to cook all the pancakes and then serve, heat your oven to 225 degrees F. Place the pancakes on a baking sheet until you're ready to serve.
Freeze 'em. If you have leftover pancakes, or want to make a batch to freeze, cook the pancakes as directed. Allow them to cool completely on a wire rack. Place a piece of waxed paper between each pancake, stack and slide into a freezer bag. Gluten-free pancakes keep in the freezer for about two months. To thaw, microwave for a few seconds.
Gluten-Free Pancakes: Step-by-Step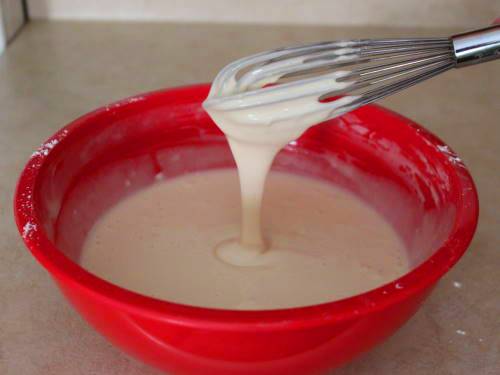 Whisk ingredients together in a medium bowl. To prevent clumping, first whisk all the dry ingredients together and then add the eggs, milk, oil, and vanilla extract. You don't need an electric mixer for this. A regular balloon whisk works great.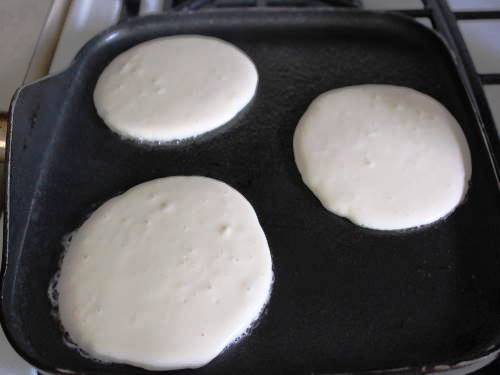 Cook over medium-high heat. The batter should sizzle when it hits the griddle but you don't want it too hot. When your pan is too hot, the pancakes can burn on the outside while they are still raw on the inside. Raw pancakes = blerg. To test your griddle, add a few drops of water. It should bounce across the pan and quickly evaporate.
Use a Big Spatula. You don't want to use a tiny spatula to flip a big pancake. Grab large spatula that's firm enough to flip the pancake and flexible enough to get under it.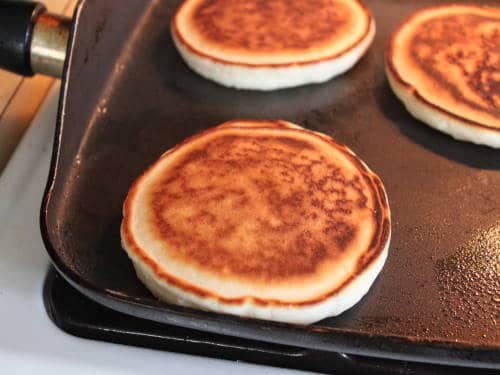 Cook until golden brown. Some gluten-free pancakes cook up light and pale. Not these! If the pan is at the correct temperature, the pancakes should be golden brown all over. Cook the first side until bubbles appear on the surface. Then flip. The second side usually only requires a minute or two.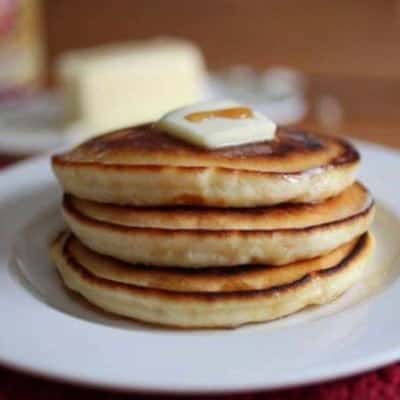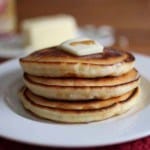 The Best Gluten-Free Pancakes
These gluten-free pancakes bake up light and fluffy. And, the recipe is so easy, you can whip up a batch of pancakes before your morning coffee kicks in.
Ingredients
1

cup (113 grams)

white rice flour*

1/2

cup (57 grams)

cornstarch*

1/2

cup (57 grams)

sweet rice flour *

1/4

cup (57 grams)

granulated sugar

1

tablespoon

baking powder

1/2

teaspoon

salt

1/4

teaspoon

xanthan gum*

2

large

eggs

1

cup (226 grams)

milk

1/4

cup

vegetable oil

1

teaspoon

vanilla extract

nonstick cooking spray or vegetable oil for greasing the griddle
For Serving
Butter

Maple Syrup(If you have a maple allergy, Lyle's Golden Syrup is a nice replacement.)
Instructions
Whisk white rice flour, cornstarch, sweet rice flour, granulated sugar, baking powder, salt, and xanthan gum together in a medium mixing bowl. Add the eggs, milk, vegetable oil, and vanilla extract. Whisk until smooth.

Lightly oil a flat griddle pan. Heat griddle over medium-high heat. Pour batter, approximately 1/4 cup, onto griddle. Batter should sizzle when it hits the pan.

Cook for approximately 3 minutes. Flip pancakes when bubbles appear all over the surface of the pancake and begin to pop. The pancake should begin to look almost dry. Flip and cook another 1-1 1/2 minutes.

Serve with butter and syrup, if desired.
Recipe Notes
*If desired, replace with 2 cups gluten-free flour blend. If the blend contains xanthan gum, omit the 1/4 teaspoon xanthan gum from the recipe. If the blend does not contain xanthan gum, be sure to include it for the fluffiest pancakes.