Print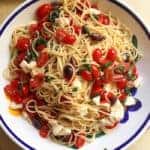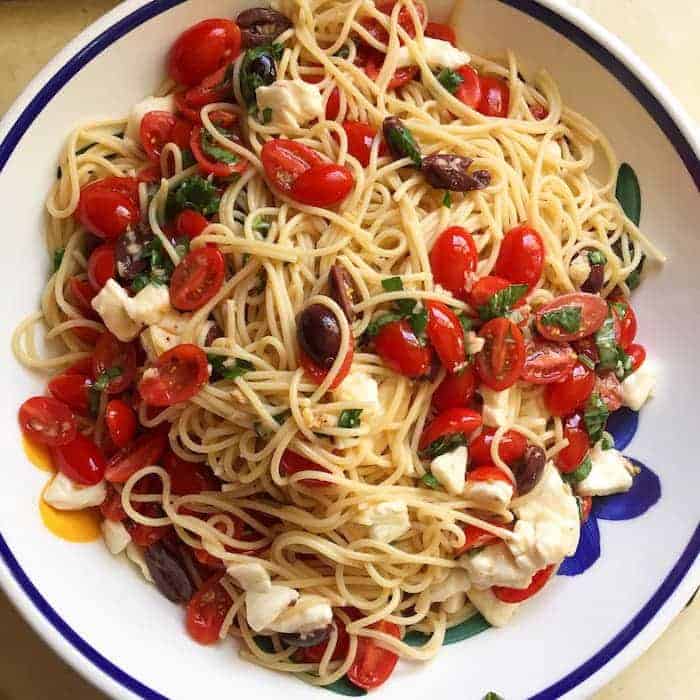 Gluten-Free Pasta with Tomatoes and Basil
If you don't have olive brine on hand, replace it with two teaspoons red wine vinegar and 1/2 teaspoon coarse salt. Adjust to taste as needed.
1/4

cup

olive oil

3

cloves

garlic, minced or put through a garlic press

1

pint

grape or cherry tomatoes, halved

10

basil leaves, sliced into thin ribbons

1/4

cup

kalmata olives, halved

2

tablespoons

olive brine

see note above

12

ounces

gluten-free spaghetti

8

ounces

fresh mozzarella, cut into bite-size pieces

salt and pepper
Combine the olive oil and minced garlic in a medium bowl. Stir to combine. Add the tomatoes, basil, olives, and olive brine. Stir to combine. Allow to stand for 30 minutes to one hour. This allows the flavors to mingle.

Bring a large pot of water to a boil. Salt generously. Add the spaghetti. Stir during the first few minutes of cooking to prevent the pasta from sticking. (Do not add oil to the pasta water.) Cook until tender.

Carefully ladle out about 1/2 cup of pasta cooking water. Drain the pasta and return it to the cooking pot. Add the tomatoes and fresh mozzarella. Toss to combine. You want the mozzarella to soften slightly. If the pasta seems dry, add a little of the pasta cooking water. Adjust as needed.

Taste. Add salt and pepper as needed. Serve.