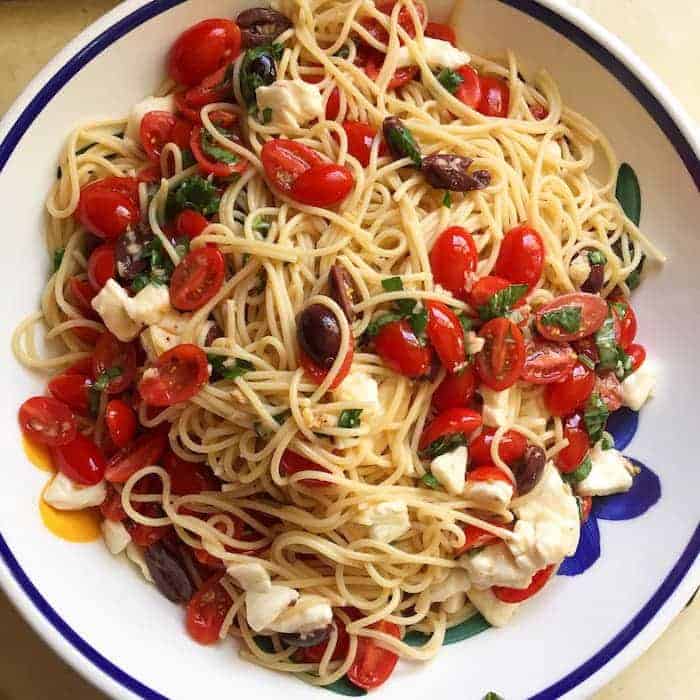 In my not-so-humble opinion, there's few summer foods better than the holy trinity of tomatoes, fresh mozzarella, and basil. This combination, when made with flavorful homegrown or local tomatoes, is perfect served as a salad with a light drizzle of olive oil and vinegar. But why stop there? All summer long I put it on pasta, pizza, and sandwiches. (Heck, I even add bacon and call it a Waffle BLT.) Right now, however, gluten-free pasta with fresh tomatoes and basil has my heart.
Why am I smitten with it? Because…I made it for dinner last night and the taste is fresh in my memory. 🙂 If I'd just eaten a tomato, basil, mozzarella salad, I'd probably be proclaiming that to be my favorite. I'm sure you understand!
While you could make a tasty pasta dish in under 15 minutes by simply combining freshly cooked pasta with olive oil, tomatoes, mozzarella, and garlic. I'm going to suggest that you add about 30 minutes of unattended cooking time to make it an even better dish.
Let me explain.
Magic happens when you stir together tomatoes, basil, garlic, olive oil, olives, and a splash of olive brine and let it sit for at least 30 minutes. (Magic as defined by tasty culinary happenings.) The garlic and basil infuse the oil with flavor and the salt from the olive brine draws some liquid out of the tomatoes. This leaves you with a really tasty, fresh pasta sauce.
When I make this recipe, I prepare the tomato-basil mixture and let it sit for 15 minutes before I bring the water to a boil for the pasta. (Here's how to cook gluten-free pasta.) This timing means my tomatoes macerate for about 45 minutes, which I find to be just right. As with most things in life, you can have too much of a good thing. If the tomatoes sit for longer than an hour, they tend to get mushy. Who wants mushy tomatoes? No one. That's who!
Ingredient and Preparation Notes
Olive brine adds a salty-acidic tang to the pasta. If you don't have two tablespoons of brine handy, replace it with two teaspoons of red wine vinegar and 1/2 teaspoon of coarse salt. Add this to the tomato mixture. Adjust with more vinegar and salt as your tastes dictate.

Fresh mozzarella or fresh-style mozzarella is really a must for this dish. Dense, low moisture mozzarella, which is great on pizza, doesn't have the taste or texture to compliment the tomatoes and basil. Look for freshly made mozzarella or buy a ball or BelGioioso or equivalent.

Kalamata olives are recommended but most olives (with the exception of canned black olives) work well in this dish.

To cut the basil, stack four or five basil leaves (face down, vein side up.) Roll the leaves into a tight roll (like you are rolling a cigar). Hold the roll together and carefully cut them into thin ribbons. Gently toss to separate the slices.

For this recipe, I used Ronzoni gluten-free pasta. Jovial also works great. That said, use whatever you love. (Including fresh gluten-free pasta.)
Reserve some of the pasta cooking liquid. If the pasta seems dry after you toss it with the tomatoes, add a splash of the hot pasta cooking liquid. The starch in the water coats the pasta and prevents it from sticking. (Don't do this with tap water or you will have a pasta blob on your hands.)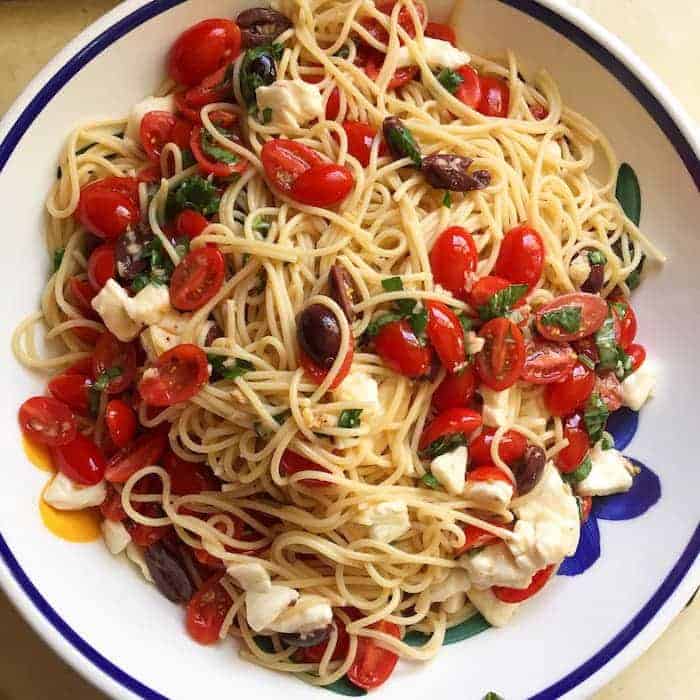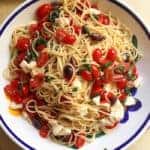 Gluten-Free Pasta with Tomatoes and Basil
If you don't have olive brine on hand, replace it with two teaspoons red wine vinegar and 1/2 teaspoon coarse salt. Adjust to taste as needed.
Ingredients
1/4

cup

olive oil

3

cloves

garlic, minced or put through a garlic press

1

pint

grape or cherry tomatoes, halved

10

basil leaves, sliced into thin ribbons

1/4

cup

kalmata olives, halved

2

tablespoons

olive brine

see note above

12

ounces

gluten-free spaghetti

8

ounces

fresh mozzarella, cut into bite-size pieces

salt and pepper
Instructions
Combine the olive oil and minced garlic in a medium bowl. Stir to combine. Add the tomatoes, basil, olives, and olive brine. Stir to combine. Allow to stand for 30 minutes to one hour. This allows the flavors to mingle.

Bring a large pot of water to a boil. Salt generously. Add the spaghetti. Stir during the first few minutes of cooking to prevent the pasta from sticking. (Do not add oil to the pasta water.) Cook until tender.

Carefully ladle out about 1/2 cup of pasta cooking water. Drain the pasta and return it to the cooking pot. Add the tomatoes and fresh mozzarella. Toss to combine. You want the mozzarella to soften slightly. If the pasta seems dry, add a little of the pasta cooking water. Adjust as needed.

Taste. Add salt and pepper as needed. Serve.