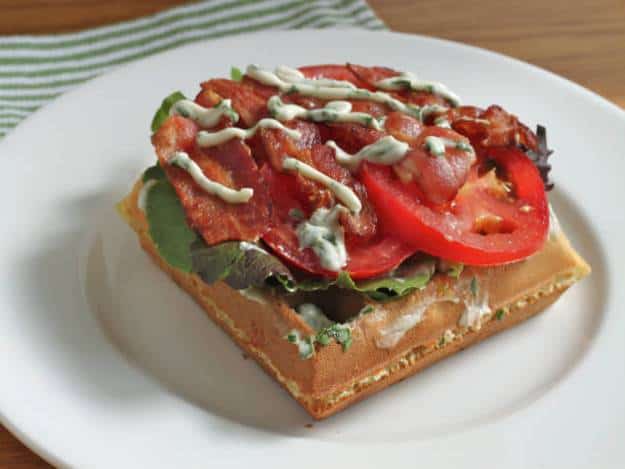 The other night I planned on making "brinner": breakfast for dinner. It's one of my favorites. Then I looked at the garden and saw lots of ripe tomatoes. I thought, "Too bad I can't put tomatoes on pancakes. I guess I'll make BLTs instead."
Then I stopped.
Tomatoes on pancakes would be soggy, of course. But I wondered if they'd work on waffles. That's right, gluten-free waffle blts. Oh, they'd be (w)BLTs! I smiled. I already loved this idea. Don't you love it when that happens? Inspiration grabs you and you think, "Go, me! That's great! Self, you are amazing." (Do I sound like Leslie Knope? I've been told I sound a little like her from time to time. OH MY GOD. As I was typing that, I realized that I made a Leslie Knope reference in a waffle post. ahem)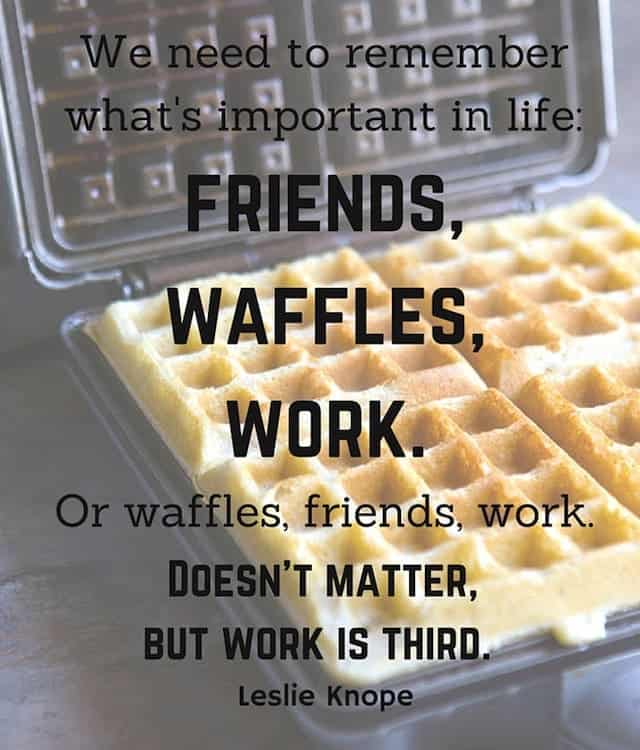 AnyWAY, (w)BLTs sounded amazing to me. Since the flavors of a classic BLT can't really be improved, I kept things simple. I added a little chopped rosemary and black pepper to the waffle batter and whipped up some basil-garlic mayo. The results exceeded even my Leslie Knope-high expectations. As we ate, I kept saying, "Why haven't I done this before? Waffles. Bacon. Tomatoes! It's perfect."
I ate my (w)BLT open-faced; Greg–who is a waffle-lover and a BLT-lover and, therefore, was in heaven,– split his waffle in half and used it like bread. Either way worked well as a BLT delivery system. I like to believe that even Leslie Knope would approve.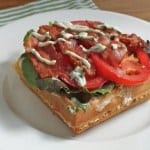 Waffle BLTs
Ingredients
For the Basil Mayo
1/2

cup

mayonnaise

(4 ounces; 226 grams)

10

basil leaves, finely chopped

1

clove

garlic, minced or put through a garlic press

freshly ground pepper and salt to taste
For the Topping
1

teaspoon

olive oil

8

slices

bacon

preferably smoked

Large bunch baby lettuce leaves or several large Romaine leaves torn into small pieces

2

large

tomatoes, thickly
For the Waffles
1

cup

white or brown rice flour

(4 ounces; 113 grams)

2

ounces

1/2 cup cornstarch or tapioca starch

(2 ounces; 56 grams)

1/4

cup

sweet rice flour

(1 ounce; 28 grams)

1

tablespoon

baking powder

1

tablespoon

granulated sugar

1

teaspoon

rosemary, finely chopped

1/2

teaspoon

salt

1/2

teaspoon

xanthan gum

½

teaspoon

ground black pepper

1 1/4

cups

milk

2

large

eggs

(about 3 1/2 ounces; 100 grams, out of shell)

1/4

cup

vegetable oil

(1 3/4 ounces; 50 grams)

non-stick cooking spray
Instructions
Prepare the Basil-Garlic Mayo: Stir together mayonnaise, basil, and garlic in a small bowl. Season with salt and pepper to taste. Set aside until ready to serve.

Prepare the Bacon: Heat oil in a large skillet over high heat until shimmering but not smoking. Add bacon. Cook until crisp, about five minutes per side. Transfer to a paper-towel lined plate.

Prepare the Waffles: In medium mixing bowl, whisk together white rice flour, cornstarch, sweet rice flour, baking powder, granulated sugar, rosemary, salt, xanthan gum, and black pepper. In small bowl, whisk together milk, eggs, and oil until smooth.

Pour wet ingredients over dry ingredients. Using balloon whisk or handheld mixer, blend until batter is smooth. No lumps should remain.

Heat waffle iron according to manufacturer's directions. Spray iron generously with non-stick cooking spray. Spoon batter onto hot iron (amount of batter will vary depending on your iron) and bake until golden brown and crisp.

Assemble: Remove waffles from iron. Break apart. Spread basil-garlic mayonnaise evenly over waffles. Top with lettuce, tomato and bacon slices. (You might need to break the bacon slices in half so they fit on the waffle.)