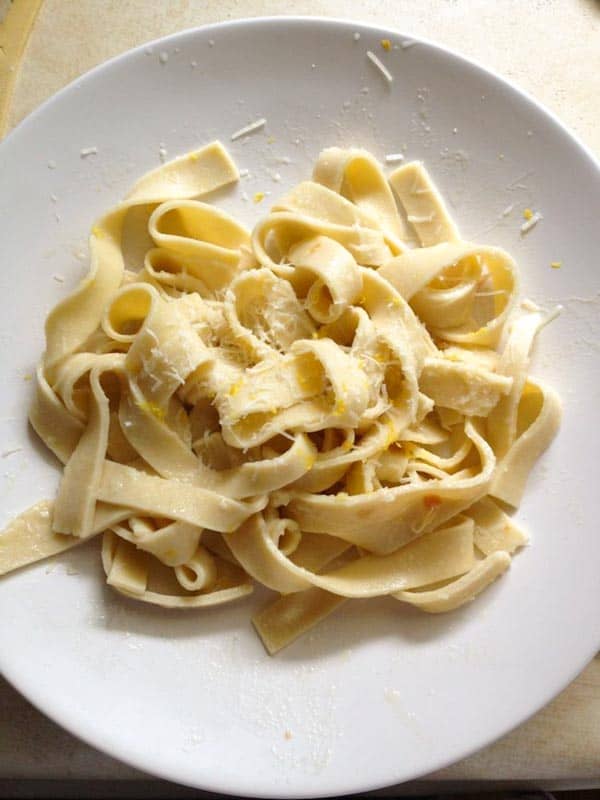 Recently, I had one of those days when everything annoyed me. Then I saw this video from Penny De Los Santos.
Flour & Eggs from Penny De Los Santos on Vimeo.
After watching Sara Kate Gillingham make pasta, I knew what would bring some joy into my day: a plate of fresh gluten-free pasta and some alone time.
There was just one problem. All my previous attempts at fresh gluten-free pasta ended up too gummy or gritty. Yet I wanted to try again. Part of me wonders if this yearning was a bit of self-sabotage, a desire to make something I thought would flop. Another part of me thinks it was hope.
Instead of putting together a complex flour blend, I simply scooped some brown-rice flour and added a little tapioca starch and xanthan gum to it. After whisking them together, I added two eggs and stirred everything together with a wooden spoon. It was by far the simplest fresh gluten-free pasta recipe I'd ever attempted. The dough looked so beautiful that I couldn't help but smile. I rolled it out and cut it into fat ribbons.
After a quick boil in salted water, I strained the noodles. They had plumped up nicely during cooking, but didn't look bloated and weren't falling apart at the edges, two issues I'd dealt with before when testing gluten-free pasta recipes. Inspired by Penny's video, I sautéed a little garlic in a lot of butter, grated some Parmesan, and finished the pasta with a little lemon zest.
I couldn't believe it: this fresh gluten-free pasta recipe worked.
Over the next two weeks, I continued making fresh gluten-free pasta. I ran it through my pasta maker. I made fat ravioli. I cut it by hand. Again and again, this simple mixture of brown rice flour, tapioca starch, xanthan gum, and eggs made delicious pasta. The biggest difference between this pasta and traditional fresh pasta is that you can't roll it out as thin. If you use a pasta machine, don't roll it on the thinnest setting. I've found that stopping on the second-to-last setting works best. You also don't want your sheets to get much longer than 12 inches. When the pasta is longer than this, it tends to break as it goes through the cutter.
Keep those two things in mind and you'll be rewarded with amazing gluten-free fresh pasta, to make on good days and on not-so-good days. In fact, I think it tastes even better on gloomy days, but that's just me.

Fresh Gluten-Free Pasta Recipe: Tips
Before starting, dust a baking sheet with brown rice flour. As you work, move the cut pasta from the counter to the baking sheet. The flour prevents it from sticking.
Xanthan gum is key to this recipe. Don't omit it or the recipe won't work.
Weigh your eggs. They should be about 50 grams (out of shell) each. If your eggs are too large, the dough will end up too soft.
If your dough is too sticky, add equal parts tapioca starch and brown rice flour to stiffen it.
If your dough is dry, add a little water. Start with two teaspoons and increase as needed.
Generously flour your counter and rolling pin with brown rice flour. This keeps the dough from sticking.
ed note: Does this look familiar? An earlier version of this piece appeared on SeriousEats.com as part of my Gluten-Free Tuesday column.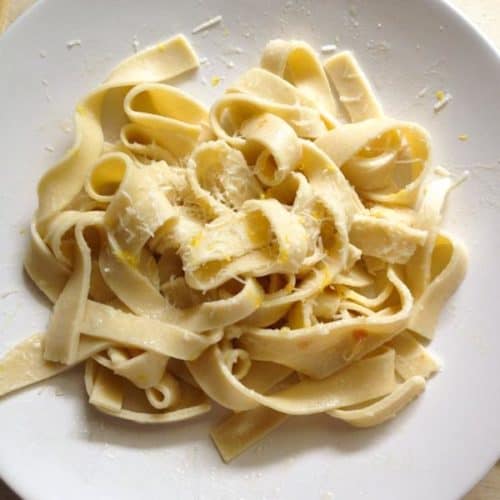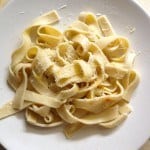 Fresh Gluten-Free Pasta
Ingredients
1 1/2

cups

brown rice flour, plus more for dusting

(7 1/2 ounces; 212 grams)

1/2

cup

tapioca starch

(2 ounces; 56 grams)

1

teaspoon

xanthan gum

4

large

eggs

(about 7 ounces; 200 grams out of shell)
Instructions
In large bowl, whisk together brown rice flour, tapioca starch, and xanthan gum. Add eggs. Switch to a wooden spoon and stir until a dough forms. Generously dust your counter with brown rice flour. Turn dough out onto counter and knead a few times until fairly smooth.

Divide dough into four equal pieces and work with 1 piece at a time, keeping the rest covered. Press the dough to flatten it slightly. Using a pasta machine set at the widest setting, run the dough through 2 times. Continue rolling dough through successively narrower settings until you reach the second-to-last setting.

Cut dough sheet in half horizontally and pass each through the fettuccine cutter. (The spaghetti setting is too thin for this gluten-free pasta.) Dust pasta with brown rice flour and place on a rimmed baking sheet. Repeat with remaining dough pieces.

Bring a pot of salted water to a boil. Cook half the batch of pasta until tender, about 5 minutes. Toss with sauce. Repeat with remaining pasta. Serve immediately.