Print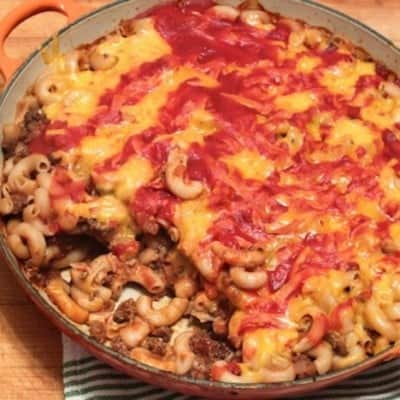 Gluten-Free American Chop Suey (aka Goulash)
This dish goes by many different names, Goulash, American Chop Suey, and more! No matter what you call it, this simple combination of macaroni, tomato sauce, and ground beef is delicious.
Nonstick cooking spray

Salt

1

pound

gluten-free elbow macaroni

2

tablespoons

olive oil

1

medium

onion, finely chopped

1

pound

93% extra-lean ground beef

1

clove

garlic, minced or put through a garlic press

1

(28 ounce) can

tomato sauce (I used Hunt's tomato sauce.)

6

ounces

cheddar cheese, grated

(about 1 1/2 cups)
Preheat the oven to 375ºF. Lightly spray a 13 by 9-inch baking dish (or a large oven-proof dish) with nonstick cooking spray.

Fill a large pot three-quarters full with water. Cover and bring to a boil over high heat. Set a colander in the sink for draining the pasta. When the water reaches a boil, add 1 tablespoon salt and the pasta. Stir with a wooden spoon for about 30 seconds, then stir occasionally while the pasta cooks.

In a large nonstick frying pan, heat the oil over high heat until hot and shimmering but not smoking. Add the onion. Cook, stirring frequently with a wooden spoon, until the onion is soft, about 3 minutes. Add the garlic and 1/2 teaspoon salt. Cook, stirring frequently, until soft and aromatic.

Add the ground beef and cook, breaking up the clumps with a wooden spoon or heatproof spatula, until thoroughly cooked and browned, about four minutes. If desired, remove and discard any excess fat.

Stir three-quarters of the tomato sauce into the beef. Lower the heat to low. (This is a good time to check the pasta if you haven't already.)

After about 10 minutes of boiling, check the pasta for doneness. Drain the pasta in the colander and return it to the cooking pot.

Add the meat sauce to the pasta and stir with a wooden spoon to combine. Pour into the prepared baking dish. Top with the remaining tomato sauce and sprinkle evenly with the cheese.

Bake until the cheese is golden brown and the sauce is bubbling, about 15 minutes.