From American Chop Suey to Goulash to Pasta 'N Beef, this dish is an American Classic! Use gluten-free pasta shells and lean ground beef for an easy and delicious weeknight meal.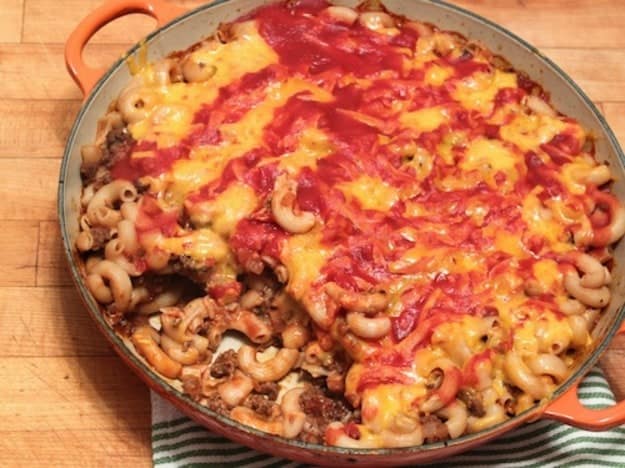 Gluten-Free Goulash (aka Gluten-Free American Chop Suey)
Years ago when I mentioned to my husband that I planned to make goulash for dinner, he thought I was making stew. Instead, I put a very American casserole on the table. The conversation that followed went something like this:
"What's this?"
"It's goulash."
"No…no, it isn't. It's like a homemade version of, I don't know, Hamburger Helper."
Ah, culinary misunderstandings. As long as they don't involve an allergen that could kill me, they're usually funny and often enlightening. In the case of our goulash misunderstanding, Greg assumed I would be making the classic Hungarian stew and had never heard the macaroni and beef casserole I made referred to as goulash. I'm still not sure why the pasta and beef casserole I made is referred to as goulash. At first I thought it was a regional reference; however, I've met people from all over the country that call this casserole goulash.
Then I wrote about the recipe for my SeriousEats.com column. In the comments, people told me that they know this dish as "American Chop Suey." Others know it as, "Johnny Marzetti" and one person mentioned the name, "Slumgum." I have to admit, slumgum was a new one to me!
No matter what you call it, this is a recipe for easy comfort food. Simply combine cooked gluten-free pasta (I like to use elbow macaroni but anything works) with cooked ground beef and tomato sauce. Top the whole thing with a little grated cheddar and in about 20 minutes, dinner is ready.
One little warning for the recipe, don't overcook the pasta. Gluten-free pasta turns mushy when overcooked. To avoid this, check the pasta while it cooks. You want it to be a bit firm when you add it to the sauce. It finishes cooking in the oven. And, like most pasta dishes, this recipe welcomes creativity. Add some additional chopped vegetables and cook them along with the onions and garlic or swap the Cheddar for a different cheese. However you make it, you'll end up with a casserole that's delicious but definitely not a stew. Just ask my husband.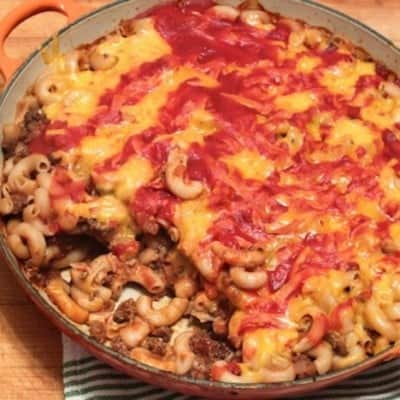 Gluten-Free American Chop Suey (aka Goulash)
This dish goes by many different names, Goulash, American Chop Suey, and more! No matter what you call it, this simple combination of macaroni, tomato sauce, and ground beef is delicious.
Ingredients
Nonstick cooking spray

Salt

1

pound

gluten-free elbow macaroni

2

tablespoons

olive oil

1

medium

onion, finely chopped

1

pound

93% extra-lean ground beef

1

clove

garlic, minced or put through a garlic press

1

(28 ounce) can

tomato sauce (I used Hunt's tomato sauce.)

6

ounces

cheddar cheese, grated

(about 1 1/2 cups)
Instructions
Preheat the oven to 375ºF. Lightly spray a 13 by 9-inch baking dish (or a large oven-proof dish) with nonstick cooking spray.

Fill a large pot three-quarters full with water. Cover and bring to a boil over high heat. Set a colander in the sink for draining the pasta. When the water reaches a boil, add 1 tablespoon salt and the pasta. Stir with a wooden spoon for about 30 seconds, then stir occasionally while the pasta cooks.

In a large nonstick frying pan, heat the oil over high heat until hot and shimmering but not smoking. Add the onion. Cook, stirring frequently with a wooden spoon, until the onion is soft, about 3 minutes. Add the garlic and 1/2 teaspoon salt. Cook, stirring frequently, until soft and aromatic.

Add the ground beef and cook, breaking up the clumps with a wooden spoon or heatproof spatula, until thoroughly cooked and browned, about four minutes. If desired, remove and discard any excess fat.

Stir three-quarters of the tomato sauce into the beef. Lower the heat to low. (This is a good time to check the pasta if you haven't already.)

After about 10 minutes of boiling, check the pasta for doneness. Drain the pasta in the colander and return it to the cooking pot.

Add the meat sauce to the pasta and stir with a wooden spoon to combine. Pour into the prepared baking dish. Top with the remaining tomato sauce and sprinkle evenly with the cheese.

Bake until the cheese is golden brown and the sauce is bubbling, about 15 minutes.