Print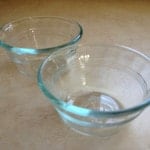 How to Make 1 Minute Egg Salad
I like my egg salad simple, just mayonnaise, salt, and pepper for me. If you prefer onions, celery, or anything else, add it. Even though these eggs are cooked in the microwave, they work the same as traditional hard boiled eggs for egg salad.
Gluten-free non-stick cooking spray

2

large eggs

mayonnaise

salt

freshly ground black pepper
Spray two 6-ounce custard cups with nonstick cooking spray. Crack one egg into each of the prepared cups. Pierce yolks with the tines of a fork. Place in microwave. Cover with microwave cover. This is key. Microwave for one minute. You will hear load popping from the eggs. This is normal. Allow to stand for about 15 seconds before checking. If eggs are set, remove from microwave. If not, microwave in 10-second bursts until the center sets.

Turn eggs out onto a cutting board to cool. Once cool, chop. Place eggs into a bowl. Stir in mayonnaise and season with salt and pepper to taste.