This 1-minute egg salad uses the microwave to make quick work of the eggs.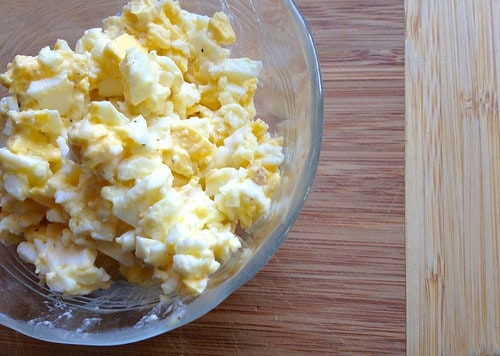 Confession time: I love egg salad.
Confession time part two: I rarely plan for egg salad. So for a long time, I just didn't make it. By the time I hard-cooked eggs and cooled them, the craving for egg salad usually had passed. (I tend to crave egg salad at lunch when I'm in a "FOOD NOW!" mood.)
But then! THEN! This past fall, we redid our kitchen floor. For a few days, the oven was out of the kitchen. This turned out to be less of a problem than you'd think. Thankfully it was early fall; so we ate lots of salads and I used the slow cooker a few times. One day in the midst of that, I looked up "microwave foods." I did this mostly for fun. Nothing really grabbed me until I saw hard-cooked eggs. Even though I'd seen advertisements for Eggies , I never really believed you could microwave eggs. That sounded…well, it sounded nuts to me.
Yet things that are nuts are sometimes fun to try. So I grabbed some custard cups, eggs, and headed to the microwave. OH.MY.GOD. It worked! The eggs "hard cooked." Well, mostly. Let me clarify!
These eggs are great for:
egg salad
breakfast sandwiches
sliced or chopped eggs on green salads.These aren't the type of eggs you'd eat plain as a snack. But for egg salad or a breakfast sandwich? They are great! In fact, I don't think I've boiled an egg since.
Here's how you make them: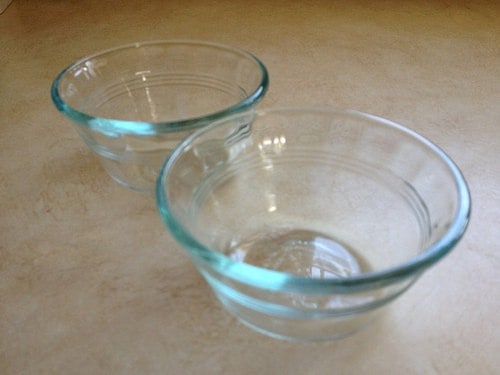 Grab two 6-ounce custard cups. Make sure they are microwave safe—-most are.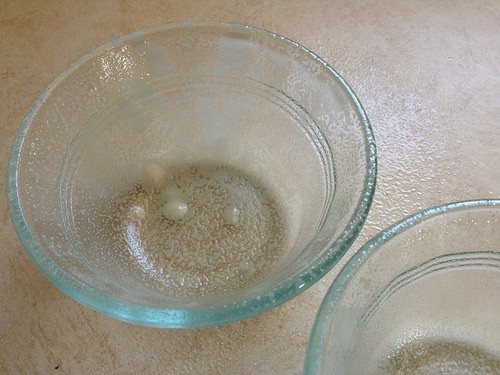 Spray lightly with gluten-free non-stick cooking spray.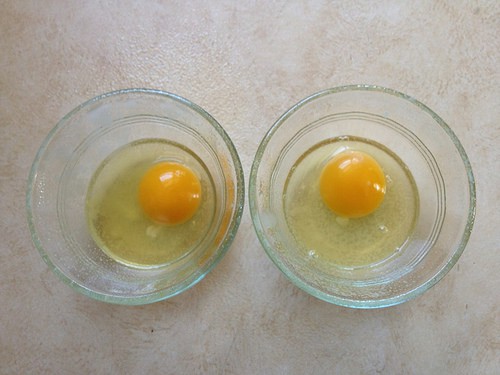 Break an egg in each cup.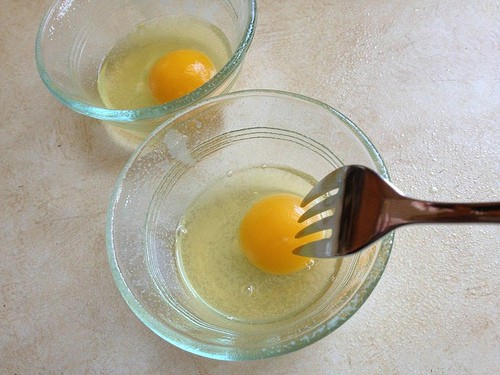 Pierce the egg yolk a few times with the tines of a fork. This is key. If you don't do this, the eggs can explode.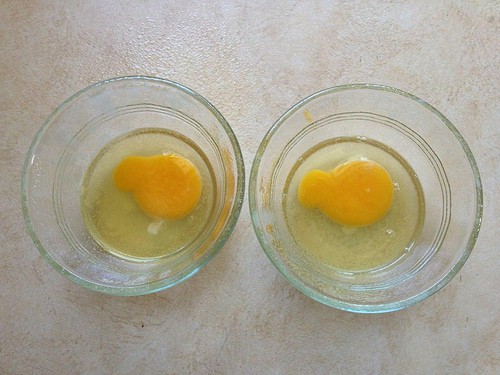 Pretty!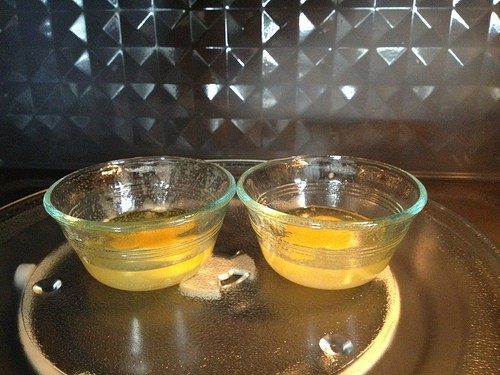 Place into a microwave. For this to work, your microwave turntable needs to turn.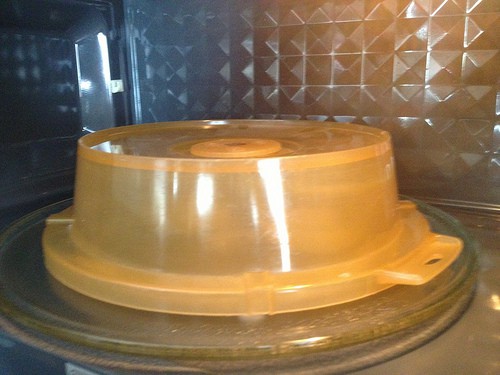 Cover. I can't stress enough how important this step is to the success of this recipe. Steam builds up in the cups and causes the eggs to pop (LOUDLY). A little egg gets on the microwave cover. It's easy to clean, really. However, if those little bits get inside the microwave, it's a pain to clean because the pieces of egg are so small. So be sure to cover!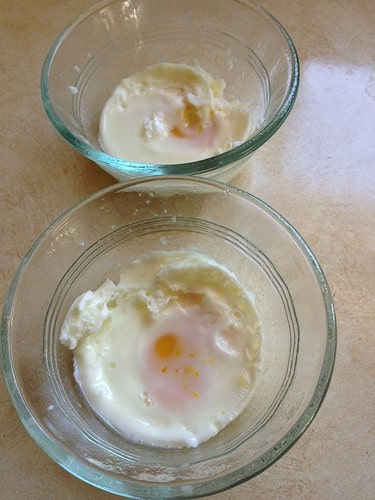 Microwave for a minute and you get…this! As you can see, the center is still a little runny. This works if you are using these eggs for a breakfast sandwich. For egg salad, I'd microwave in 10-second bursts until the center sets.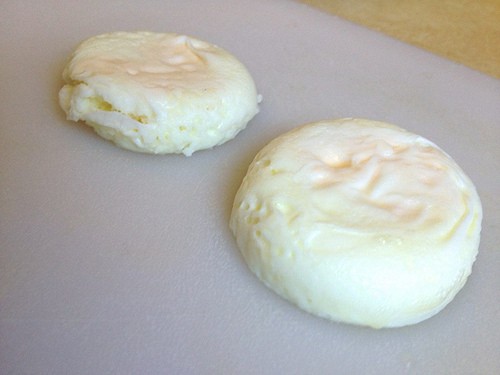 Now it's set.
Turn out onto a cutting board and allow to cool. As you can see, these eggs are the perfect size for a breakfast sandwich. If that's what you are making, don't let the egg cool. Rather turn the egg right onto your waiting bread or biscuit.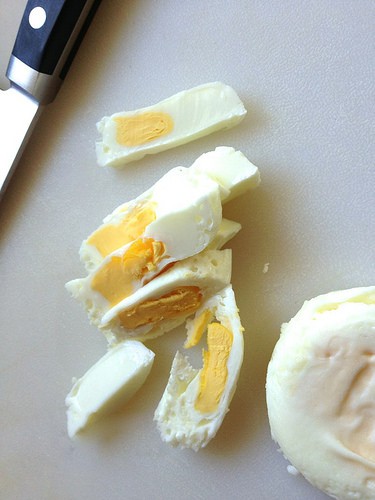 After the egg cools, cut. Isn't the inside lovely?? These strips are great on salad, btw.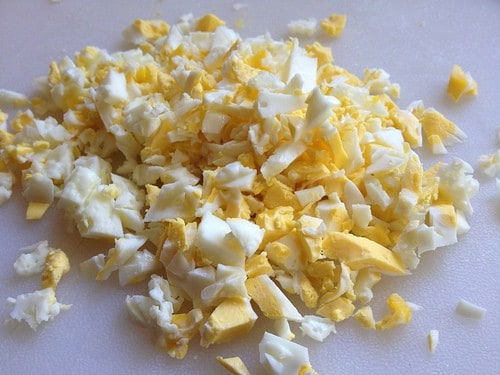 Chop!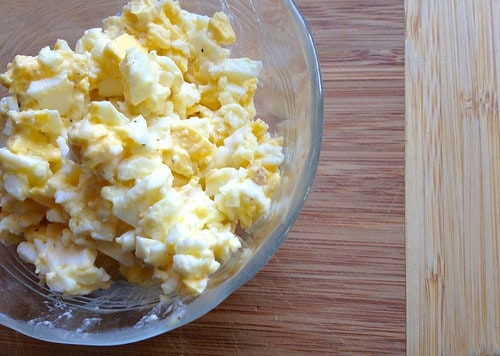 Done!
How great is that??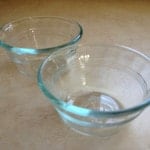 How to Make 1 Minute Egg Salad
I like my egg salad simple, just mayonnaise, salt, and pepper for me. If you prefer onions, celery, or anything else, add it. Even though these eggs are cooked in the microwave, they work the same as traditional hard boiled eggs for egg salad.
Ingredients
Gluten-free non-stick cooking spray

2

large eggs

mayonnaise

salt

freshly ground black pepper
Instructions
Spray two 6-ounce custard cups with nonstick cooking spray. Crack one egg into each of the prepared cups. Pierce yolks with the tines of a fork. Place in microwave. Cover with microwave cover. This is key. Microwave for one minute. You will hear load popping from the eggs. This is normal. Allow to stand for about 15 seconds before checking. If eggs are set, remove from microwave. If not, microwave in 10-second bursts until the center sets.

Turn eggs out onto a cutting board to cool. Once cool, chop. Place eggs into a bowl. Stir in mayonnaise and season with salt and pepper to taste.