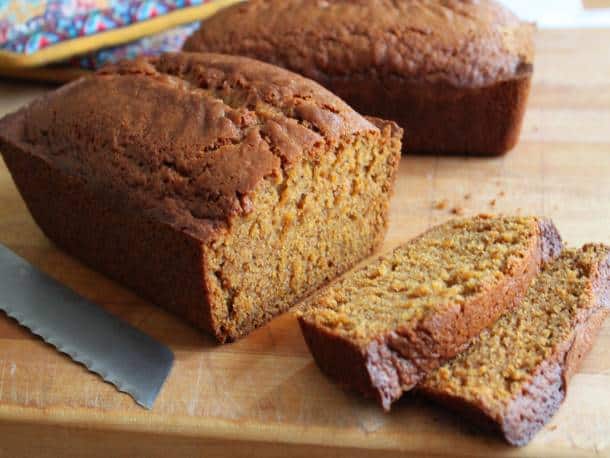 This recipe holds a very special place in my heart. Years ago, waaaaay back when I published a print gluten-free newsletter. (Yup, I've been at this whole gluten-free thing longer than blogs have existed. That doesn't make me feel old AT ALL.)
AnyWAY, one of my readers sent me a recipe request. She was NOT a baker, except for one thing: she made pumpkin bread. All year long! (You love her, don't you? I mean pumpkin bread all year long is a great idea!)
Her recipe made two loaves. She'd bake one and keep one in the freezer. Another brilliant idea! Bake once, enjoy it twice.
The recipe intrigued me because it contained orange juice. I thought the finished bread would taste like orange. It didn't. But the orange juice adds a very subtle note.
I loved the bread so much that I included it in Easy Gluten-Free Baking, my first cookbook.
A few notes about the recipe:
You can make muffins, instead of bread. Simply line 24 muffin cups with paper liners. Fill each cup about 2/3 full. Bake until set, about 25 minutes.
As written the recipe contains 3 cups of granulated sugar. That's what the original contained. Since it was a beloved family recipe, I wanted to honor the recipe and convert it as written. If you don't want so much sugar, reduce it to 2 cups or even 1 1/2 cups. Any less than that and the entire recipe changes.
As written the recipe contains 1 cup of vegetable oil. You can reduce this to 1/2 cup (or anything in between). Any lower than 1/2 cup of oil will affect the recipe.
Use canned pumpkin, not pumpkin pie filling. The are stocked next to each other at the store. You want pure pumpkin, no added spices or anything else.
Cool the bread before freezing. If you want to freeze the second loaf of pumpkin bread, allow it to cool completely before you freeze it. Once it's cooled, wrap the bread tightly in plastic wrap and then again in aluminum foil. Freeze up to three months.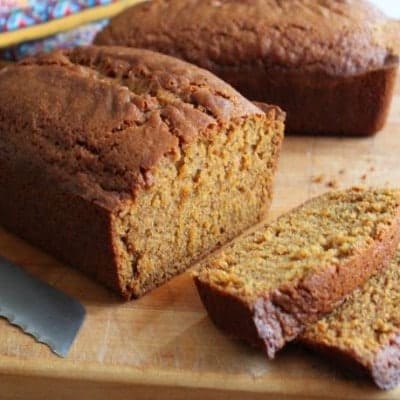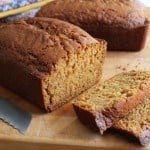 Classic Gluten-Free Pumpkin Bread
Total Time
1
hour
15
minutes
Servings
2
9x5 inch loaves
Ingredients
2 1/2

cups

finely ground white rice flour

(10 ounces; 283 grams)

1/2

cup

cornstarch

(2 ounces; 57 grams)

5

teaspoons

pumpkin pie spice

2

teaspoons

baking soda

1 1/2

teaspoons

salt

1

teaspoon

xanthan gum

4

large

eggs

(7 ounces; 198 grams)

3/4

cup

vegetable oil

(5 1/4 ounces; 148 grams)

1/2

cup

orange juice

(4 ounces; 113 grams)

1 3/4

cups

granulated sugar

(12 1/2 ounces; 347 grams)

1

(15-ounce) can

pumpkin puree

Gluten-free non-stick cooking spray
Instructions
Adjust oven rack to middle position and preheat oven to 350°F. Spray two 9-by-5-inch loaf pans lightly with nonstick cooking spray.

In a large mixing bowl, whisk together flour, cornstarch, pumpkin pie spice, baking soda, salt, and xanthan gum. In separate bowl, mix together eggs, oil and orange juice. Add sugar and pumpkin. Blend until thoroughly combined.

Add pumpkin mixture to dry ingredients. Mix until ingredients are thoroughly combined and a smooth batter forms (use medium speed on a handheld mixer or medium-low speed on a stand mixer. If mixing by hand, use a balloon whisk and mix for two minutes). Scrape down sides and bottom of bowl once or twice with a rubber spatula while mixing.

Divide batter evenly between prepared loaf pans. Bake for 1 hour or until a toothpick inserted into the center of the loaf comes out clean.

Remove pans from oven and place on a wire rack. Allow bread to cool in the pan for 5 minutes. Remove bread from pans and place directly on wire rack. Allow bread to cool before slicing. Store bread wrapped in plastic wrap at room temperature for 3 to 5 days, or wrap and freeze for up to 3 months.