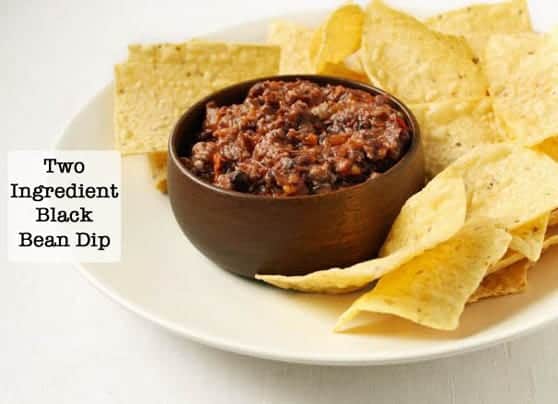 Recipes don't get much easier than this one for my favorite black bean dip. To make, simply take one can of rinsed black beans and combine it with one cup of salsa. Pulse a few times in a food processor and serve. That's it.
Seriously. That's it. I bet you already have the recipe memorized! Repeat after me: One can of black beans. One cup of salsa. And a few pulses in a food processor.
Of course, this dip tastes great with gluten-free tortilla chips or raw vegetables. But I also like to serve it in a quesadilla.
Here's what to do: Spread the dip on a small corn or gluten-free flour tortilla. Sprinkle some grated cheese on top of the dip. Top with another tortilla. Spray a non-stick frying pan with a little non-stick cooking spray over medium heat. Heat the quesadilla until it begins to brown. Flip and cook an additional two minutes or so.
Oh, one last thing, because the black beans mute the heat of the salsa a little, I use a medium or hot salsa (or extra hot if I'm feeling spicy!). However you serve this dip, it's a great recipe to have in your repertoire.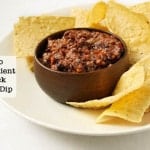 2 Ingredient Black Bean Dip
If you have two minutes, you can make this dip!
Ingredients
1

(15 ounce) can

black beans, rinsed

1

cup

prepared tomato salsa, hot, medium, or mild
Instructions
In bowl of food processor, combine black beans and salsa. Process a few times until almost smooth. If needed, thin with a little water. Serve. Store leftovers in a covered container in the refrigerator for up to five days.

Serve with tortilla chips or vegetables