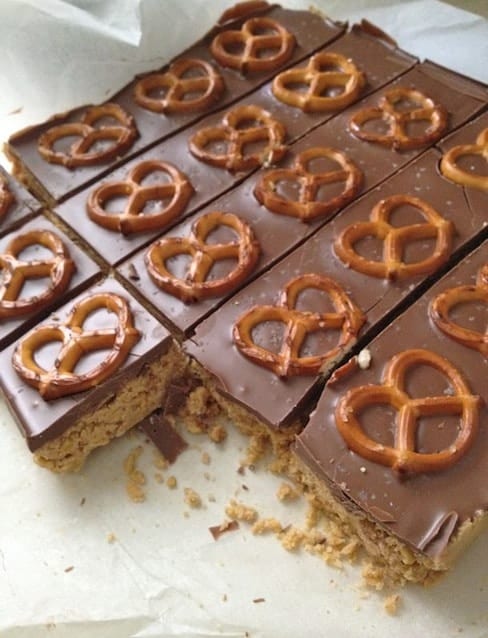 Oh, where do I begin? I feel like the name of these bars tells you everything you need to know: No Bake. Cream Cheese. Peanut Butter. Pretzel. Bars. Is your mouth watering yet? Yeah, mine too!
Thanks to the fact that these are truly no-bake, these bars come together in about five minutes. (I hate "no bake" recipes that make you turn on the oven to bake the crust. That's not "no bake!") But they aren't ready to eat in five minutes. You need to chill them so the chocolate sets. Then, believe it or not, they need to come to room temperature before you cut them.
Why?
Well, the chocolate gets cold and hard. And the base, while crunchy, is soft compared to cold chocolate. If you go to cut them while cold, the chocolate shatters. (You can see this in the photo above. I didn't let those bars sit out long enough before cutting.) Allowing the bars to come to room temperature prevents this problem.
And then, well, then you get to enjoy! Just be sure to cut these small. I get about 20 bars from the 8×8-inch pan. These aren't cookie bars as much as they are candy-like bars. Perfect for picnics and bbqs but, really, a little goes a long way!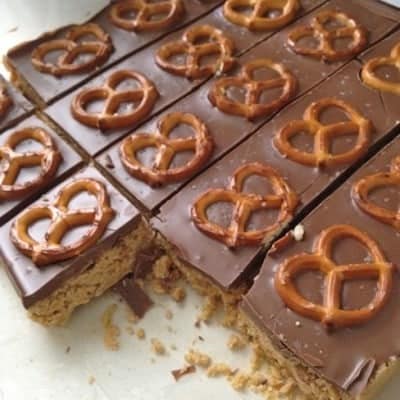 5 Minute Pretzel Cream Cheese Peanut Butter Bars
Ingredients
1

cup

smooth peanut butter, regular or reduced fat

(9 1/2 ounces; 270 grams)

3

ounces

cream cheese, softened (regular, reduced fat or fat free)

1 1/2

cups

powdered sugar

(6 ounces; 170 grams)

4

cups

Corn Chex, crushed

3

tablespoons

butter, melted

1

cup

confectionery coating or chocolate chips, melted

20

gluten-free mini-pretzels

Kosher salt

optional
Instructions
Line 8x8-inch pan with parchment paper. The paper should overhang the edges of the pan, this makes it easy to remove the bars from the pan.

In bowl of stand mixer fitted with paddle attachment, cream together peanut butter and cream cheese on medium speed. Stop mixer. Scrape down bottom and sides of the bowl. Add powdered sugar. Mix until blended. Add the crushed corn chex. Mix to combine. Dough will be stiff. Add melted butter. Blend to combine.

Press dough evenly into prepared baking pan. Spread melted chocolate evenly over the top of the pans. Press mini-pretzels into the melted chocolate. If the pretzels aren't coated with a lot of salt (gluten-free pretzels are usually light on the salt), sprinkle a little kosher salt evenly over the bars. The salty-sweet mix really makes these bars yummy.

Chill bars for 45 minutes. Remove the bars from the refrigerator and allow to come to room temperature, about 45 minutes. Lift bars out of the pan using the parchment paper. Cut into pieces with a sharp knife. Serve. Store leftover bars in the refrigerator.

Note: Cutting the bars while cold causes the chocolate to break apart. It's important to allow them to come to room temperate before cutting.