This easy almond flour coffee cake recipe is gluten-free and grain-free. It makes a moist and tender cake that paleo eaters and others love!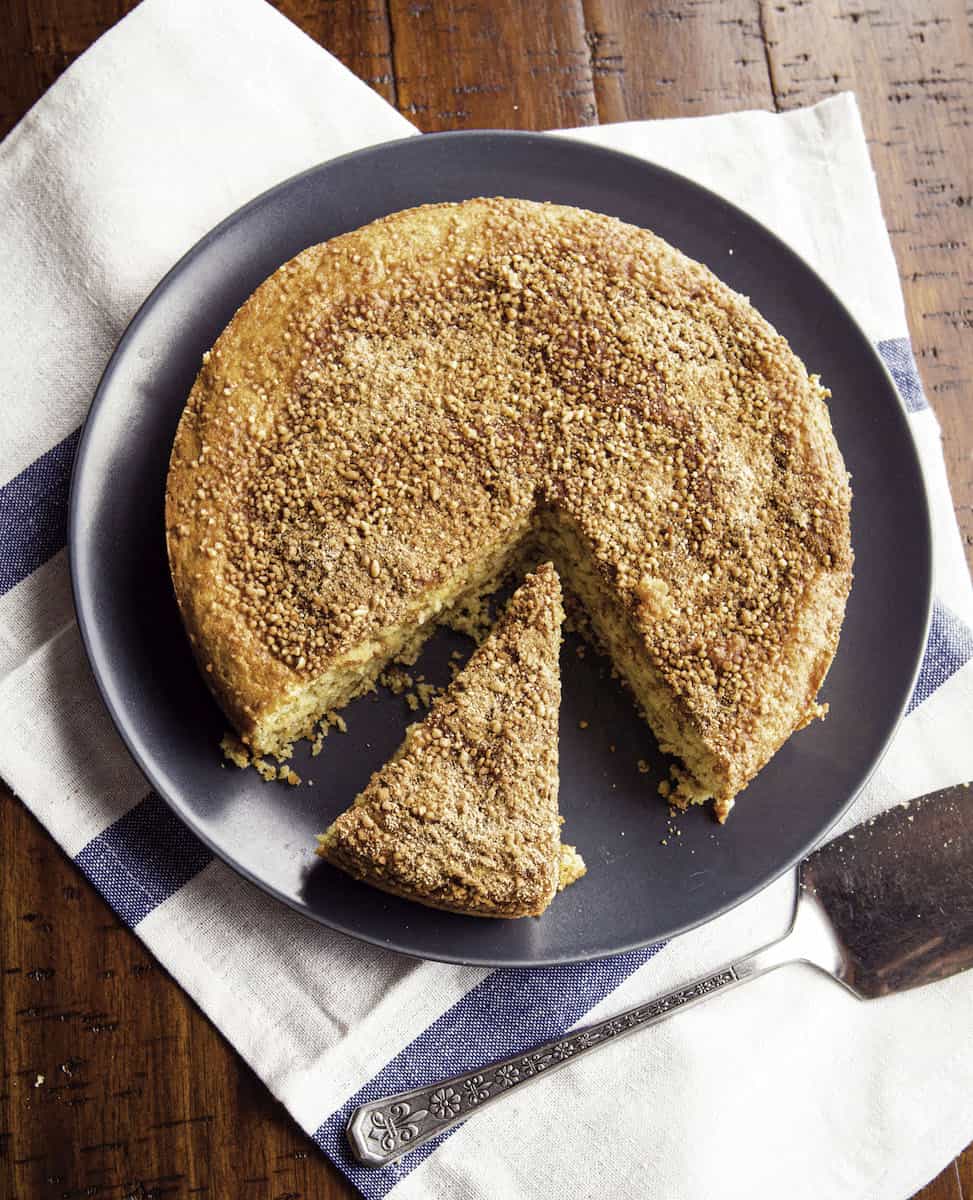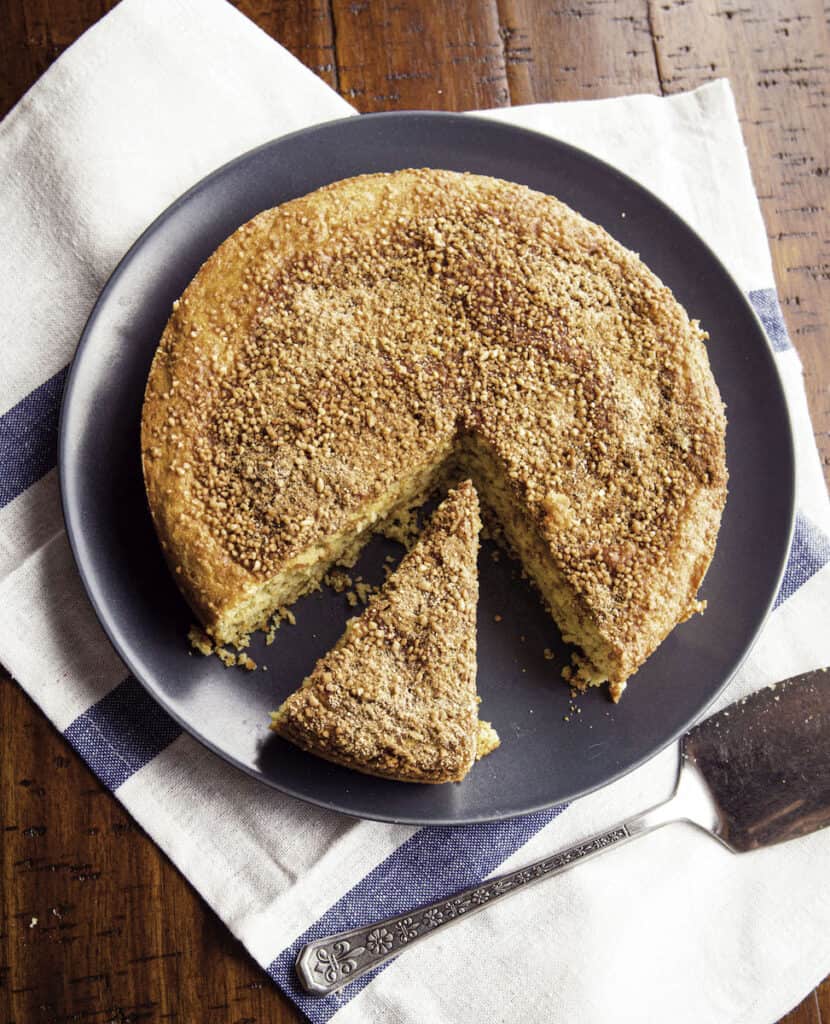 My love of coffee cake started years before I tasted a sip of coffee. My mom made a Bisquik coffee cake often during my childhood. We never ate it for breakfast; it was always an after-dinner treat. This recipe, with its sweet cinnamon flavor, makes a nice breakfast or dessert–coffee optional! This grain-free recipe is a love letter to the coffee cakes of my childhood.
Why You'll Love This Grain-Free Coffee Cake
Delicate and tender
Not too sweet
Easy-to-make
Dairy-Free (with an option to use butter if that works for you.)
Freezes well
Key Ingredients for Almond Flour Coffee Cake
Finely ground almond flour. This is the backbone "flour" for this recipe. It adds wonderful flavor, texture, and richness. Please do not replace the almond with traditional gluten-free flour or additional coconut flour.
Coconut flour. There are only three tablespoons of coconut flour in this cake. It provides the cake-like texture we all know and love in coffee cake. As with the almond flour, it can't be replaced with either gluten-free flour or almond flour or it will adversely affect the texture of the cake.
Coconut Oil. Some brands of coconut oil taste strongly of coconut. Others do not. For this recipe, I prefer mild coconut oil; I find the coconut flour adds enough coconut flour without overwhelming the flavors of the almond flour and cinnamon. If you use a strongly flavored coconut oil, this coffee cake has more of an almond/coconut flavor.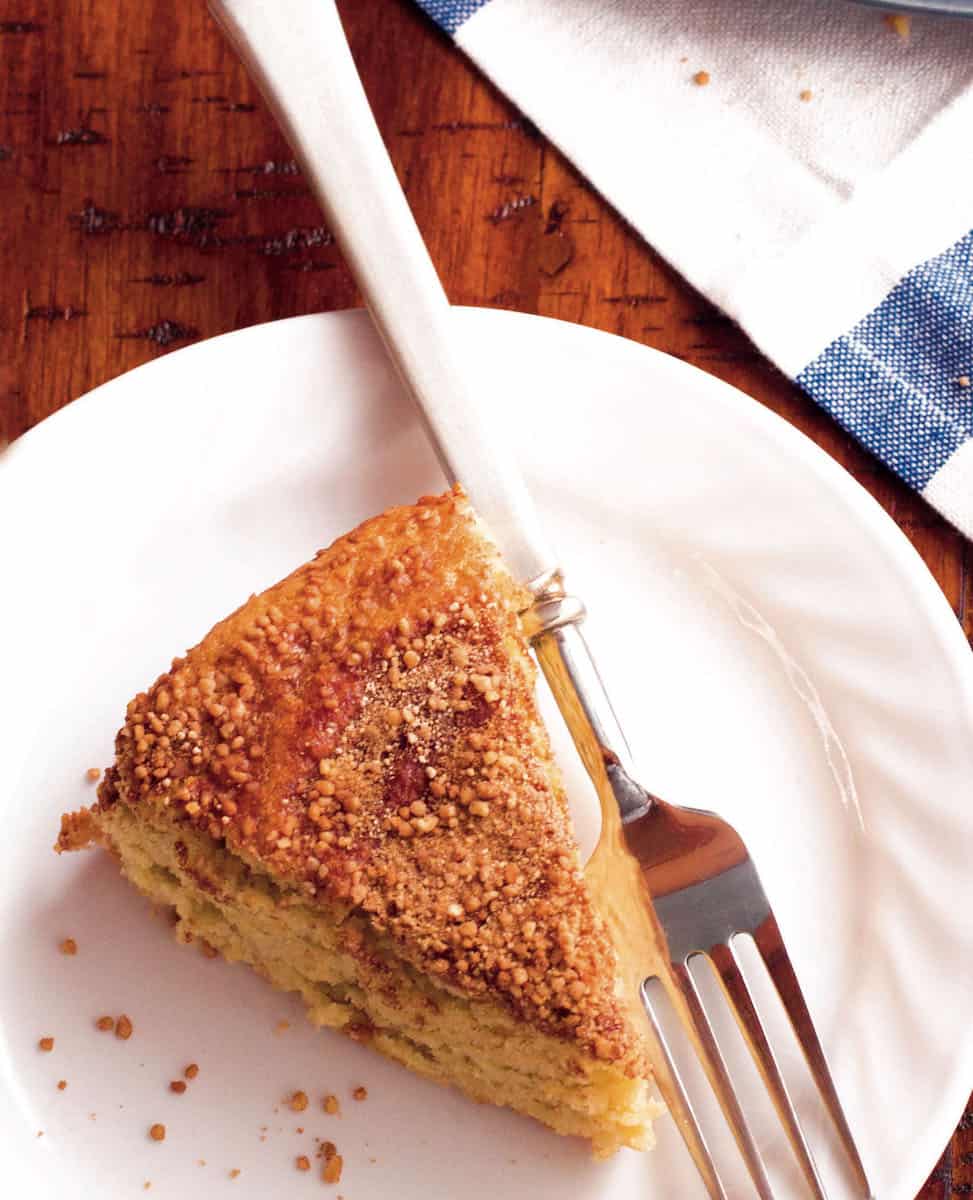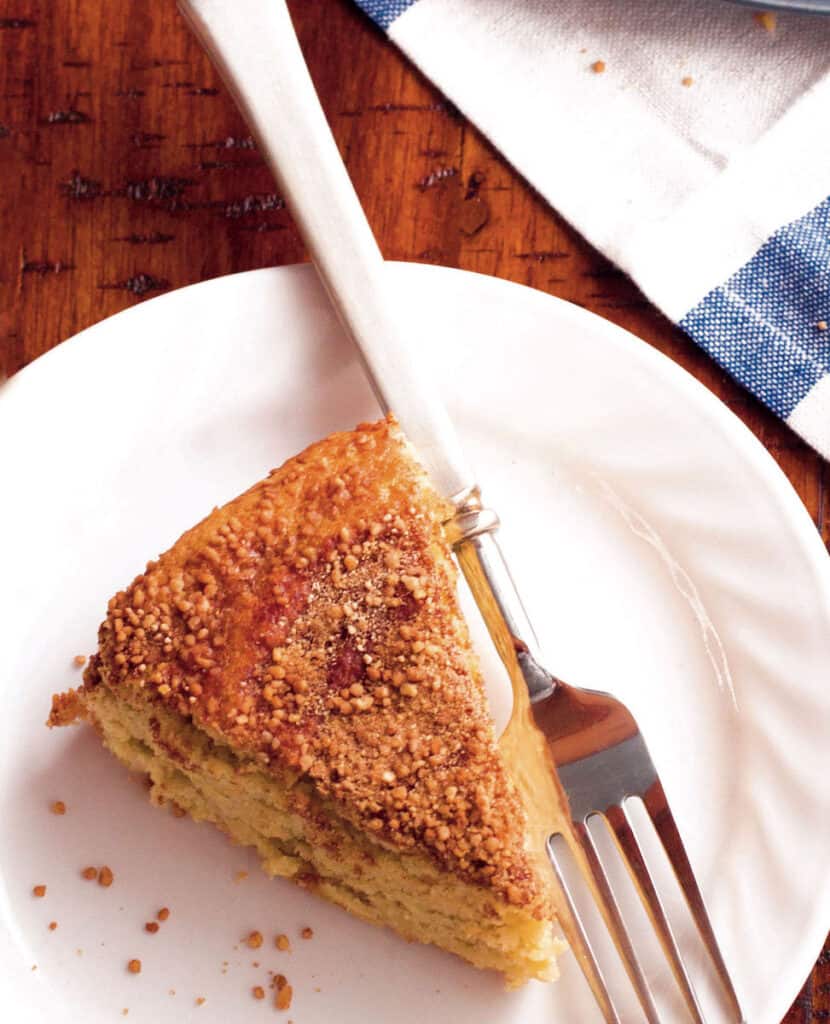 How to Make Almond Flour Coffee Cake: Keys for Success
Use parchment paper. Grease the cake pan with oil and then line the bottom with a piece of parchment paper. Why? Cakes made with coconut flour tend to stick to the pan. Parchment paper prevents this.
Soften the coconut oil. You want the coconut oil soft, not hard and brittle, and not melted.
Use a large balloon whisk. Thanks to the coconut flour in the recipe, the dough is thick. If you notice it's sticking inside your whisk, switch to a larger whisk or use an electric (handheld or stand) mixer.
Note: This recipe is dedicated to Julia who loves to bake and to her mom, Kendall, who so beautifully introduced her daughter to the kitchen.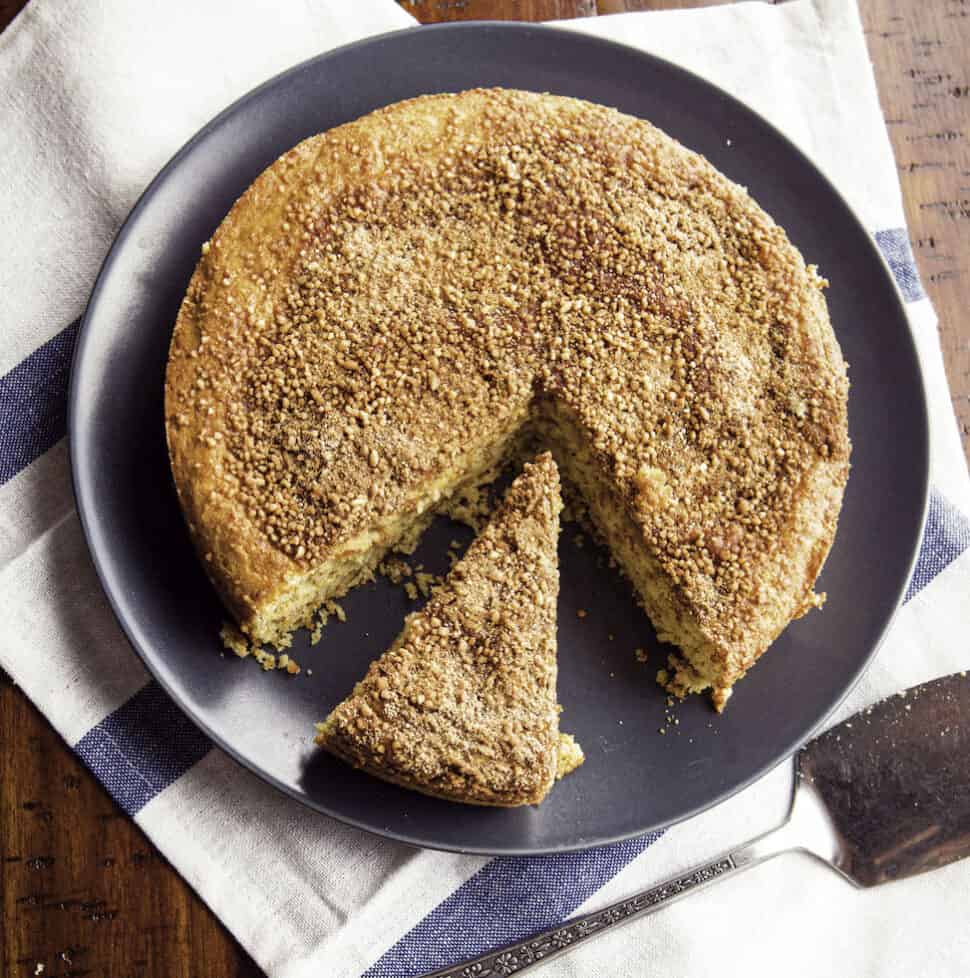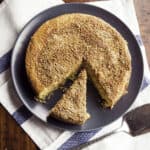 Almond Flour Coffee Cake (Gluten-Free & Grain-Free)
Ingredients
1 3/4

cups

finely ground almond flour

(7 ounces; 198 grams)

3

tablespoons

coconut flour

(3/4 ounce; 21 grams)

1 1/2

teaspoons

baking powder, homemade or store-bought (grain-free)

1/2

teaspoon

salt

1/4

cup

coconut oil, solid or unsalted butter, softened

(2 ounces; 58 grams)

4

large

eggs

(about 8 ounces; 225 grams out of shell.)

1/3

cup

maple syrup

(3 1/2 ounces; 100 grams)

1

teaspoon

vanilla extract
Streusel Topping
2

tablespoons

granulated maple sugar

1 1/2

teaspoons

ground cinnamon
Instructions
Heat the oven and prepare the pan. Adjust oven rack to middle position and preheat oven to 350 degrees Grease an 8-inch round cake pan with nonstick cooking spray or brush lightly with coconut oil. Place an 8-inch round piece of parchment paper in the bottom of the pan.

Prepare the batter. Whisk the almond flour, coconut flour, baking powder, and salt together in a medium mixing bowl. Cut in coconut oil until no large pieces of coconut oil remain. I like to use my fingers for this. If you don't want to use your fingers, use a pastry cutter. Remove two tablespoons of dry mixture for the streusel and place in a small mixing bowl. Set aside.

Add the eggs, one at a time, to the remaining dry ingredients. Allow each egg to incorporate before you add the next. After you add the final egg, whisk in the maple syrup and vanilla extract. Spread batter into prepared pan.

Prepare the streusel. Stir together the reserved almond flour mixture, maple sugar, and cinnamon. Sprinkle the mixture evenly over the top of the cake.

Bake the cake. Bake until a cake tester inserted into the center of the cake comes out clean, about 30 minutes.

Remove pan from the oven and place on a wire rack. Allow cake to cool completely in the pan.

Store, wrapped tightly, on the counter for up to three days.