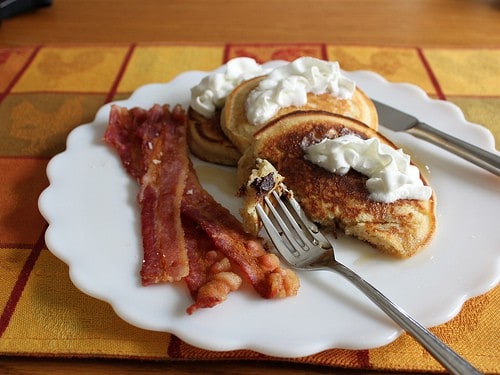 You know what's great? Pancakes. You know what else is great? Chocolate chip cookies! Soooo….I combined the two and made Chocolate Chip Cookie Pancakes. (ta da!)
Unlike most chocolate chip pancakes that are merely regular pancakes dotted with chocolate chips, these pancakes have brown sugar and a little extra vanilla for a true chocolate chip cookie taste.
Gluten-Free Chocolate Chip Pancakes
Here's how to make these beauties!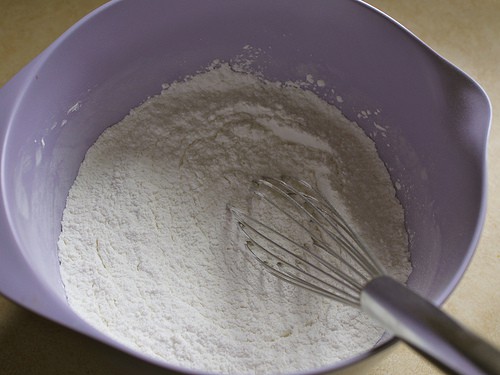 In a medium bowl, whisk together dry ingredients. (To save time, you can whisk the dry ingredients together the night before.)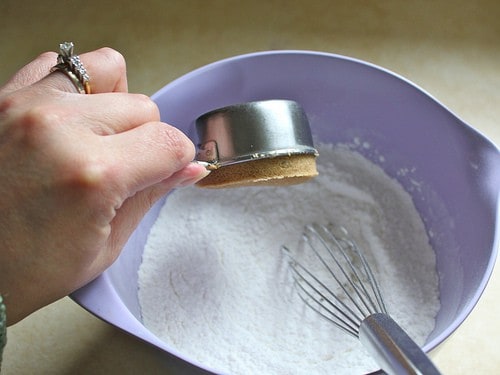 Add brown sugar. You want the brown sugar to be nice and soft.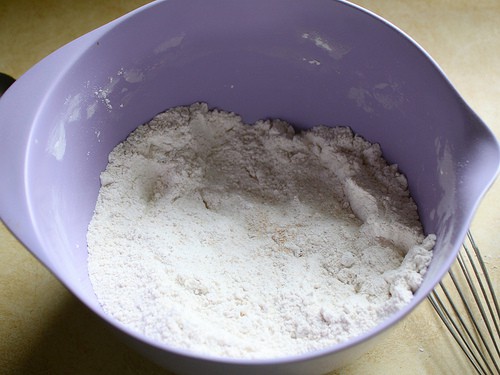 Whisk together. If you see any lumps of brown sugar, break them up with either the whisk or your fingers.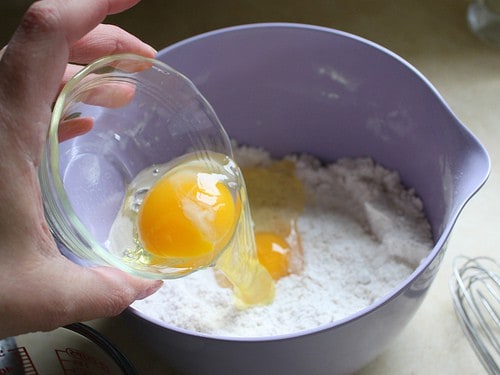 Add eggs. It's always a good idea to crack eggs, one at a time, into a small bowl before adding to batter. This not only prevents any shell from getting into the batter, it will also allow you—on the very rare occasion—to catch a bad egg before it goes into your recipe and spoils it.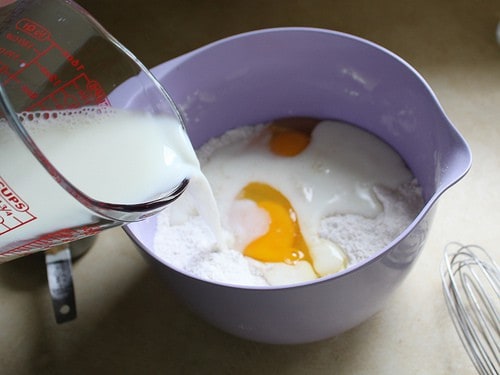 Add milk.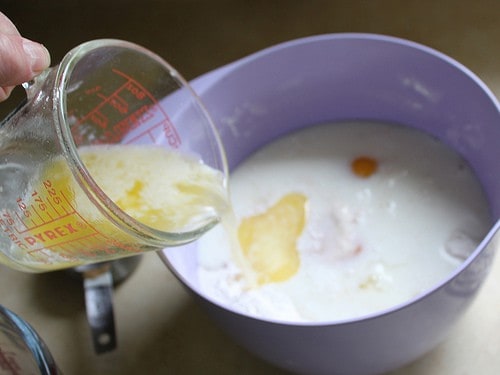 And butter and vanilla.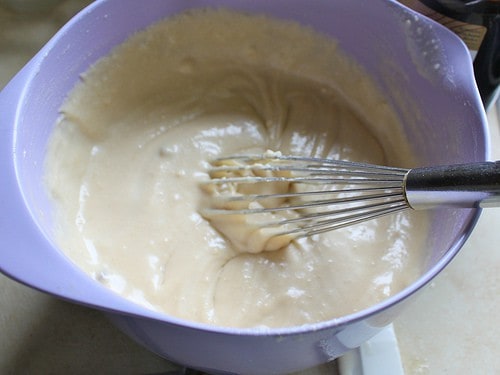 Whisk until smooth. Doesn't that look like really soft chocolate chip cookie dough?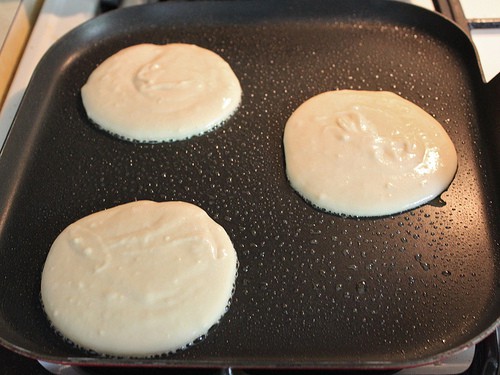 Drop dough onto hot oiled griddle.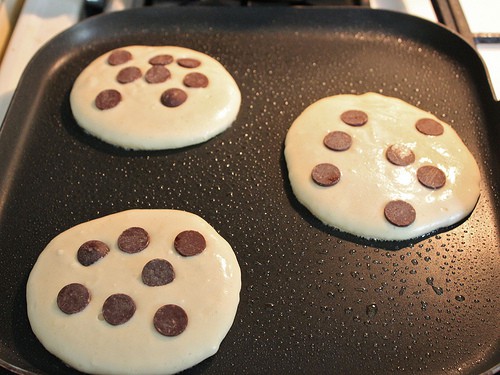 Sprinkle or place chocolate chips onto each pancake. If you like walnuts in your chocolate chip cookies, add them to these pancakes. Be sure to chop the walnuts into small pieces.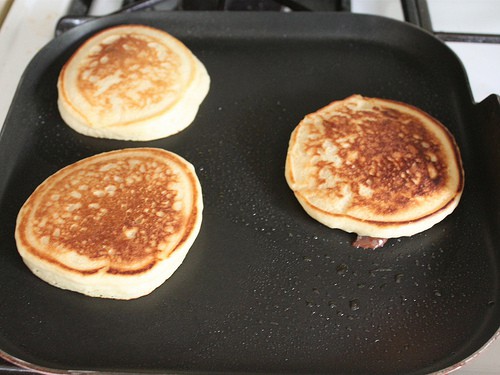 Flip!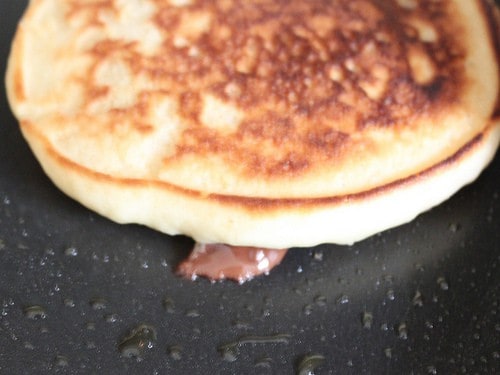 Ooh and Ahh over the melted chocolate that oozes out of the pancake. (I'm the only one who does this? Never mind!)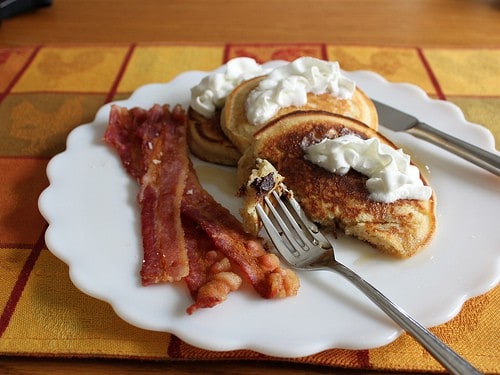 Enjoy! With a little whipped cream and, if you feel like it, crispy strips of bacon.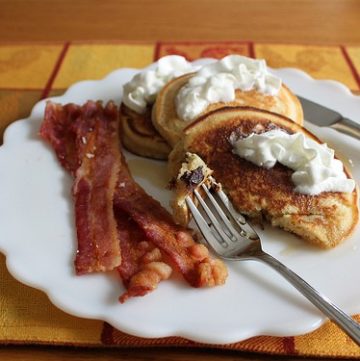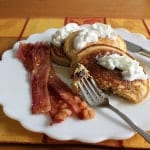 Chocolate Chip Cookie Pancakes
Ingredients
1

cup

finely ground white rice flour

(4 ounces; 113 grams)

1/2

cup

cornstarch

(2 ounces; 57 grams)

1/2

cup

sweet rice flour

(2 ounces; 57 grams)

1

tablespoon

baking powder

1/2

teaspoon

salt

1/4

teaspoon

xanthan gum

1/3

cup

packed dark brown sugar

(2 1/2 ounces; 70 grams)

2

large

eggs

(about 4 ounces; 100 grams)

1

cup

milk

(8 ounces; 226 grams)

1/2

stick

butter, melted

(1/4 cup; 2 ounces; 57 grams)

2

teaspoons

vanilla extract

1/3

cup

chocolate chips

(2 ounces; 57 grams)

1/3

cup

chopped walnuts, optional

(1 1/3 ounces; 36 grams)

Whipped cream or syrup for serving.
Instructions
In a medium bowl, whisk together white rice flour, cornstarch, sweet rice flour, baking powder, salt, and xanthan gum. Add dark brown sugar. Whisk until combined.

Add eggs, milk, butter, and vanilla extract. Whisk until smooth.

Heat non-stick griddle. Grease lightly with vegetable oil. Spoon batter, about 1/4 cup each, onto hot pan. Sprinkle a few chocolate chips and walnuts onto each pancake. After about two minutes, flip. Pancake should be golden brown. Cook another minute or two. Enjoy!