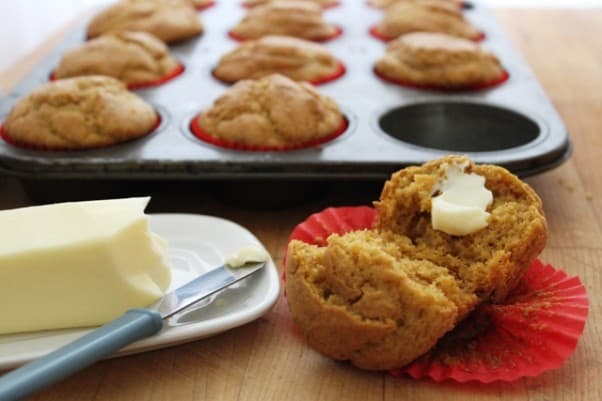 Like anyone who loves to cook and bake, I'm smitten with Dorie Greenspan. Even though I can't make her recipes as written, I still buy all her cookbooks. Reading her recipes and kitchen wisdom is worth it–plus I get the fun of adapting her beloved recipes.
Since fall is here, I thought Dorie's Pumpkin muffins would be a nice treat. I was not disappointed! These muffins are suburb. They're light, tender, and spicy, just like pumpkin muffins should be.
Three notes about changes I made to Dorie's original recipe (in addition to making it gluten-free, of course).
1. I increased the amount of baking soda from 1/4 teaspoon to 1/2 teaspoon. This provided a little extra lift and, I think, the gluten-free muffins benefited greatly from the lift.
2. I added the flour in two steps instead of one. Dorie's original recipe called for the pumpkin and buttermilk to be added directly to the butter-egg mixture. I found this "broke" the butter. (It became curdled.) By adding half the flour prior to adding the pumpkin and buttermilk, the batter remained creamy.
3. I didn't add raisins or sunflower seeds. Why? I didn't have any in the house!
One other tiny note about the recipe. It doesn't use a full 15 ounce can of pumpkin. I usually don't like recipes that leave me with leftover pumpkin. Since this recipe was so good, however, I'll forgive it.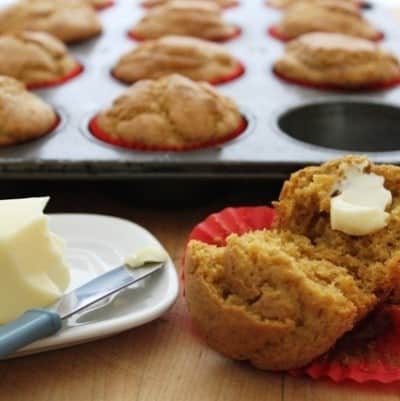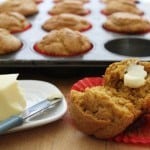 Classic Gluten-Free Pumpkin Muffins
adapted from "Baking From my Home to Yours" by Dorie Greenspan (Houghton Mifflin Harcourt 2006)
Ingredients
1

cup

finely ground white rice flour

(4 ounces; 113 grams)

1/2

cup

sweet rice flour

(2 ounces; 56 grams)

1/2

cup

cornstarch

(2 ounces; 56 grams)

2

teaspoons

baking powder

3/4

teaspoon

ground cinnamon

1/2

teaspoon

ground ginger

1/2

teaspoon

baking soda

1/4

teaspoon

xanthan gum

1/4

teaspoon

salt

1/8

teaspoon

ground nutmeg

Pinch

ground allspice

1

stick

unsalted butter, softened

(1/2 cup; 4 ounces; 113 grams)

1/2

cup

granulated sugar

(3.5 ounces; 100 grams)

1/4

cup

dark brown sugar

(2 ounces; 56 grams)

2

large

eggs

(about 3 1/2 ounces; 100 grams)

1

teaspoon

vanilla extract

3/4

cup

pure pumpkin puree

(7 ounces; 198 grams)

1/4

cup

buttermilk

(4 ounces; 113 grams)

1/2

cup

raisins, optional

1/2

cup

chopped pecans or walnuts, optional

1/3

cup

raw sunflower seeds, optional

optional
Instructions
Adjust oven rack to middle position. Preheat oven to 400 degrees F. Line 17 muffins cavities with paper liners or lightly grease muffin pan with gluten-free cooking spray.

In a medium bowl, whisk together white rice flour, sweet rice flour, cornstarch, baking powder, cinnamon, ginger, baking soda, xanthan gum, salt, nutmeg, and allspice. Set aside.

In a large bowl (or the bowl of a stand mixer), beat butter for 45 seconds or until light. Add sugars. Cream together for one minute.

Add eggs, one at a time. Mix well between each addition to full incorporate eggs. Add vanilla extract and mix to combine. Turn off mixer and scrape down the sides and bottom of the bowl.

Add half the dry ingredients. Turn on mixer to medium speed. Blend until combined. Batter will be thick. Add pumpkin and buttermilk. Mix until combined.

Add remaining dry ingredients. Mix until a thick, fluffy batter forms. If using, stir in raisins and chopped nuts.

Spoon batter into prepared muffin pan, about 2/3 full. Batter will be thick. If desired, sprinkle sunflower seeds on top of the muffin batter.

Bake for 25-30 minutes or until muffins are golden brown and a cake tester inserted into the center comes out clean.