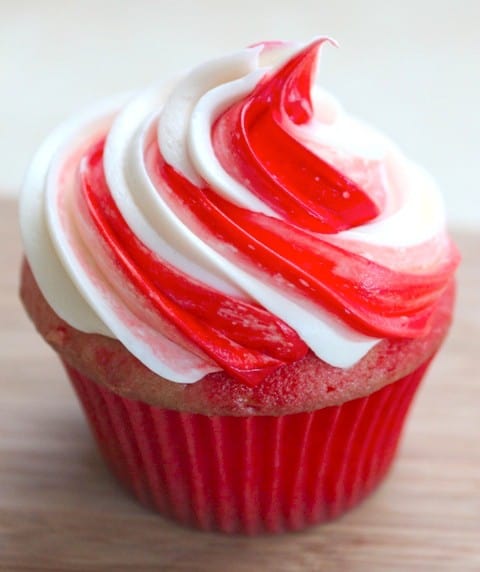 Some folks are real artists when it comes to decorating cupcakes. Then there are the rest of us. Who want pretty cupcakes but don't have the time to create mini-masterpieces. These techniques, using just frosting, food coloring, and sprinkles, make you look like a pro. And take only minutes!
You'll Need
Favorite vanilla cupcake recipe or mix
Paper cupcake liners (For fun, I used red.)
Red and pink food color
Red and Pink Sprinkles (Jimmies)
Parchment paper (if making the "Sprinkle Heart" cupcakes)
Icing, homemade or gluten-free canned
Tie Dyed Cupcakes
Since Valentine's Day is a great excuse to create slightly over-the-top baked good, I decided to make tie-dyed cupcakes. (Skip this step if you don't feel like messing around with food dye or if you are making chocolate cupcakes.)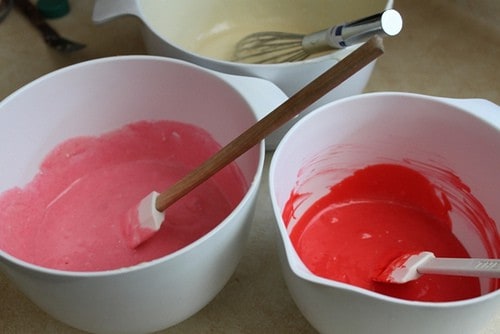 Divide batter evenly among three bowls. Color one bowl pink and another red. Leave one bowl plain. Or color it another color. You do you!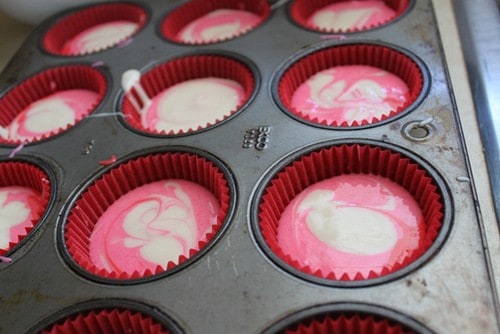 Drop batter evenly into cupcake cavities. (Fill each cavity about 2/3 full with batter.) It doesn't matter how much of each color you put into the pan. Have fun! Each cupcake will be slightly different.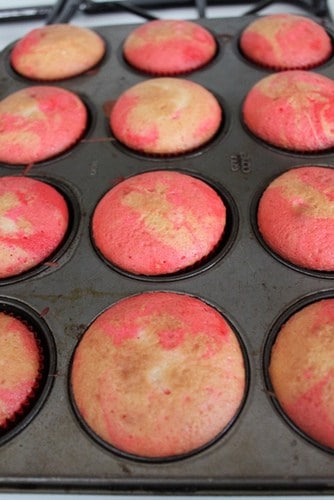 Bake cupcakes according to recipe/mix directions. Remove from pan and allow to cool. When they're cool, it's time to decorate! If you frost warm cupcakes, the icing melts and I cry. Seriously, I could be out with my family and just burst into tears because you are frosting warm cupcakes. Now you don't want that, do you? I didn't think so!
First Decorating Hack: Edgy!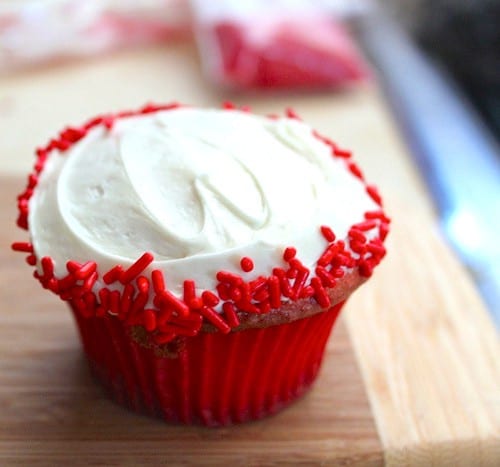 The first cupcake we'll make is the easiest.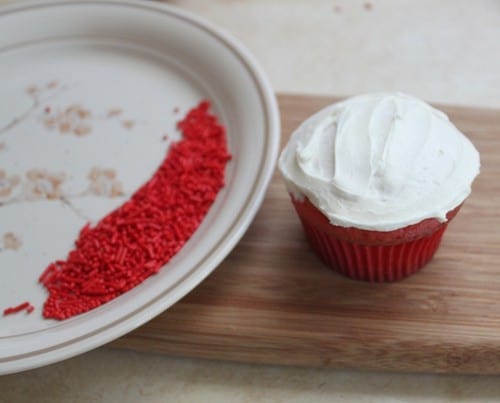 Slather some frosting on the cupcakes. Vanilla, dyed or not, is the best. Sprinkles don't pop the same way on chocolate frosting. the cooled cupcakes. Put your sprinkles on a plate. Gather them near the edge of the plate.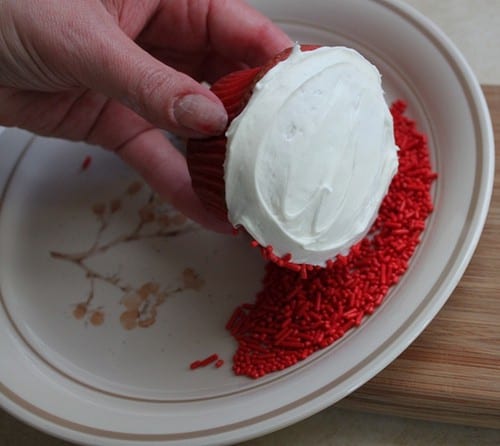 Roll edge of the cupcake in the sprinkles. That's it!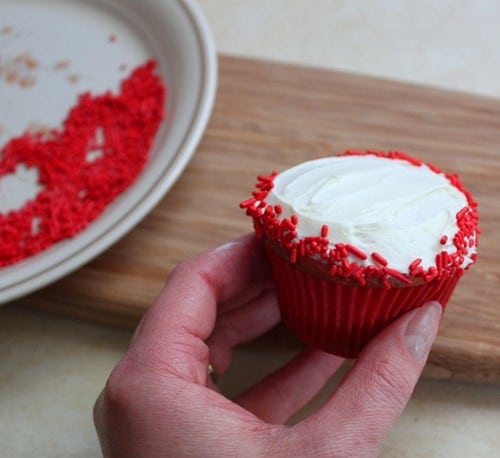 Done!
Next Decorating Hack: Stripey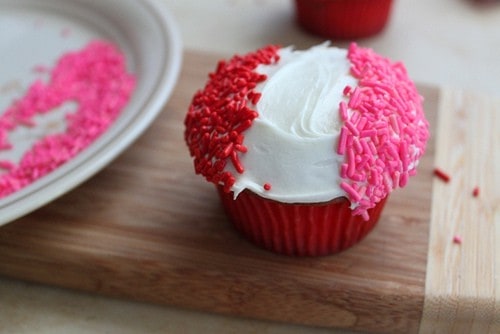 The next cupcake is almost as easy to decorate. This one uses two colors of sprinkles.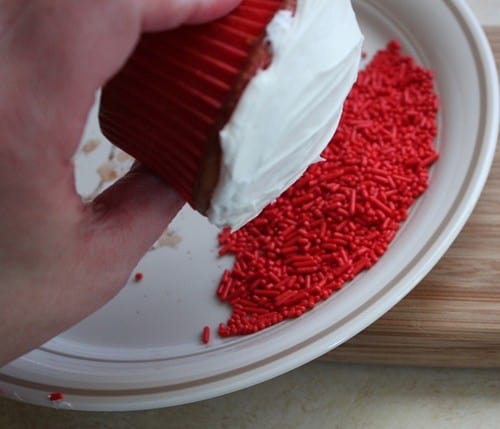 Ice cupcakes. Fill plate with one color of sprinkles. Dip about 1/3 of cupcake into the sprinkles.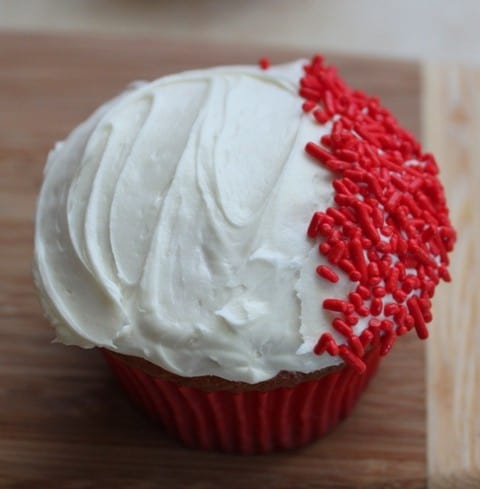 Now, that's cute, right? You could stop there. But let's go for a little more zing!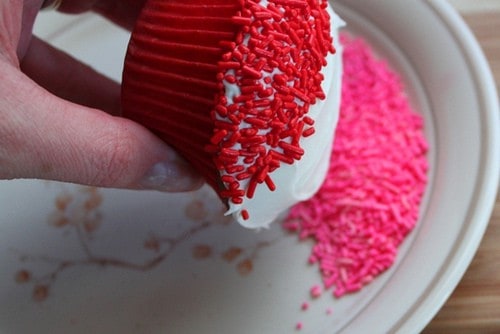 Fill another plate with sprinkles. Dip another 1/3 of the cupcakes into those sprinkles.
As you can see, I left the center uncoated. I like how this looks. If you wanted to, you could coat each half with sprinkles, leaving no white icing showing in the center. That's cute too!
Neck Decorating Hack: Heart-y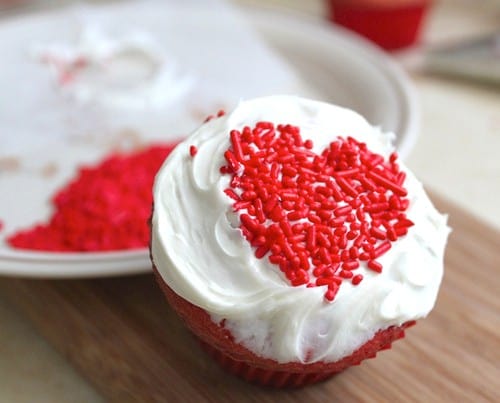 What's Valentine's day without an abundance of hearts? Boring. That's what!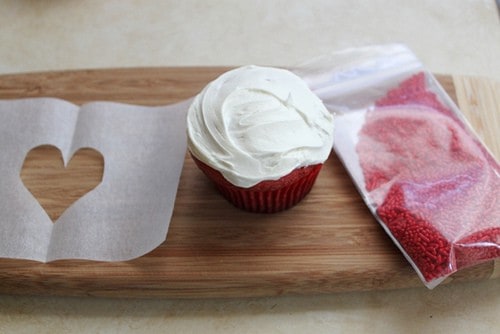 Ice cupcakes and cut a heart out of a piece of parchment paper.
Ice cupcakes and allow the icing to firm up a little. (Usually by the time you've iced the last cupcake, the first one has a thin sugar crust. That's what you want.) Put the stencil over the top of the cupcake.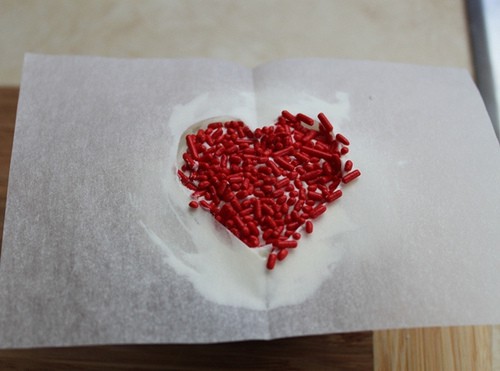 Sprinkle red or pink sprinkles over the stencil. Using your fingers, press the sprinkles down into the icing so they'll stick.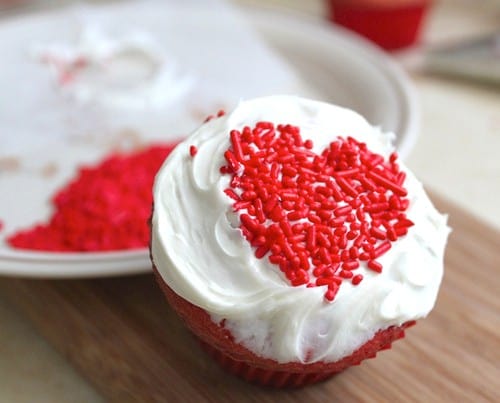 Gently pull stencil off the cupcake. (If your icing firmed up a little, it should not stick.)
Decorating Hack: Swirly
Isn't that pretty?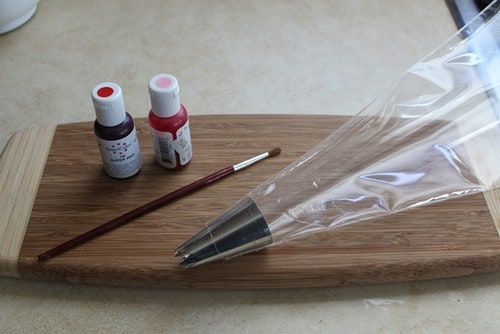 You'll need a few disposable decorator bags to make these cupcakes, a food-safe paintbrush, gel food colors, and a large star tip.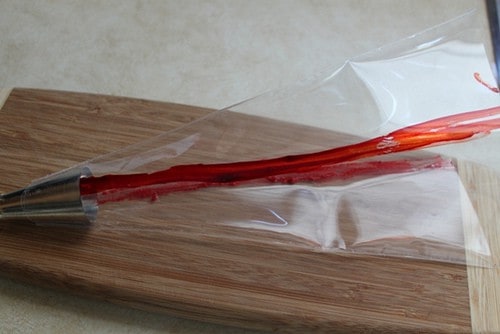 Inside the bag, paint two stripes of color (you can use the same or different colors) on opposite sides.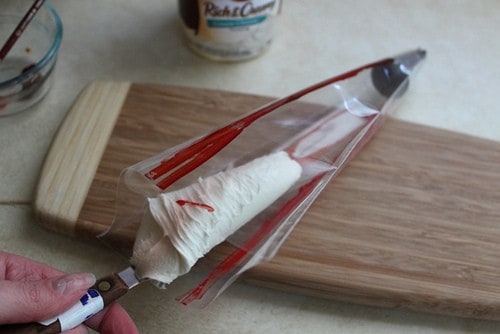 Carefully fill bag, trying not to disturb the icing stripes as little as possible.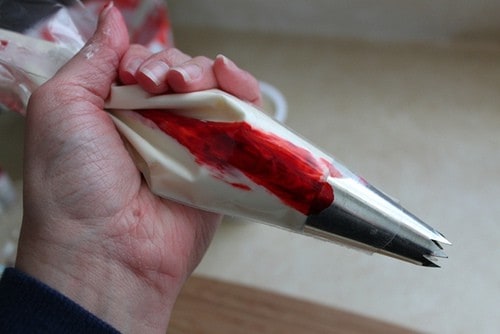 The icing stripes spread over the white icing. Pipe icing onto cupcakes. If you run out of icing, you'll need to make another bag. This is the only thing that makes this a little putzy. Reusing the bag, gives you pink icing, instead of white icing striped with red.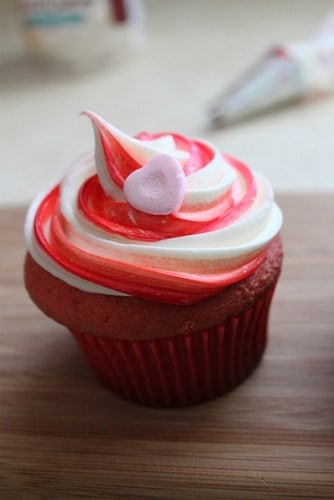 Each cupcake is unique. (I put a little gluten-free candy heart on this cupcake.) That's it!
Okay, one more!
Decorating Hack: The Lazy 😉
Don't feel like doing any of the projects above but want to decorate the cupcakes a little? Coating cupcakes in completely in sprinkles is always a fun and pretty (and easy!) way to decorate! Ice your cupcakes, fill a plate with sprinkles, turn the cupcakes over to coat, and you're done!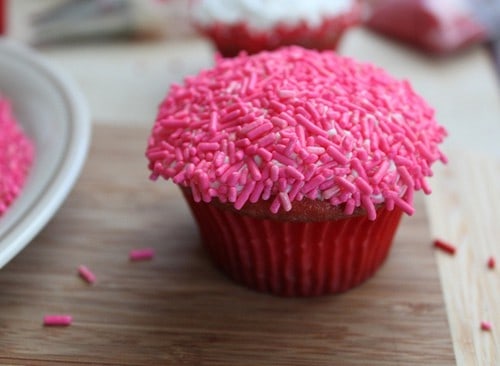 Just ice your cupcakes. Plunk the entire thing into sprinkles and call it a day.
Messy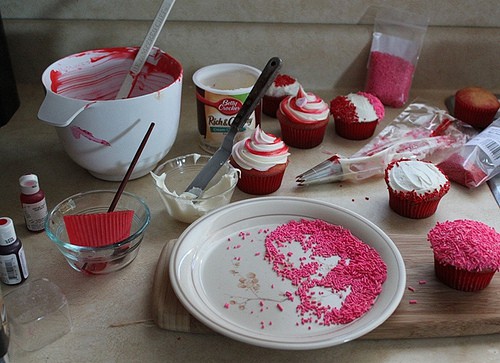 At the end of the project, your kitchen might look like this…