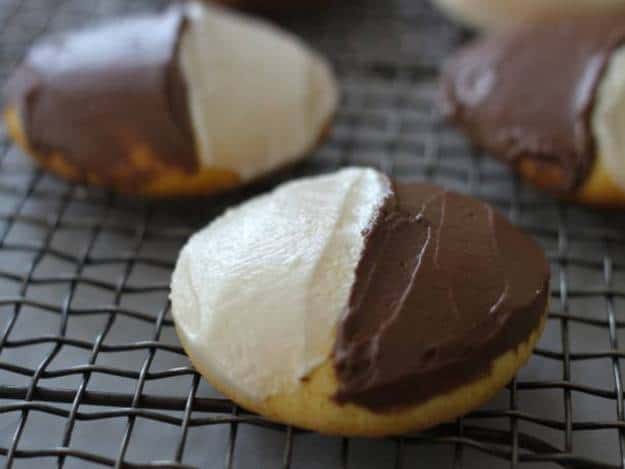 Black and white cookies, the popular New York City treat, are also found in bakeries in upstate New York with one big difference: around here they're often iced with buttercream instead of poured fondant. I can almost hear some black and white cookie purists saying, "That's heresy! Buttercream icing does not belong on a black and white cookie!" To that I say, "Regional cuisine FTW!"
One area of common ground between the upstate/downstate black and white cookies is the size. These are big cookies. You need about a half cup of batter per cookie to achieve the classic size of a black and white cookie. Of course, you don't need to make huge cookies. Diminutive black and white cookies are cute–and really easy to eat. If you prefer small cookies, reduce the amount of batter you use per cookie. For smaller cookies, watch the first pan to determine the correct baking time for the cookies. (I found that two tablespoons of batter took about 15 minutes.)
Bowing to my upstate roots, this recipe uses buttercream to finish the cookies. For a neat divide between the black and white of the cookie, first ice half the cookie with vanilla buttercream and then ice the remaining half with chocolate. Chocolate buttercream neatly covers the vanilla icing where the two meet.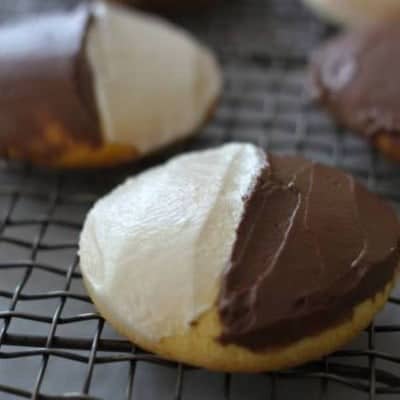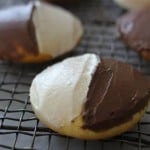 Gluten-Free Black and White Cookies
Servings
14
large cookies
Ingredients
For the Cookies
2

cups

white rice flour

(8 ounces; 226 grams)

1/2

cup

cornstarch

(2 ounces; 56 grams)

1/2

cup

sweet rice flour

(2 ounces; 56 grams)

1 1/2

teaspoons

baking powder

3/4

teaspoon

xanthan gum

3/4

teaspoon

salt

1 1/2

sticks

butter or margarine, softened

(3/4 cup; 6 ounces; 170 grams)

1 1/2

cups

granulated sugar

(10 1/2 ounces; 297 grams)

2

large

eggs

(about 3 1/2 ounces; 100 grams)

3/4

cup

milk

(6 ounces; 170 grams)

2

teaspoons

vanilla extract

1/2

teaspoon

lemon extract
For the Buttercream
1

stick

butter, at room temperature

(1/2 cup; 4 ounces; 113 grams)

2

cups

confectioners' sugar

(8 ounces; 226 grams)

1/4

cup

milk, plus additional milk to adjust consistency

(2 ounces; 56 grams)

2

tablespoons

cocoa powder

(3/8 ounces; 11 grams)
Instructions
Preheat oven to 350°F. Line rimmed baking sheet with parchment paper.

Whisk together white rice flour, cornstarch, sweet rice flour, baking powder, xanthan gum, and salt. Set aside.

In bowl of stand mixer, cream together butter and sugar for one minute. (Use medium speed with a stand mixer, or high speed with a hand mixer.) Add eggs one at a time. Mix for about 25 seconds between each egg addition. After the last egg is added, stop mixer. Scrape sides and bottom of bowl. Turn mixer back on to medium speed and mix for an additional 30 seconds.

Add half the dry ingredients to butter-egg mixture. Blend for 30 seconds. Add half the milk and mix for 30 seconds. Repeat with dry ingredients and milk. Adding the extracts along with the last addition of milk.

Drop batter, about 1/2 cup each, onto prepared baking sheet. Space cookies about 3 inches apart.

Bake for 20-25 minutes or until golden brown and puffy. Remove cookies from the baking sheet and place on a wire rack to cool.

While the cookies cool, prepare the buttercream. Cream together confectioners' sugar and butter. Add milk, cream until fluffy. Divide icing into two bowls. Add cocoa powder to half of the buttercream. Stir until smooth. If needed, adjust the consistency of the chocolate icing with additional milk.

Spread cooled vanilla buttercream over half of each cookie and chocolate over other half. Depending on how generous you are with icing your cookies, you might have some icing left over.