When is a sandwich more like a meal? When it's a croque-monsieur! Made with ham, cheese, and a white sauce, this sandwich is pure comfort food.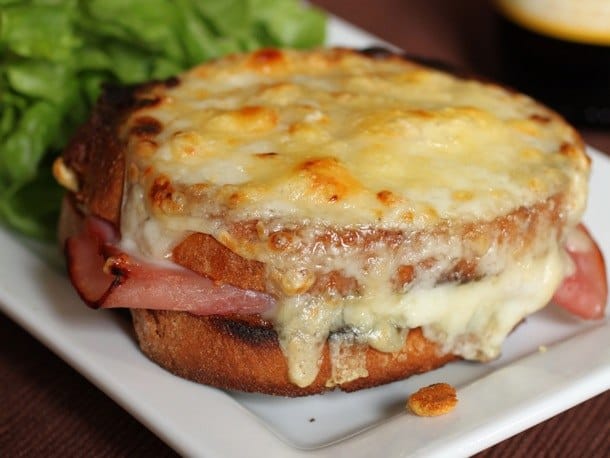 Some of my favorite sandwiches are seasonal sandwiches. I eagerly await the first BLT of the summer. Come winter, I can't wait for a croque-monsieur. Of course, unlike the BLT, there's nothing really seasonal about this sandwich. Bread, ham, cheese and white sauce are available year-round.
Yet tucking into this hearty sandwich during a warm season just doesn't appeal to me. (Probably because I am too busy eating BLTs.) Come the cold nights of January? I'm ready for a dressed-up ham and cheese sandwich.
For years I avoided this French sandwich because of the béchamel sauce. Won't the bread turn unappetizingly soggy? No, I was wrong. Terribly wrong.
After one bite, you know why this sandwich is such a classic. It's a total comfort food sandwich. Warm cheese, salty ham, and tangy mustard. As for the bread, as long as it's well toasted, which is key with gluten-free bread, it doesn't get mushy under the thick sauce.
The sandwich also makes a nice dinner along with a peppery green salad and a gluten-free beer.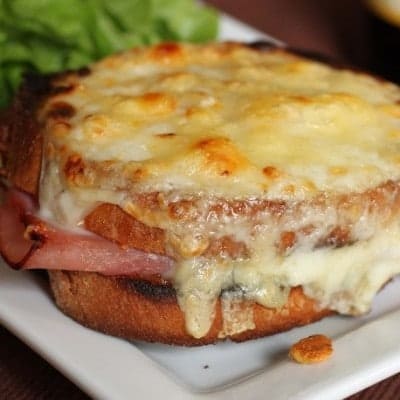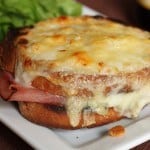 Gluten-Free Croque-Monsieur
Ingredients
8

slices

gluten-free white sandwich bread

homemade or store-bought

2

tablespoons

unsalted butter

(1 ounce; 28 grams)

3

tablespoons

sweet rice flour

(3/4 ounce; 22 grams)

2 1/2

cups

whole or 2% milk, warmed

(10 ounces; 283 grams)

1/4

teaspoon

salt

1/2

teaspoon

freshly ground black pepper

2

cups

Gruyère cheese, grated

(about 8 ounces; 226 grams)

1/4

cup

freshly grated parmesan cheese

(about 1 ounce; 28 grams)

Dijon mustard

1/2

pound

thinly sliced ham
Instructions
Preheat the oven to 425ºF. Place the bread on an 18 by 13-inch rimmed baking sheet. Bake, flipping once, until the slices begin to turn golden brown. Remove from the oven and set aside. Leave the oven on.

Prepare the sauce: In a small pot, melt the butter. Add the sweet rice flour. Cook for 3 minutes, whisking constantly. The paste will turn a light golden brown. In a slow and steady steam, add the milk. Cook, whisking constantly, until the sauce begins to bubble. Season with salt and pepper. Stir in 1/4 cup of the Gruyère and all of the parmesan. Whisk until smooth.

Make the Sandwiches Spread a thin coat of mustard on each piece of bread. Place a few slices of ham and a generous sprinkle of Gruyère on each of 4 bread slices. (Reserve about one-quarter of the cheese.) Top with a second slice of bread, mustard side down. Place sandwiches on a baking sheet. Spoon a generous amount of white sauce onto each sandwich. Divide the remaining Gruyère over the top.

Return the sandwiches to the oven. Bake for 5 minutes to heat.

Turn on the broiler. Broil until the cheese is melted, light brown, and bubbling. Serve immediately.