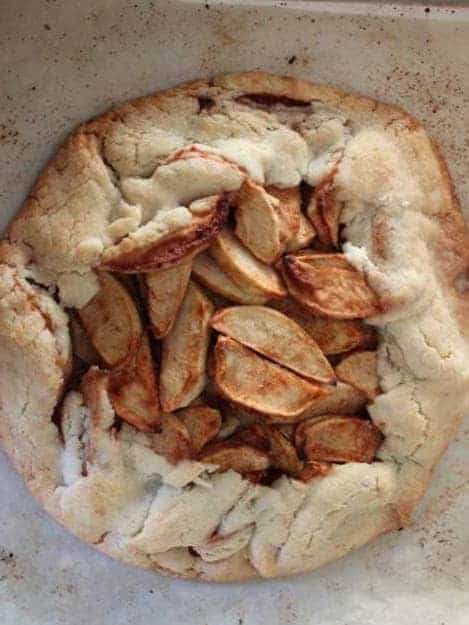 Thanks to cold storage, apples are available all winter long. Sometimes even longer! That means that almost anytime is a good time to make a rustic gluten-free apple pie! It's easy to make this rustic gluten-free apple pie. You roll out one piece of pie dough, pile cinnamon-sugar coated apples in the center, and fold the dough over the edges of the apples. That's it!
Rustic Gluten-Free Apple Pie: As Easy as Pie!
I think of this apple pie as a weeknight pie. It's so easy to make that I can even whip one up on a busy workday. While that's good for my tastebuds, it's not great for my waistline. BUT LET'S NOT GO THERE. (ahem)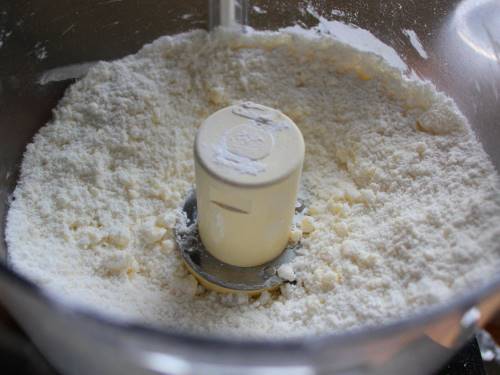 Start by combining the dry ingredients in the bowl of your food processor. If you don't have a food processor, no problem! Whisk them together in a large bowl. Then add the butter. Pulse the food processor until no large pieces of butter remain. A few small nibs are fine but large pieces are a no-no. If you're doing this by hand, use a pastry cutter to work the cold butter into the flour.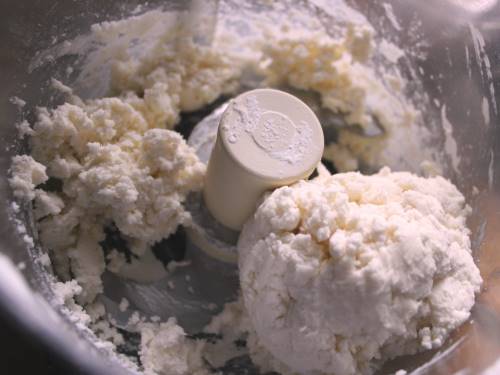 Add the cold water and run the food processor until a dough forms. Or stir the water into the flour mixture with a wooden spoon. Easy-peasy!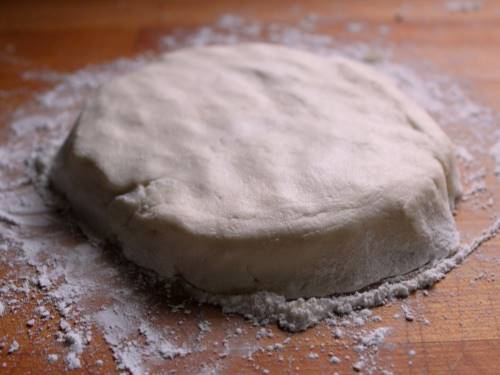 Dust your countertop with some white rice flour and pat the dough into a disk. Chill the dough for at least two hours. I like to make this dough the night before I plan to bake a pie. Or, if you are a great planner, you can make up a batch or two of this dough, wrap it well, and freeze it for up to three months. (Be sure to let the dough thaw before you use it.)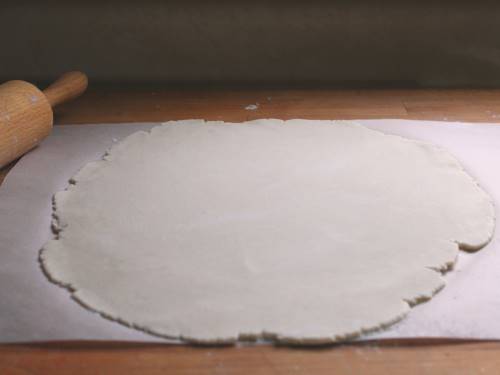 Roll the dough out on a piece of parchment paper. This is key! Once you've rolled the dough out, slide the parchment, with the dough still on it, onto a rimmed baking sheet. You'd think the rim would get in the way but it doesn't. If you move fast enough, the parchment and dough slide right over the rim of the baking pan.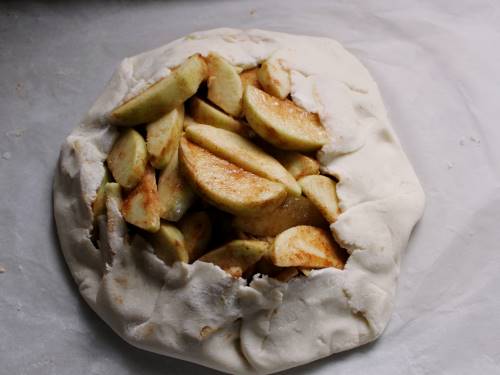 Pile the apples into the center of the pastry and fold the crust onto the edges of the apples. If you want, you can brush the dough with a beaten egg and sprinkle on a little coarse sugar. Feel free to totally skip that step!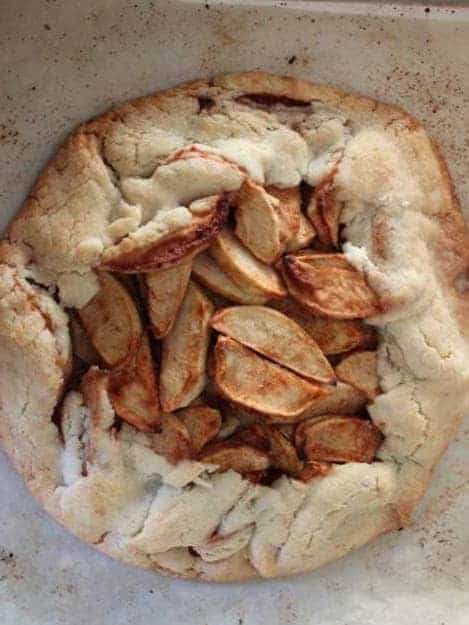 Bake until the apples are brown and the edges of the crust turns golden brown. Allow the pie to cool on the pan. Then cut into slices and enjoy! (Use a large metal spatula to lift the pie from the pan and onto your cutting board.)
BTW, can somebody pass me some vanilla ice cream? I think I need a scoop to go with this pie.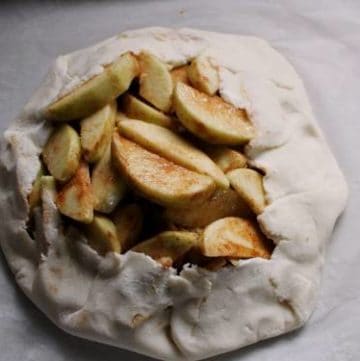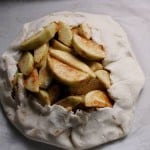 Easy Gluten-Free Apple Pie
You want to use a tart baking apple, like Granny Smith for this recipe. If you use a soft apple, it's hard for the pie to hold it's shape.
Total Time
1
hour
5
minutes
Ingredients
For the Crust
1

cup

finely ground white rice flour

(4 ounces; 113 grams)

1/4

cup

sweet rice flour

(1 ounce; 28 grams)

1/4

cup

tapioca starch

(1 ounce; 28 grams)

2

tablespoons

granulated sugar

(3/4 ounce; 25 grams)

3/4

teaspoon

salt

1

stick

butter, chilled and cut into six pieces

(1/2 cup; 4 ounces, 113 grams)

1/4

cup

water, cold

(2 ounces; 56 grams)
For the Filling
3

medium

Granny Smith apples, peeled, cored and sliced into 1/4-inch slices

(about 3 1/2 cups)

2

tablespoons

cornstarch

(1/2 ounce; 14 grams)

1/4

cup

granulated sugar

(1 3/4 cup; 50 grams)

2

tablespoons

freshly squeezed lemon juice

1/2

teaspoon

ground cinnamon

Extra granulated sugar for sprinkling
Instructions
For the Crust: In the bowl of a food processor, combine white rice flour, sweet rice flour, tapioca starch, granulated sugar and salt. Pulse to combine. Add butter. Pulse to combine until no large pieces of butter remain and mixture resembles coarse breadcrumbs, about 8 to 10 one-second pulses.

Add water and run food processor just until mixture comes together in a ball, about 5 seconds.

Turn dough out onto a lightly white rice floured counter. Pat into a round and wrap tightly in plastic wrap. Chill two hours or overnight.

To Assemble the Galette: Adjust oven rack to middle position and preheat oven to 425°F.

Remove dough from refrigerator. Allow it to sit on the counter for 10 minutes. Meanwhile, in a large bowl, stir apple slices and cornstarch together with a wooden spoon. Be sure all apple slices are lightly dusted with cornstarch. Add sugar, lemon juice and ground cinnamon. Stir to combine.

Place dough onto an 16.5 x12.5-inch piece of parchment. Generously white rice flour top of dough. Roll dough into a 12-inch circle. Slide parchment and dough onto a rimmed baking sheet.

Pile filling into center of crust, leaving a 3-inch border around filling. Fold dough border over apple filling; dough will pleat as you do this. The dough will not cover the filling completely; the center remains uncovered. (You can always slide your hand under the parchment paper and lift it to help you fold the dough onto the apples.) Generously sprinkle granulated sugar on edge of crust.

Bake for 15 minutes. Reduce oven temperature to 350 degrees F. Bake for an additional 20 minutes or until crust is golden brown and filling bubbles.

Remove pan from oven. Allow galette to cool on the pan before transferring to a serving plate.