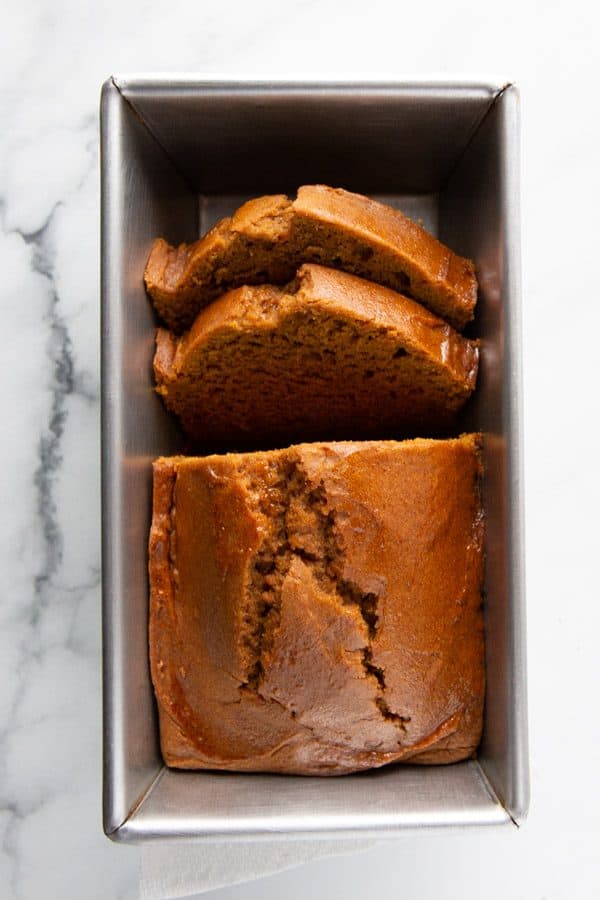 The other day someone on Facebook asked me if I'd posted a recipe for gluten-free pumpkin bread yet. "Hrmph!" I thought. "Of course I've posted a recipe."
Turns out, I hadn't. I was thinking of the recipe from my first cookbook, "Easy Gluten-Free Baking." Whoops!
I pulled my cookbook off the shelf and took a look at the recipe. I created it over a decade ago when I published a little print newsletter. It was a reader request. Back then, reader requests happened infrequently. I loved getting them.
The recipe was so popular that it made its way into my cookbook.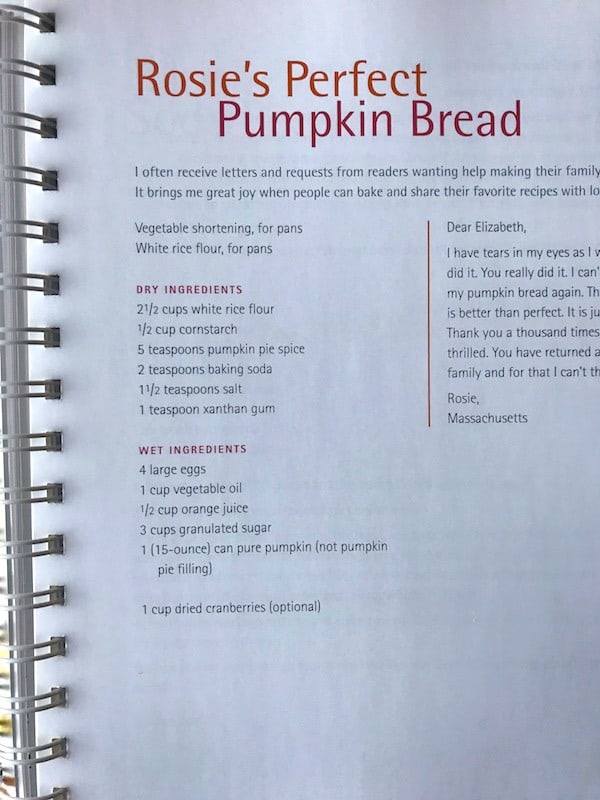 Rosie's pumpkin bread will always have a special place in my heart. That said…if I were to create a gluten-free pumpkin bread today, it would be different from that one.
The good news? I'm in a position to create a new recipe. So I did!
Updating Gluten-Free Pumpkin Bread to Make it Easier (and Tastier!)
Inspired by the gluten-free zucchini bread I made earlier this year, I decided to update my recipe to make it a bit less sweet and oily. I also wanted the recipe to be easier to make. It took me a few tries to get it right. My first attempts came out gummy and dense. Finally, I nailed it! Here's what I changed.
Changed the Gluten-Free Flour
The original recipe used white rice flour, cornstarch, and xanthan gum. While this is great, there are now good gluten-free flour blends on the market. I used Bob's Red Mill 1:1 Gluten-Free Baking Flour for this recipe.
Removed the Orange Juice
I wanted to ditch the orange juice. I don't keep orange juice in the house. Ever. And I know a lot of other folks don't either. So I nixed the orange juice.
Reduced the Sugar
Too many pumpkin bread recipes, either gluten-free or wheat-based, use too much sugar. For example, Libby's classic recipe uses three cups of sugar for two loaves. That's a lot. My original recipe does this too. The new recipe contains 1 1/4 total cups. That's about 2/3 cup per loaf. Not bad for a sweet quick bread! (Note: I'm not claiming this bread is low sugar. It just contains way less sugar than the original.)
Reduced the Oil
Along with containing too much sugar, many recipes contain too much oil or butter. This makes pumpkin breads damp and greasy. Iwas able to reduce the oil from one cup to 2/3. This 1/3 cup reduction made a big difference in terms off texture.
What I wasn't able to change: The Pumpkin
Ok. Confession. While developing this recipe, I really, really wanted to create a loaf that used one can of pumpkin and made one loaf of pumpkin bread. Turns out, this proved impossible. The texture of the bread when made with a full can of pumpkin was unpleasantly damp— almost gummy. All the loaves had a dense line running across the bottom of the loaf. Urgh.
Therefore, like my original recipe, this one makes two loaves of pumpkin bread. If you don't want to make two loaves, and are okay with having a half a can of pumpkin leftover, go ahead and cut the recipe in half.
How to Make the Best Gluten-Free Pumpkin Bread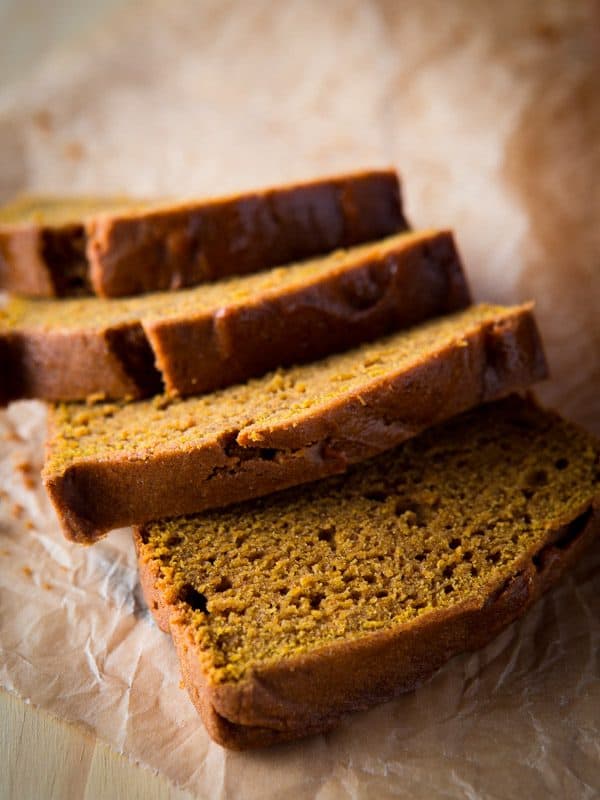 Preheat oven. The batter needs to go into a hot oven. This helps the loaves to rise, as the baking powder reacts to heat, and gives the bread a nice texture. It's a good idea to turn the oven on while you prepare the pans and mix the batter.
Whisk together the dry ingredients. This step seems like a nothing. You're just stirring together ingredients, right? Well, yes and no. Whisking together the dry ingredients ensures that the small ingredients, like the baking powder, baking soda, and salt, mix evenly throughout the flour. If they don't mix evenly, especially the leveners, the bread can rise unevenly. Don't rush through this step. Take your time. Good whisking takes about 30 to 45 seconds.
Add the sugars. This bread contains both dark brown and granulated sugar. Rub the brown sugar between your fingers to break up clumps and mix it into the dry ingredients.
Add the pumpkin, oil, and eggs. Stir in the canned pumpkin, oil, and eggs until the batter is smooth. This is a thick batter. I recommend using an electric mixer. However, you can mix the batter by hand. Whether you use an electric mixer or whisk, be sure to mix thoroughly. There shouldn't be any clumps of flour remaining.
Spread batter evenly into greased pans. Grease two 8 1/2 by 4 1/2 loaf pans generously with nonstick cooking spray (always make sure it's gluten-free!) or grease and dust with a gluten-free flour.
Bake until set. This bread does not bake quickly. It takes about an hour. Don't rush it. If you remove the pans from the oven too soon, the bread can have a gummy texture.
Cool on a wire rack. Allow the loaves to cool in the pan for about five minutes. Then turn out and place on a wire rack to cool.
Gluten-Free Pumpkin Bread: The (Important) Ingredients
The Pumpkin
Use canned pure pumpkin. (This is sometimes labeled 100% pure pumpkin puree.) Don't use canned pumpkin pie filling. That's a different ingredient and isn't a substitute for pure pumpkin.
Is canned pumpkin gluten-free?
It should be. But, as always, read labels. Ingredients and "may contain" warnings can change. The best way to know if an ingredient is gluten-free is to first read the label and then contact the manufacturer if you have any questions.
Can I use homemade pumpkin puree?
Yes but expect different results. If you cook, puree, and drain your own pumpkin, go ahead and use it. Just know that homemade pumpkin puree often contains more water than the canned variety. The additional water can affect both the flavor and texture of pumpkin bread. And since this is a loaf of gluten-free pumpkin bread, extra water can make it gummy.
The Gluten-Free Flour
This loaf was tested and developed with Bob's Red Mill 1:1 Gluten-Free Baking Flour. (This is not a paid placement. I don't work with Bob's. I just like how the flour works, the price point, and availability.)
If you replace the gluten-free flour with another blend, the results can change. Flour blends vary greatly from brand to brand. Look for a mix that contains xanthan or guar gum. If it doesn't, add one teaspoon.
Can I use my own gluten-free flour?
Yes, but please note that using a different blend of flours can impact the final bread.
Can I make this with almond flour?
No. This loaf won't work with almond flour. It will turn out dense and greasy because of the high-fat content of almond flour.
Can I make this with coconut flour?
No. This recipe won't work with coconut flour. It will turn out gummy because of how coconut flour absorbs liquid.
Sugars: Brown and Granulated
Both brown sugar and granulated sugar are used in the recipe. When whisking the dry ingredients together, be sure to break up any lumps of brown sugar. If left in the batter, they form hollow, sweet dots in the loaf. While that sounds good, it affects the texture of the bread in an unpleasant way.
Can I use all granulated sugar?
Yes. You can replace the brown sugar with all granulated sugar.
Can I use all brown sugar?
You can but please be aware that the finished loaf might be denser than a loaf made with a mixture of brown sugar and granulated sugar. This is because of the molasses that brown sugar contains. If you're okay with this, replace the granulated sugar with an equal amount of brown sugar.
Can I use honey or maple syrup?
I don't think so. I haven't tested the recipe with either honey or maple syrup. Since these are liquid sugars, the texture of the loaf will turn out differently than intended.
Can I use a sugar-free sweetener?
I don't know. I don't work with sugar-free sugars. So I can't say if it would work or not.
The Pan: The Key to Gluten-Free Pumpkin Bread Success
There's a huge problem in the baking world: 9×5 inch pans often aren't 9×5-inches. Argh! Some of them are larger and smaller than others. It's maddening.
And while x 9×5-inch pan is the standard when it comes to loaf pans, it's not my favorite pan to use for loaves.
I prefer an 8×5 x 4.5 pan. I use it in my gluten-free sandwich bread recipe. It's an amazing pan. And while I'm usually a "use whatever you got"-type baker, this is one pan I'd urge you to buy if your budget allows it.
If you don't own an 8×5 x 4.5 pan, you can still make this bread. Just know that your loaves will turn out a bit shorter than ones made in an 8.5×4.5-inch pan.
FAQ: Gluten-Free Pumpkin Bread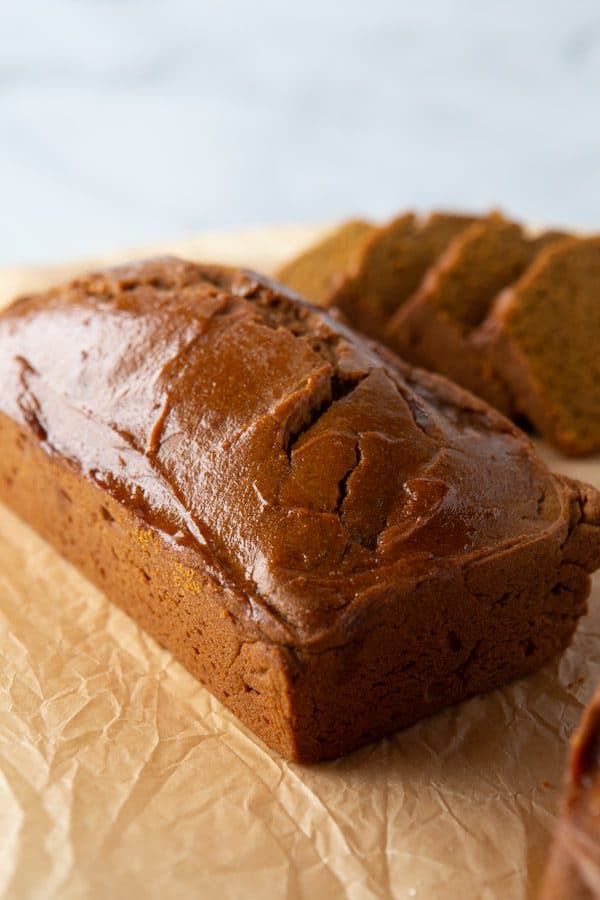 Can I make this recipe into muffins?
Yes. Line 20 muffin cups with either nonstick cooking spray or paper liners. Fill the cups 2/3 full. Bake until the muffins spring back to the touch.
Can I add nuts?
Yes. Stir in up to 1 cup roughly chopped nuts into the batter. Pecans are traditional but use any nut you love.
Can I add chocolate chips?
Yes. Stir in up to 1 cup chocolate chips to the batter.
How can I tell when pumpkin bread is done?
Good question! Because of the high moisture content from the pumpkin and the brown sugar, these loaves take an hour–and sometimes a little longer to bake.
There are two ways to test if your loaf is done
Take the Temperature. Like my recipe for gluten-free sandwich bread, I love using a thermometer to tell when a loaf of bread–even a quick bread like this one–is done. Insert the thermometer about halfway into the loaf. You want it to reach 206 degrees F.
"Stab it and Tap it." Great name, right? This one isn't as precise as taking the temperature of the bread. First, use a cake tester (stab it). You don't want any batter clinging to the cake tester. If it passes that test, go ahead and then tap it with your fingers. You want the loaf to feel dense. If it gives of feels "squishy", it's probably not ready.
How to Freeze Gluten-Free Pumpkin Bread
Since this recipe makes two loaves, you might want to freeze one to enjoy later. Happily, this bread freezes really well. If you have extra freezer space, go ahead and freeze a loaf.
Allow the loaf to cool completely.
Wrap the loaf in plastic wrap or place into a freezer bag. (If you'd like to slice into pieces before freezing, place a piece of parchment or wax paper between the slices. Place the slices into freezer bags.
Freeze up to three months.
Thaw on the counter.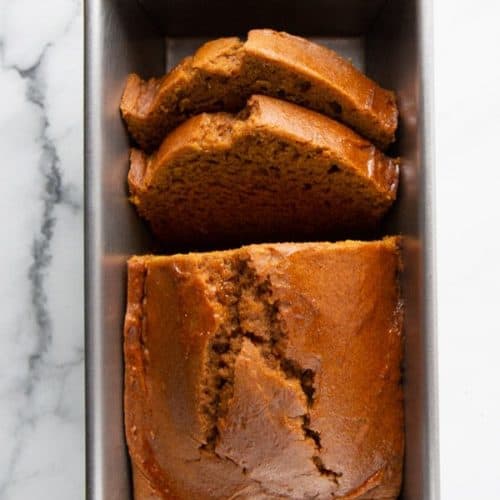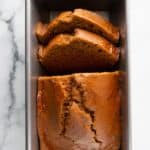 Easy Gluten-Free Pumpkin Bread
Ingredients
3

cups

Bob's Red Mill 1:1 Gluten-Free Flour

(15 ounces; 425 grams)

1

tablespoon

pumpkin pie spice

1

teaspoon

baking powder

1

teaspoon

baking soda

1

teaspoon

salt

1

cup

light or dark brown sugar

(7 1/2 ounces; 212 grams)

1/4

cup

granulated sugar

(2 ounces; 56 grams)

1

(15 ounce) can

100% pure pumpkin

4

large

eggs

(about 8 ounces; 226 grams out of shell)

2/3

cup

vegetable oil, such as canola oil

(4 2/3 ounces; 132 grams)
Instructions
Heat oven and prepare the pans. Adjust oven rack to the middle position and preheat to 350 degrees F. Grease two 8.5-by 4.5-inch loaf pasn generously with nonstick cooking spray.

Combine the dry ingredients in a large bowl. Whisk together the gluten-free flour, spices, baking soda, baking powder, and salt in a large bowl. Add the brown and granulated sugar. Break up any pieces of brown sugar. You can do this by rubbing the piece of brown sugar between your fingers and thumb or by using a fork.

Mix the batter. Add the pumpkin, eggs, and vegetable oil. Mix until smooth. The batter will be thick.

Bake the loaves. Divide batter evenly between prepared pans. Bake until set and golden brown, about 50 minutes. A cake tester inserted into the center of the loaf should come out clean or to an internal temperature of 206°F.

Cool on a wire rack. Place the pan on a wire rack to cool. Once cool to the touch, turn out onto a wire rack to cool completely.

Store on the counter or freeze. Wrapped tightly in foil, gluten-free pumpkin bread keeps up to 3 days at room temperature. Freeze the cooled loaf, wrapped in plastic wrap and foil, for up to four months.
For Gluten-Free Pumpkin Muffins
Divide batter evenly among 20 lightly greased nonstick muffin cup. Use approximately 1/2 cup (4 ounces; 120for each muffin. Bake until golden brown and set, about 25 minutes.
Recipe Notes
The Gluten-Free Flour
This recipe was tested with Bob's Red Mill 1:1 Gluten-Free Baking Flour. Using a different flour or blend will affect the bread.