It's easy to make homemade gluten-free pumpkin bread. Simply mix the batter, spread it into two pans, and bake. Since the recipe makes two loaves, you can enjoy them both right away or freeze one for later.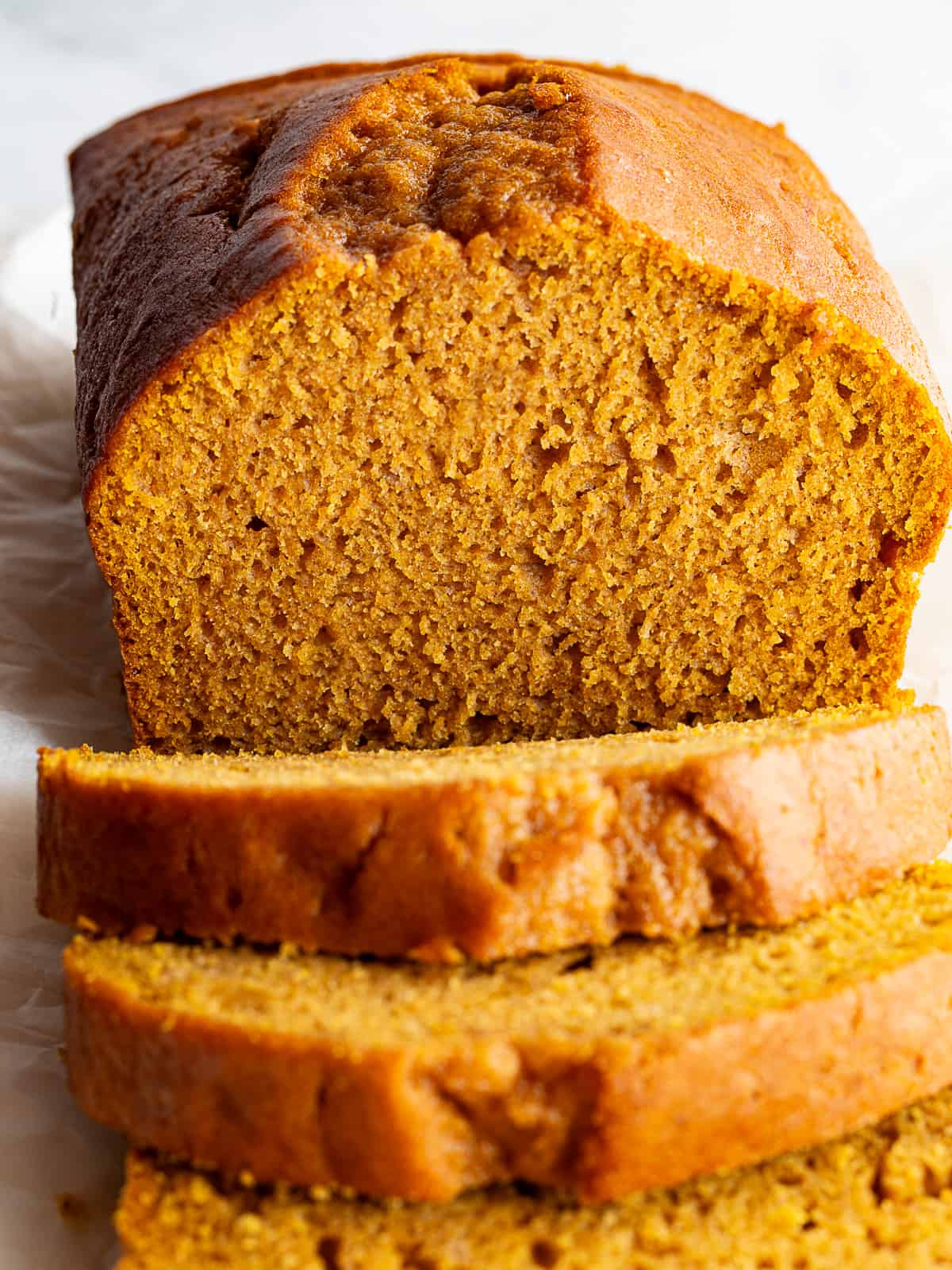 When fall arrives, and sometimes a little sooner, I pull out this gluten-free pumpkin bread recipe. It's a one-bowl recipe and comes together in just minutes. To keep things simple, I use a gluten-free flour blend. It makes a tender loaf with a soft delicate crumb. And since this recipe makes two loaves, we eat one right away and I pop the other in the freezer to enjoy later.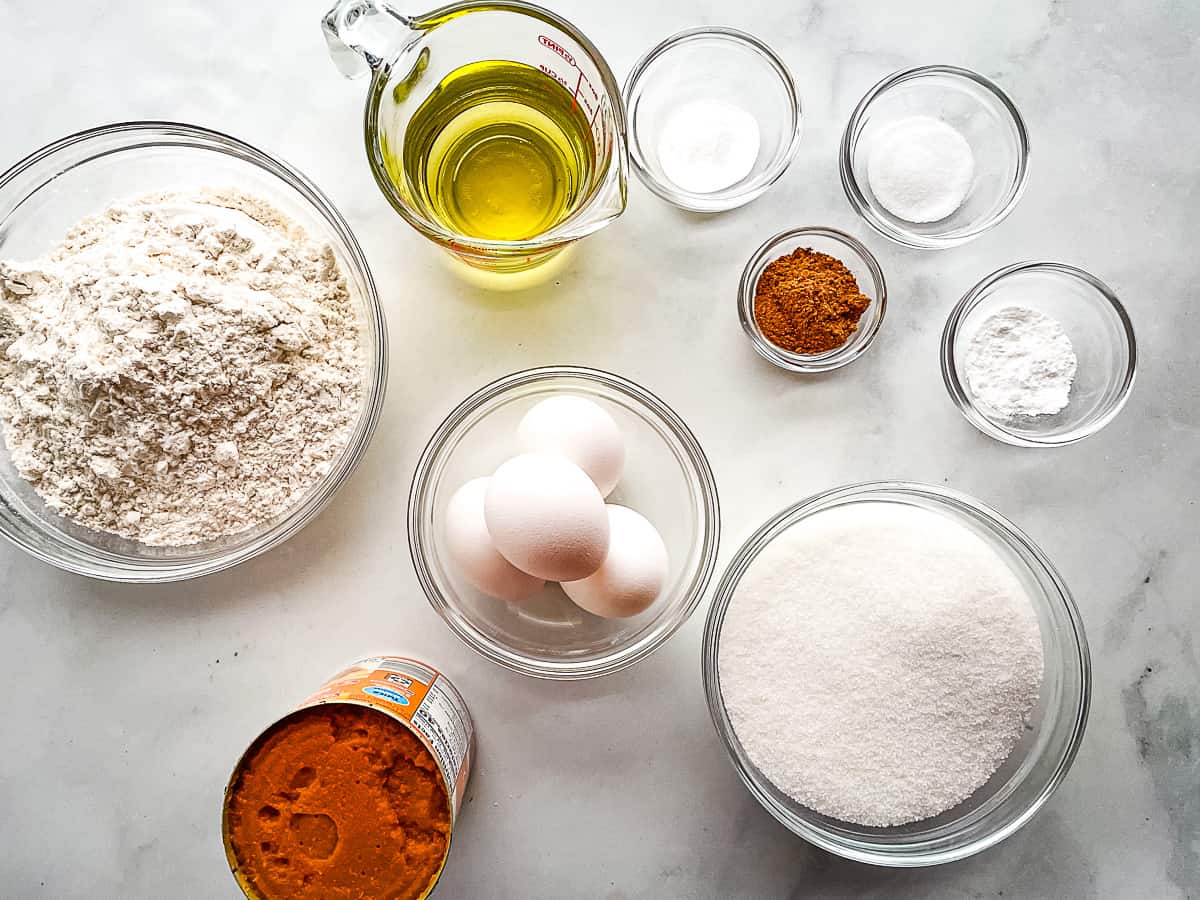 Ingredients and Substitutions.
Gluten-Free All-Purpose Flour. To help the bread hold together and rise nicely, Use a gluten-free flour blend that contains xanthan or guar gum. If yours doesn't, whisk a ½ teaspoon xanthan gum into your flour before using. If you'd like to mix your own flours, use 2 ¾ cups finely ground white rice flour, ¾cup cornstarch, and ½ teaspoon xanthan gum
Pumpkin Pie Spice. The spicy flavor comes from pumpkin pie spice. It's a premixed blend of spices and usually contains cinnamon, ginger, nutmeg, and allspice. If you want to use your own spices, individual amounts are listed in the recipe.
Baking Powder and Soda. The combination of baking powder and soda helps the loaf to rise and gives it a nice brown color.
Salt. Just a touch brings out the flavor of the bread. Use table salt (not kosher salt) for the best results.
Sugar. Adds sweetness. Use granulated sugar. Or, if you prefer the subtle molasses flavor of brown sugar, use light or dark brown sugar. Both granulated sugar and brown sugar work great in the recipe.
Pumpkin Puree. One can of pumpkin puree gives this bread a great flavor and texture. Be sure to use pumpkin puree, which is simply pureed pumpkin, and not canned pumpkin pie filling. Canned pumpkin pie filling contains other ingredients and doesn't work in this recipe.
Eggs. Two eggs give the bread a lovely cake-like texture.
Vegetable Oil. A lot of pumpkin bread recipes call for butter. In side-by-side testing, I found that oil gave the loaves a better texture and crumb. The butter-based pumpkin bread tasted a little dry. Using oil has the added bonus of making the recipe dairy-free.
Ingredient Spotlight: Pumpkin Puree.
The most important ingredient in this bread is the pumpkin. Look for canned pure pumpkin. Sometimes it's labeled 100% pure pumpkin and some brands call it "pumpkin puree."
Is canned pumpkin gluten-free?
It should be. But, as always, read labels. Ingredients and "may contain" warnings can change. The best way to know if an ingredient is gluten-free is to first read the label and then contact the manufacturer if you have any questions.
Can I use homemade pumpkin puree?
Yes but expect different results. If you cook, puree, and drain your own pumpkin, go ahead and use it. Just know that homemade pumpkin puree often contains more water than the canned variety. The additional water can affect both the flavor and texture of pumpkin bread. Since this is a loaf of gluten-free pumpkin bread, extra water can make it gummy.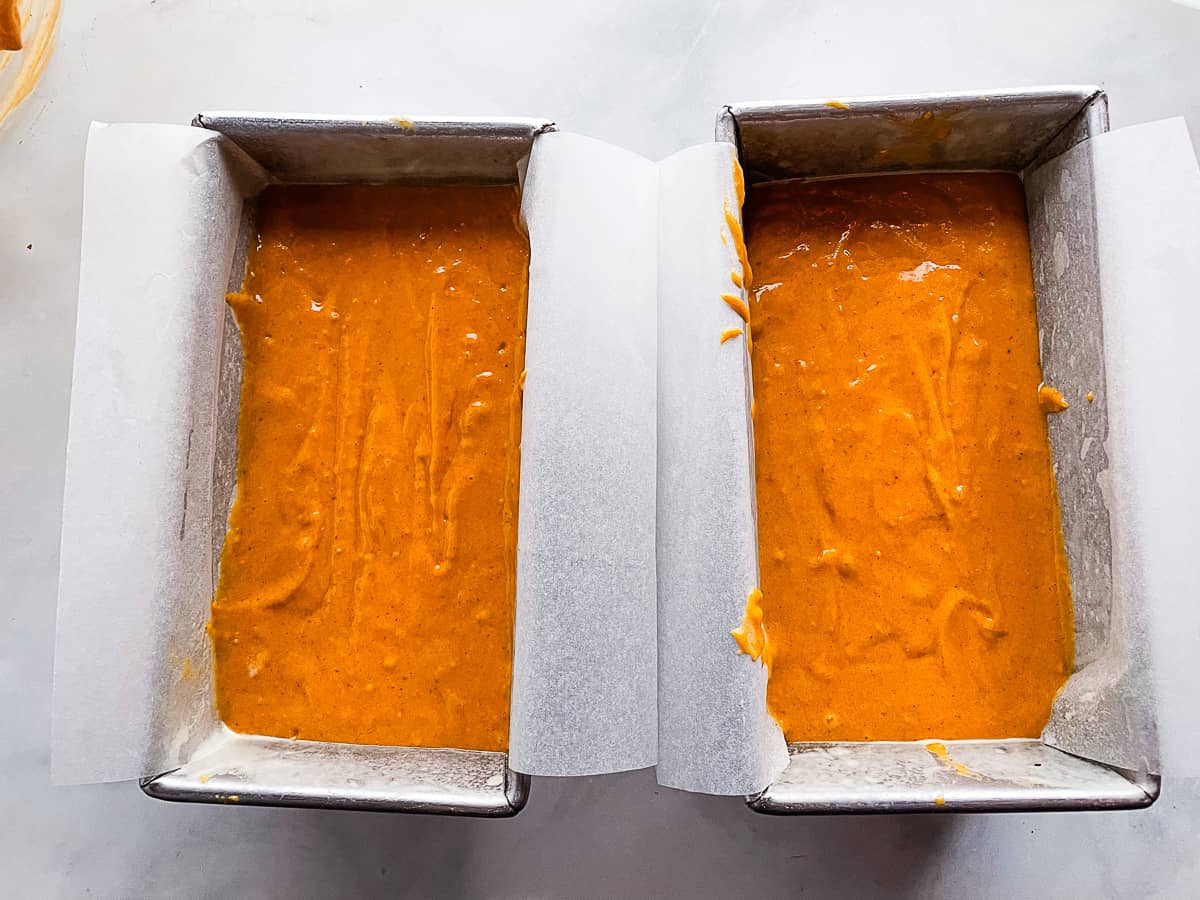 How to Make Gluten-Free Pumpkin Bread.
The basics: Prep your pans. Heat the oven. Mix the batter and bake. It's that easy. Here are the steps explained and a few pointers so you make perfect pumpkin bread every time.
Step One: Prepare the pans and heat the oven.
Before mixing the batter, grease your pans and set them aside. This is a good time to turn on your oven. Baking bread in a hot oven helps it to rise nicely and bake evenly.
Step Two: Make the Batter.
Grab a large bowl and combine the gluten-free flour, sugar, pumpkin pie spice, baking powder, baking soda, and salt. Whisk it together. You can use a handheld whisk or an electric mixer for this recipe. Doing this evenly distributes the spices, baking powder, baking soda, and salt. Add the remaining ingredients and mix until the batter is smooth. If you'd like to add chocolate chips, nuts, or dried cranberries, stir them in right at the end.
Step Three: Bake until Brown.
Divide the batter evenly between your two prepared pans. Gluten-free pumpkin bread takes about an hour to bake. After 50 minutes, test the bread for doneness. To tell when the loaf is done, use a cake tester. Insert the cake tester (or toothpick) into the center of the loaf. Look for it to come out dry or with one or two crumbs clinging to it. If you notice wet crumbs or batter, the loaves aren't done baking yet.
Cool in the pan for a few minutes. Let the bread cool in the pan for about 15 minutes. This helps the bread to set. The loaves are really delicate when they first come out of the oven. After 15 minutes, remove the bread from the pan and place it on a wire rack to finish cooling. Cooling the loaves on a wire rack lets steam escape. This helps the loaves to cool quickly and prevents the loaves from being gummy in the center.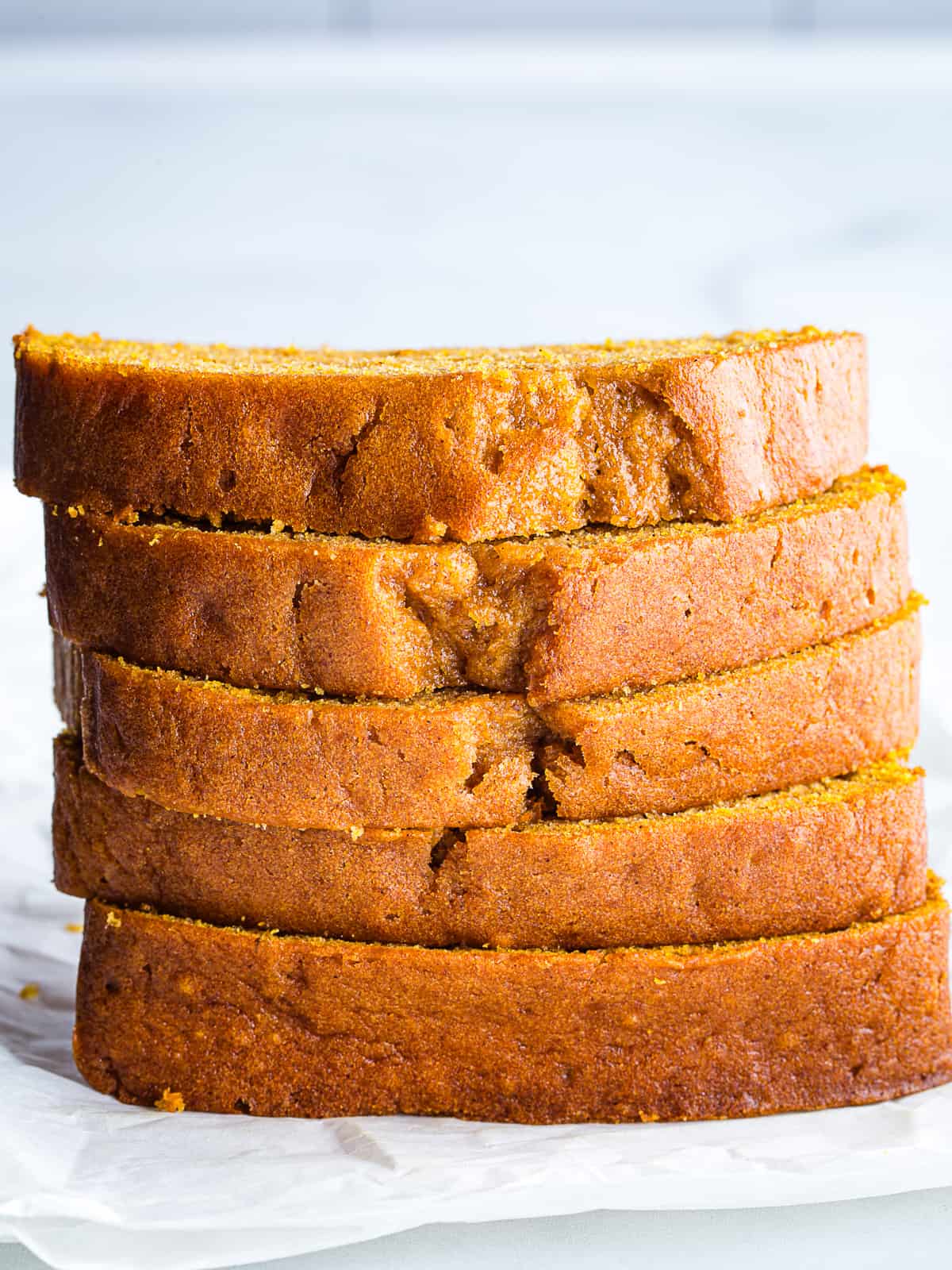 Storage and Freezing Instructions
This bread stays fresh for about four days when stored at room temperature. To keep the bread from drying out, wrap it tightly.
To freeze, allow the bread to cool completely. Once cool, wrap the bread with plastic wrap or place it in a freezer bag. If using plastic wrap, it's a good idea to wrap the loaf in foil too.
When ready to enjoy, remove the loaf from the freezer and allow it to thaw at room temperature.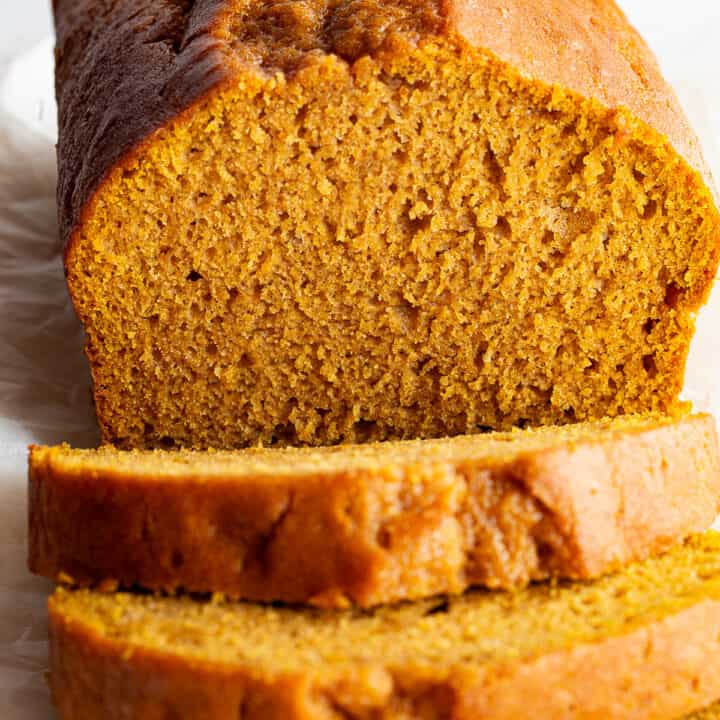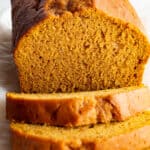 Easy Gluten-Free Pumpkin Bread
Moist and tender gluten-free pumpkin bread recipe. Easy to make and loaded with pumpkin spice flavor.  The recipe makes two loaves. Enjoy one now and freeze one for later.
Ingredients
3 ½

cups

gluten-free all-purpose flour, see note

(17 ½ ounces; 500 grams)

1

tablespoon

pumpkin pie spice, see note

1

teaspoon

baking powder

1

teaspoon

baking soda

1

teaspoon

salt

1 ½

cups

granulated sugar

(11 ½ ounces; 326 grams)

1

(15 ounce) can

100% pure pumpkin

4

large

eggs

(about 8 ounces; 226 grams out of shell)

¾

cup

vegetable oil, such as canola oil

(5 ¼ ounces; 148 grams)
Instructions
Prep pan and Heat oven. Adjust oven rack to the middle position and preheat to 350 degrees F. Grease two 9-by 5-inch loaf pans with nonstick cooking spray or line with parchment paper and grease lightly.

Make Batter. Whisk together the gluten-free flour, sugar, pumpkin spice, baking powder, baking soda, and salt in a large bowl. Add the pumpkin puree, eggs, and vegetable oil. Mix until smooth. The batter will be thick. If adding chocolate chips, nuts, or dried cranberries, stir them in now.

Bake Bread. Divide batter evenly between prepared pans. Smooth batter into pans with a small spatula or the back of a spoon.

Bake for about 50 minutes or until a cake tester inserted into the center of the loaves comes out clean.

Place the pans on a wire rack to cool for 15 minutes and then turn the loaves out onto a wire rack to cool completely.

Store on the counter for up to 4 days at room temperature. To freeze, wrap the cooled loaf in plastic wrap and foil and freeze for up to three months.
Recipe Notes
The Gluten-Free Flour.
This recipe was tested with Bob's Red Mill 1:1 Gluten-Free Baking Flour. Using a different flour or blend will affect the bread. 
Sugar. 
For a subtle molasses flavor, use 1 ½ cups light or dark brown sugar.
Pumpkin Pie Spice.
Pumpkin pie spice can be replaced with individual spices: 1 1/2 teaspoons ground cinnamon. 1 teaspoon ground ginger. 1/4 teaspoon ground nutmeg, 1/4 teaspoon ground allspice. 
Optional Ingredients: Chocolate Chips, Nuts, or Dried Cranberries. 
Stir in two cups total either chocolate chips, chopped nuts, or dried cranberries. A mix of two or all three can be used. Just don't exceed two cups total.