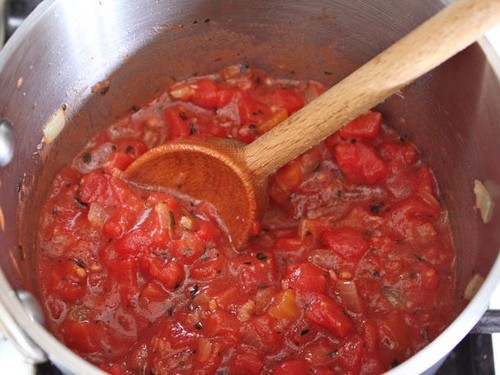 A good pizza is only as good as the sauce that tops it. Today let's make an easy tomato-based pizza sauce.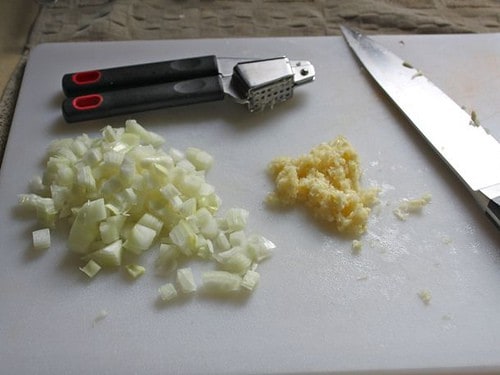 Chop an onion and a few cloves of garlic. Increase or decrease the amount of onions and garlic depending on how oniony and garlicy you like your sauce.
Heat olive oil in a pot over medium-high heat. Add the onions. You want the onions to sizzle when they hit the oil.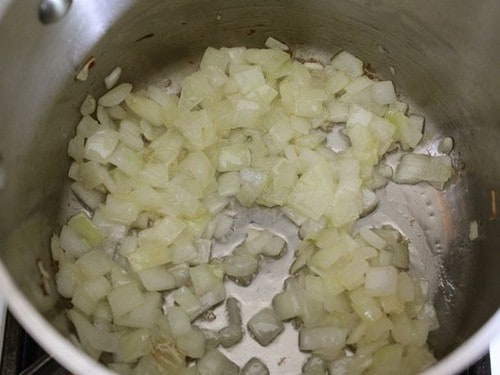 Cook until they soften. You don't want the onions to turn brown. Soft and light are what you want at this stage. Be sure to stir frequently as the onions cook.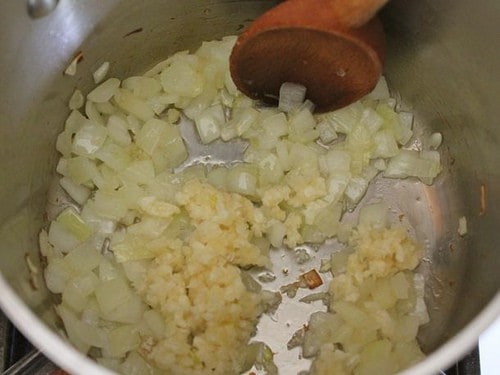 Add the garlic. Stir it all together. Since garlic takes less time to cook than onions, it would burn if we started it along with the onions. Staggering the cooking prevents the garlic from burning. And since burnt garlic tastes awful taking the time to do this is well worth it.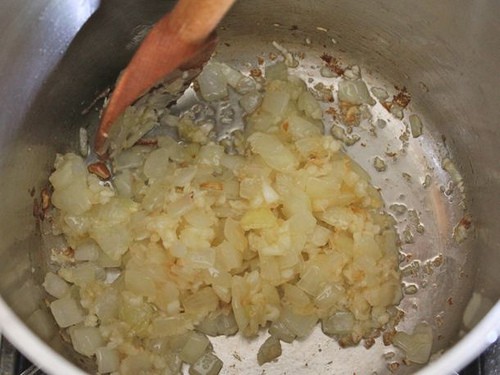 Cook until the garlic just begins to turn brown. The onions are soft and almost yellow-brown at this point.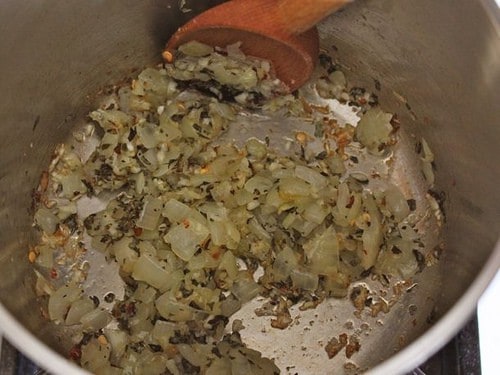 Add the basil, oregano, and hot red pepper flakes. Stir. You can always adjust the spices later, adding fresh herbs right before serving your sauce, if you wish.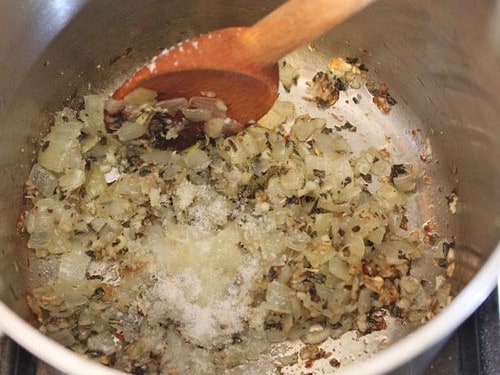 Now add the salt and–dare I say it–sugar. Yes, sugar! You only use a little and, I promise, it adds a nice "roundness" to the sauce without making it sweet. (I don't like sweet sauce either.)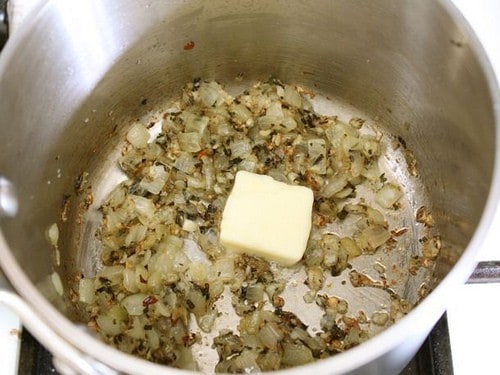 Now add butter. Oh, yes! This recipe contains butter. It's an odd ingredient in tomato sauce, I know. But the richness of the butter adds a little something that's really nice. If you aren't dairy-allergic, I encourage you to add the butter. If you're dairy-free, just skip it.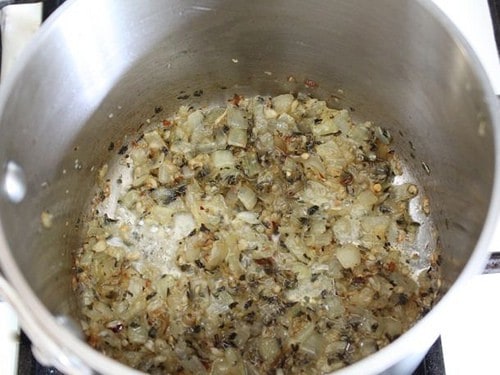 Cook until butter melts. Stir frequently. The onions, garlic, and spices cooking together produce my favorite scent in the world. No matter how many times I make this, I am still smitten by the aroma. (Can you get smitten by an aroma? Let's say yes!)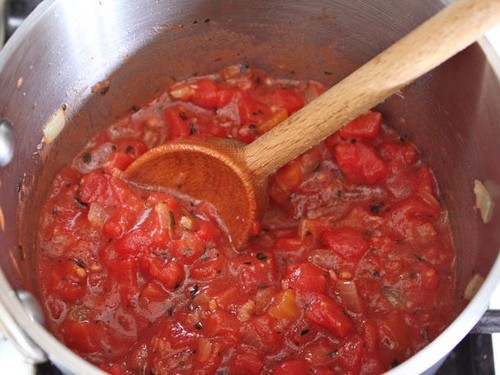 For this recipe, I wanted a quick, chunky pizza sauce. One small can (14.5 ounces) of petite diced tomatoes were perfect for the job. If you don't need a pizza sauce, you could add tomato puree or tomato sauce or fresh tomatoes. The base works with any tomatoes. It's that good. I also added two tablespoons of tomato paste to thicken the sauce a bit.
That's it!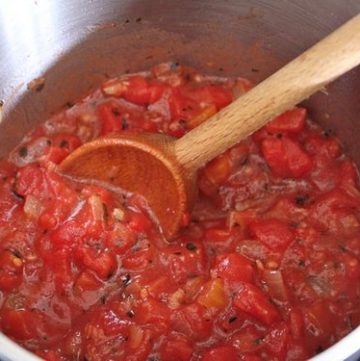 The Only Recipe for Pizza Sauce You'll Ever Need!
This easy recipe makes a fabulous pizza sauce.
Ingredients
1

tablespoon

olive oil

1

small onion

diced

3

cloves

garlic

minced or put through a garlic press

1

teaspoon

dried basil

1/2

teaspoon

dried oregano

1/8

teaspoon

red pepper flakes

1/2

teaspoon

kosher salt

1/4

teaspoon

granulated sugar

2

teaspoons

butter

increase to one tablespoon if you feel like it.

1 14.5

ounce

can petite diced tomatoes OR 15 ounce crushed tomatoes OR s OR 2 cups

approx fresh tomatoes, chopped

2

tablespoons

tomato paste

increase to three tablespoons for a thicker sauce.
Instructions
In a small pot, heat olive oil over medium high heat until shimmering. Add onions. Cook until soft. Stir frequently while cooking. Add the garlic. Stir. Cook until soft and aromatic. Add basil, oregano, red pepper flakes. Stir to combine. Add salt and sugar. Stir. Cook for two minutes. Add butter. Cook, stirring constantly, until butter melts.

Reduce heat to medium-low. Add tomatoes. Cook as desired. You could cook the sauce for just a minute to warm or you could cook for an hour for a rich, thick sauce.