Egg-Free, Dairy-Free Pumpkin pie is possible! This recipe makes a traditional pumpkin pie but without any eggs or dairy. The filling is similar to a creamy pudding. Perfect for Thanksgiving!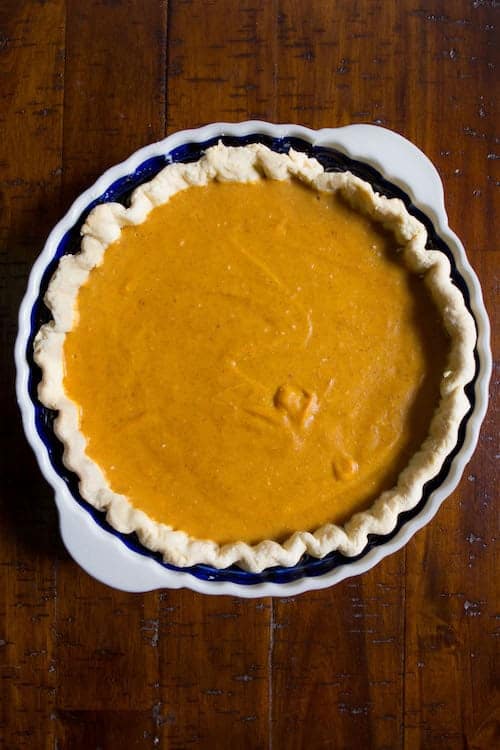 If you or someone you love follows a diet that's egg-free, dairy-free, AND gluten-free, you know how tough it can be. And on Thanksgiving one recipe is a little tougher than others to make: pumpkin pie.
When I set out to create a pumpkin pie without eggs or dairy, I knew it would be tough. For a long time, this recipe stumped me.
Here's what I wanted in my egg-free, dairy-free pumpkin pie:
a pie that was easy to make
a pie that tasted like a classic pumpkin pie
a pie that everyone–even those not a special diet–would enjoy
Dairy-Free Pumpkin Pie
I knew that creating a dairy-free pumpkin pie filling would be relatively easy. I could swap the evaporated milk with a dairy-free milk. tBut instead of using a dairy-free milk substitute, I wondered if full fat coconut milk would be a better choice.
If you've ever had coconut-pumpkin soup, you know that these flavors work incredibly well together. The coconut coaxes more flavor out of the pumpkin, making this the most pumpkin-y pumpkin pie I've ever eaten. However, if you are allergic to coconut (or just dislike the flavor) feel free to replace it with an equal amount of gluten-free, dairy-free milk.
Egg-Free Pumpkin Pie
With the dairy conundrum solved, I focused on the eggs. Eggs play an important role in custard, providing texture and lending a delicate flavor. I knew the coconut milk would more than make up for the missing flavor of the eggs, so I focused on the texture. Without eggs to set up the custard, the filling would not require baking. But if you go the totally no-bake route, using gelatin to set the filling, the result is more like a pudding pie than a true custard. Not only did I dislike this texture for the filling but I realized that if I got rid of the gelatin, the filling would be vegan, making the pie even more accessible to those on special diets.
So instead of a no-bake filling, try a stove-top cooked filling using cornstarch as the thickener. The cooked and cooled "custard" has a smooth texture, somewhere between pudding and, surprisingly, a soft custard. While the filling requires no baking, it does need to chill overnight; so be sure to make it the day before Thanksgiving.
Egg-Free, Dairy-Free Pumpkin Pie: How to Make It
Bake and cool your pie crust. (Want a classic gluten-free pie crust? Here's a recipe.)
Heat the coconut milk with sugar.
Add the cornstarch. Whisk.
Bring the mixture to a boil. This thickens it.
Add the spices and pumpkin. Stir.
Spoon into the pie crust.
Chill overnight.
Serve with whipped coconut cream.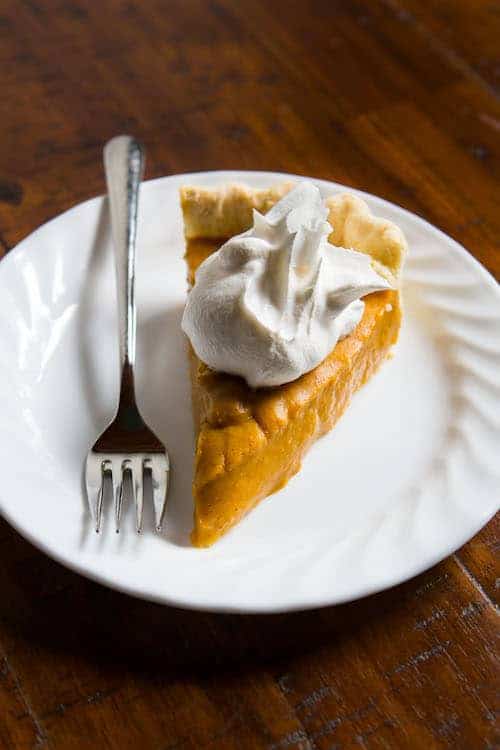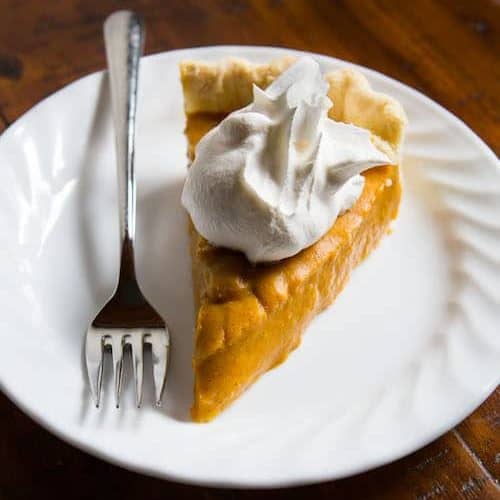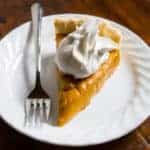 Egg-Free, Dairy-Free Pumpkin Pie
Easy to make Egg-Free and Dairy-Free Pumpkin Pie Recipe. Perfect for Thanksgiving. Filling tastes like classic pumpkin pie with the texture of pudding (or soft custard).
Ingredients
1

9-inch

gluten-free pie crust, baked and cooled

1

(13.5 ounce) can

coconut milk, divided (unsweetened)

3/4

cup

granulated sugar

4

tablespoons

cornstarch

1 3/4

teaspoons

pumpkin pie spice

1/2

teaspoon

salt

1

(15 ounces) can

pure pumpkin
Instructions
In a medium saucepan, combine 1 1/2 cups coconut milk and granulated sugar. Bring to a boil over medium-high heat.




In a small bowl, whisk together cornstarch and remaining 1/4 cup coconut milk. Whisk cornstarch mixture into hot coconut-sugar mixture.

Continue whisking and cook until filling boils and thickens. Add pumpkin pie spice and salt. Whisk to combine. Reduce heat to low. Add pumpkin. Whisk until thoroughly combined.

Spoon filling into prepared pie crust. Press plastic wrap onto the top of the pie or a skin will form. Chill pie overnight before serving.