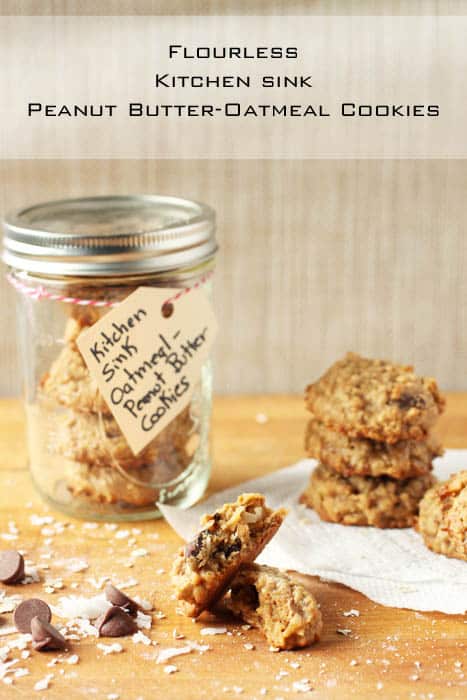 The other day when I made peanut butter chocolate chip cookies, I was reminded of how easy and good flourless peanut butter cookies can be. Ok, the peanut butter chocolate chip cookie contained a smidgen of flour but it was based on my flourless cookie recipe, hence the inspiration.
So when I wanted to make a batch of oatmeal cookies, I thought, "Why not peanut butter oatmeal cookies?" And then, "Why not peanut butter oatmeal cookies with lots of stuff in them?" Lots of stuff in cookies is always a good thing, right?
I ended up making (takes deep breath) Peanut Butter-Oatmeal-Chocolate Chip-Peanut Butter Chip-Coconut-Almond cookies. (catches breath)
Yeah, it's a mouthful. A delicious, delicious mouthful.
The best part? These cookies are so ridiculously easy-to-make that I didn't even mind turning on the oven during the summer. I mean, the cookies are practically power bars, right? (I know. Wrong. But let's go with it.) The cookies make great treats for hiking, days at the beach, camping, or laying on the couch mainlining episodes of Orange in the New Black.
To make them, whisk together eggs, brown sugar, and peanut butter. Then add all the other good stuff. That's it. Seriously. That's it. I like to chill the dough for about fifteen minutes before baking. (I do this as the oven preheats.) Then drop the cookies onto a parchment-lined baking sheet and bake for about fifteen minutes.
When the cookies cool, thanks to the oatmeal, they're soft and chewy. Oh, and about that oatmeal, use instant oatmeal in this recipe. I found that old-fashioned oats are too tough for the recipe.
And, of course, my "add-in" ingredients are just suggestions. Add some dried fruit, M&Ms (be sure they're gluten-free), or anything else you love.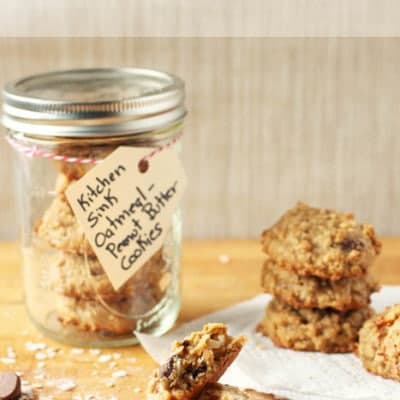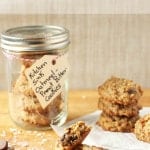 Flourless Gluten-Free Peanut Butter Oatmeal Cookies
Made without flour, these oatmeal peanut butter cookies bake up soft and chewy. The add-ins, like coconut, chocolate chips, and almonds, are just suggestions. Use whatever dried fruits, nuts, and chocolate that you enjoy!
Ingredients
1

cup

creamy peanut butter

(9 1/2 ounces; 270 grams)

3

large

eggs

(about 5 1/4 ounces; 150 grams)

1

cup

packed dark brown sugar

(7 1/2 ounces; 212 grams)

2 1/2

cups

quick cook gluten-free oats

(8 3/4 ounces; 248 grams)

1/2

cup

sweetened coconut

(1 1/2 ounces; 45 grams)

1/2

cup

dark chocolate chips

(3 ounces; 100 grams)

1/2

cup

peanut butter chips

(3 ounces; 100 grams)

1/2

cup

chopped almonds

for a sweet-salty flavor, use salted almonds
Instructions
In large bowl, whisk together peanut butter, eggs, and dark brown sugar until smooth. Switch to a wooden spoon and add oats, coconut, chocolate chips, peanut butter chips, and chopped almonds. Stir until well combined. Chill for 15 minutes.

Adjust oven rack to middle position and preheat oven to 350°F.

Line two baking sheets with parchment paper. Drop dough, about one tablespoon each onto prepared cookie sheet, spacing dough about an inch apart.

Bake until set, about 15 minutes.Allow cookies to cool on the pan for five minutes and then transfer to a wire rack. Repeat with cool baking sheet until all dough is used.

Store cookies in a covered container on the counter for up to four days.