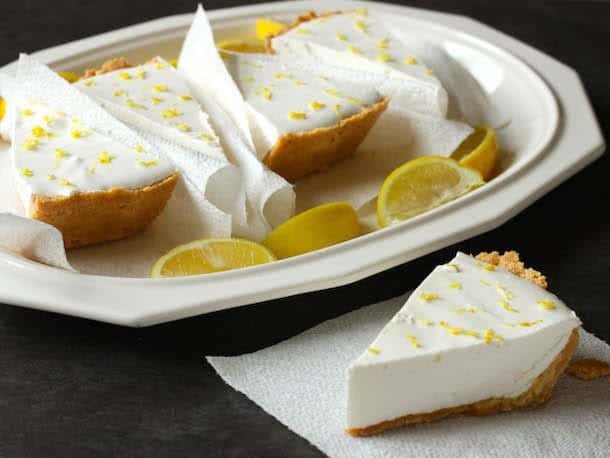 Recently, a friend threw a casual summer potluck barbecue. The theme was "summer foods you loved as a kid." I immediately thought of fluff pie, a Jell-O-based dessert that always made an appearance at picnics when I was a kid. In fact, I think of it as a summer pie—even though there's really nothing seasonal about it.
If you aren't familiar with this pie, it's one of those classic back-of-the-box recipes. You whip soft-set lemon Jell-O with whipped topping and spoon it into a crumb crust. That's it. The filling is basically an impossible-to-mess-up Bavarian cream.
As I went to make the pie, I remembered that my friend's son can't eat yellow food color. It makes him break out in hives. For a moment, I thought about making crispy treats for the barbecue but there was just something about that pie. So I decided to make it without the lemon Jell-O.
The first thing I did was check to make sure that freshly squeezed lemon juice wouldn't inhibit the gelatin from setting. The usual offenders, like pineapple and papaya, were on the list but, thankfully, lemon juice seemed ok. I bloomed powdered gelatin in freshly squeezed lemon juice, whisked in a water-sugar mixture and let it set up for about two hours. Then I whisked the soft gelatin into some sweetened whipped cream, spooned it into a pie shell and hoped it would set. I was a little unsure how much gelatin I'd need to set a filling that was firm enough to slice. The process took a little extra time but, honestly, most of it was inactive.
The filing set up firm enough to serve the pie sliced and placed on paper towels. Yup, it's one of those pies that doesn't require a fork—unless you want one. Without the food color from the Jell-O, the filling came out almost white. A quick sprinkle of lemon zest added just the right amount of color and another whisper of lemon flavor. And although the color turned out pale, the flavor was a far cry from anemic. The fresh lemon juice combined with the sweetened whipped cream to create a lemonade-like flavor; at the party, it was the first dessert to go. Since there are still plenty of summer barbecues left, I'm already wondering, what flavor of fluff pie do I want to make next? Hmm…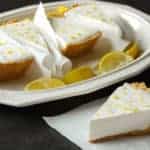 Fluffy Lemonade Pie
Total Time
8
hours
35
minutes
Ingredients
For the Crust
1 1/2

cups

finely ground gluten-free vanilla cookies

about 22 cookies or 1 (10.5-ounce) package, such as Schar brand

4

tablespoons

unsalted butter, melted

(2 ounces; 56 grams)
For the Filling
1/4

cup

fresh lemon juice from 2 lemons

(2 ounces; 56 grams)

2

tablespoons

cold water

(1 ounce; 28 grams)

1

tablespoon

unflavored gelatin

3/4

cup

cold water

(6 ounces; 170 grams)

1/2

cup

granulated sugar

(3 1/2 ounces; 100 grams)

1 1/2

cups

cold heavy cream

(12 ounces; 340 grams)

1/4

cup

powdered sugar

(2 ounces; 56 grams)

Zest of 1 lemon
Instructions
For the Crust: Preheat oven to 350°F. In small bowl, combine vanilla cookie crumbs and melted butter. Stir with a fork to combine. Mixture should be damp and hold together when pressed. Press crumb mixture onto the bottom and sides of a 9-inch pie plate. Bake until set and aromatic, about 10 to 12 minutes. Remove crust from oven and place on a wire rack to cool.

For the Filling: Combine lemon juice and 2 tablespoons water in a small saucepan. Sprinkle gelatin on top and allow to stand for 5 minutes.

In a separate small saucepan, combine 3/4 cup water and granulated sugar. Heat over medium-high heat, stirring occasionally, until sugar dissolves. Set aside.

Cook gelatin mixture over low heat, without allowing liquid to boil, until gelatin is dissolved, about 4 minutes. In a small bowl, stir together gelatin mixture and sugar mixture. Chill until soft set, about 2 1/2 hours (the gelatin should wiggle but you don't want it totally set).

In the bowl of a stand mixer fitted with the whisk attachment, combine heavy cream and powdered sugar and whip to medium-firm stiffness. Add gelatin and whip until the gelatin is combined. Spoon into prepared pie crust. Sprinkle lemon zest over the top of the pie. Chill for 6 hours or until fully set. Serve. Leftover pie can be refrigerated for up to 4 days.