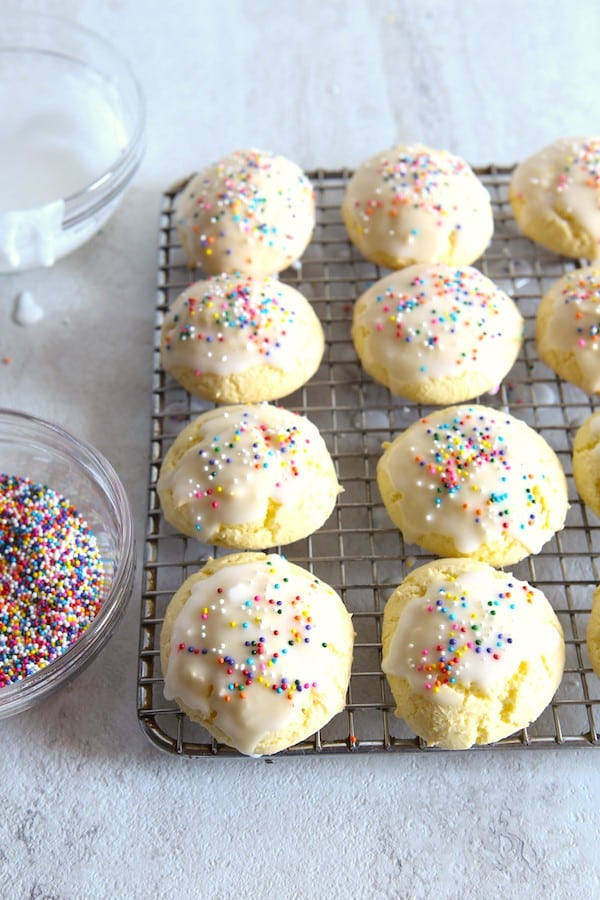 These cookies are a Christmas tradition in my life. When I was little, our neighbor, Lisa, would bring us a plate. As a child I thought they were rather "blah." As an adult, I adore them!
The cookies are lemon-flavored and posses a dry, almost biscuit, texture. But don't let that scare you! The flavor of these cookies is divine: delicate and subtle. And, they are the type of cookie you can sneak in the morning!
And yes, the sprinkling of nonpareils is traditional!
As for the name, they're called anginetti but are also often called genetti or even Jeannette cookies depending on where you live.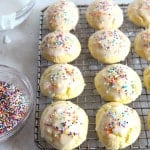 Gluten-Free Anginetti Cookies
Ingredients
1 1/2

cups

white rice flour

(6 ounces; 170 grams)

1/2

cup

cornstarch

(2 ounces; 56 grams)

1 1/2

teaspoons

baking powder

1/4

teaspoon

salt

1/4

teaspoon

xanthan gum

1/2

cup

granulated sugar

(3 1/2 ounces; 100 grams)

1/4

cup

vegetable shortening

(1 5/8 ounces; 46 grams)

3

large

eggs

(5 1/4 ounces; 150 grams)

1 1/2

teaspoons

lemon extract
For the Icing
1

cup

powdered sugar

(4 ounces; 113 grams)

1

teaspoon

lemon extract

1

Tablespoon

water, plus additional as needed

(1/2 ounce; 14 grams)

nonpareils
Instructions
Make the Cookies:

Preheat oven to 350 degrees F. Line a baking sheet with parchment paper. In a medium mixing bowl, whisk together dry ingredients. Set aside.

In a large mixing bowl, cream together shortening and sugar until a thick paste forms.


Add eggs, one at a time, with the mixer running. After last egg is added, turn mixer to high speed and beat for 30 seconds. Scrape down the sides of the bowl and mix to combine.

Add add lemon extract and dry ingredients. Mix until a dough forms. The dough will be thick and sticky. Drop dough, a generous 1 1/2 Tablespoons on prepared cookie sheet.

Bake for 18-20 minutes or until the cookies are light colored and "puffy." (When you pick up a finished cookie, it should be light and have a brown bottom.) Transfer cookies to a wire rack to cool.

Make the Icing: When cookies are cool, make the icing. In a small mixing bowl, combine ingredients. Stir until icing is smooth. If the icing is too thick, add a teaspoon or two more water.

Dip the tops in prepared icing (recipe below). I like to dip three or four cookies and then sprinkle my nonpareils on the tops of the cookies. If you wait too long to apply the sprinkles, they won't stick. (Adjust thickness of the icing so that a cookie top dipped in the icing is left with a thin coat if icing.)