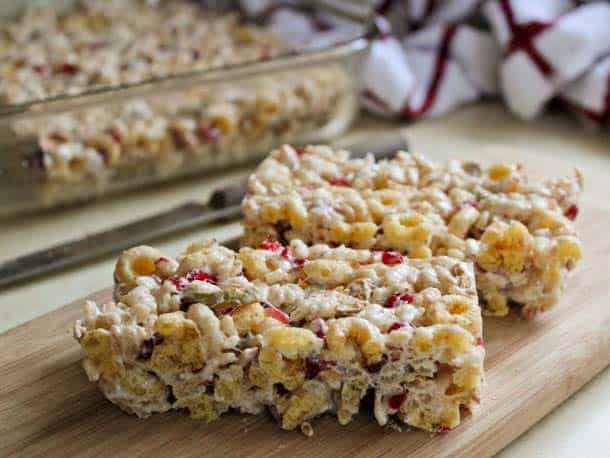 What was the first recipe you learned how to make? If we remove cinnamon toast from the running, I think mine was Rice Krispie Treats. Like most kids, I loved those cereal bars and learning how to make them on my own was pretty exciting–especially the part where you melted marshmallows!
Today I still love cereal bars. During the fall, I make one with apples and cherries. These stupid wonderful bars get move raves then things I spend hours making. Isn't it funny how that works?
As you can guess from the name, they're a little fancier than classic cereal bars. (Dare I use the word "fancy" when it comes to cereal bars?)  Unlike classic crispy bars, this recipe uses two types of gluten-free cereal: oat O's and crispy rice. Then you add crunchy "bake-dried" apples and a good handful chewy dried cherries. Finish the whole shebang with a generous sprinkle of  ground flax seeds and call it day. Funny story: when I mentioned to a friend that the recipe contained flax she said, "Good! I can think of this as health food!" I reminded her that these are cereal bars, not health bars. I just add the flax because I like the flavor. 🙂
Ingredient Notes
Cereal
O-Style Cereal
Use any gluten-free "o-style" cereal. I suggest Nature's Path Whole O's. It's what I used in the recipe. I think Nature's Path Whole O's have a GREAT texture for cereal bars. (BTW, currently gluten-free Cheerios are surrounded by a bit of controversy. Read about it here.)
Crispy Rice Cereal
Kellogg's discontinued gluten-free Rice Krispies. (boo!) For this recipe, I used Erewhon's Brown Rice Cereal. Nature's Path also makes a tasty Crispy Rice cereal that's certified gluten-free.
Bake-Dried Apples
If you can't find bake-dried apples (I use Bare Fruit), use dried apple rings. Chop the dried apple rings into bite-size pieces before using.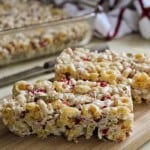 Gluten-Free Apple Cherry Cereal Bars
Ingredients
3

cups

gluten-free O-style cereal (I used Nature's Path)

(4 1/2 ounces; 127 grams)

3

cups

gluten-free crisp rice cereal

(4 1/2 ounces; 127 grams)

3/4

cup

dried cherries, finely chopped

(3 ounces; 85 grams)

1

cup

bake-dried apple chips, finely chopped

(1 ounce; 28 grams)

2

tablespoons

ground flaxseed meal

(1/3 ounce; 18 grams)

1/4

cup

butter or coconut oil

(4 tablespoons; 2 ounces; 56 grams)

1

(10 ounce) bag

mini-marshmallows

non-stick gluten-free cooking spray
Instructions
Lightly grease 9x13-inch baking pan with non-stick cooking spray and set aside.

In large bowl, toss together cereals, dried cherries, apple chips, and ground flaxseed meal.

In large pot, melt butter over medium-low heat. Add marshmallows. Stir constantly with wooden spoon until marshmallows are melted and smooth. Add cereal mixture. Stir quickly to coat cereal with melted marshmallows. Transfer mixture to prepared pan. Using your hands or a piece of parchment paper, pat mixture down evenly into pan. Chill two hours or overnight. Cut into 14 bars.