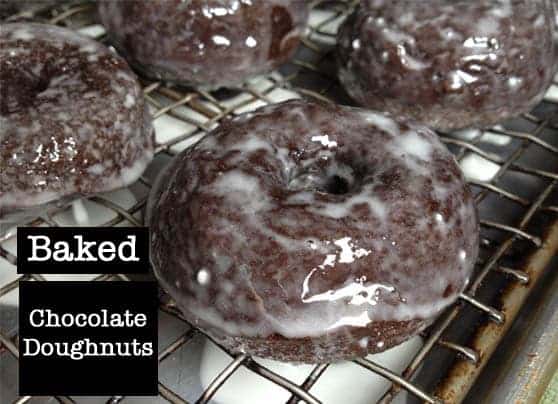 For a long time, a doughnut pan sat on my shelf gathering dust. Maybe I used it once, I don't know. But I do know why I hesitated to use the pan: I thought baked doughnuts were simply doughnut-shaped muffins. And when I want a doughnut, I want a fried affair, not a masquerading muffin.
Then an enticing chocolate glazed doughnut recipe from "Buns in My Oven" appeared in my Facebook feed. I clicked on it. My mouth watered. I wanted that doughnut. Then I noticed the recipe made baked, not fried, doughnuts. My mouth and my mind were in opposition. Was it finally time to take the baked doughnut plunge? Yes, yes it was.
The recipe called for all-purpose flour. So it needed a gluten-free makeover to fit my diet. Since I'm baking more with whole grain flours and less with rice, I replaced the all-purpose flour with oat flour and potato starch. Why oat flour? Well, even though the cake doughnuts I bought in my pre-gluten-free days were probably made from white flour, they have a grain-like sweetness in my memory, and I wanted to chase that flavor.
The batter came together quickly. You simply whisk the dry ingredients together and add an egg, milk, and sour cream—no electric mixer required. At first, the batter seemed a little thin. I wondered what would happen if I let it sit on the counter for five minutes. Would it thicken? It did! The batter didn't become really thick, but the flour seemed to hydrate a little, adding some body. Even after standing for five minutes, this still isn't batter you could fry—it's too thin. But it's perfect for baking.
I filled the doughnut pan cavities about halfway and baked. I hoped muffin-shaped doughnuts wouldn't emerge from the oven, but if I'm honest, I wasn't entirely confident. Ten minutes later, the doughnuts were ready. After they cooled, I dipped them in a simple glaze and took a bite. It was dense like a doughnut, but not heavy. The oat flour added that nutty sweetness I love in a chocolate doughnut. And, the best part, it wasn't muffin-like at all! Two bites in, I was total convert to baked doughnuts, which is great news for that little-used doughnut pan.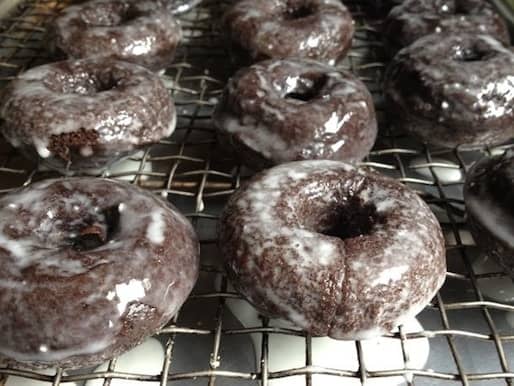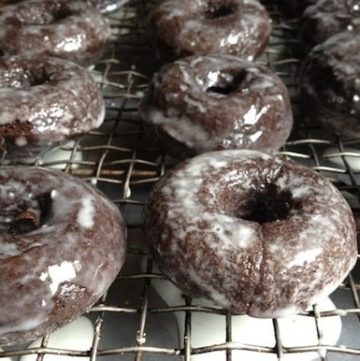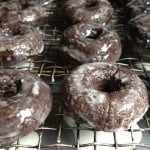 Gluten-Free Baked Chocolate Doughnuts
Ingredients
For the Doughnuts
3/4

cup

gluten-free oat flour

(2 1/2 ounces; 70 grams)

1/2

cup

granulated sugar

(3 1/2 ounces; 100 grams)

1/4

cup

potato starch or tapioca starch

(1 ounce; 28 grams)

1/4

cup

cocoa powder

(3/4 ounce; 22 grams)

1/2

teaspoon

baking soda

1/4

teaspoon

xanthan gum

1/2

teaspoon

vanilla extract

1

large

egg

(about 1 3/4 ounces; 50 grams out of shell)

6

tablespoons

sour cream

(3 ounces; 85 grams)

1/4

cup

milk

(2 ounces; 56 grams)

1/4

cup

vegetable oil

(1 3/4 ounces; 50 grams)

nonstick cooking spray
For the Glaze
1 1/2

cups

powdered sugar

(6 ounces; 170 grams)

6

tablespoons

whole milk

(3 ounces; 85 grams)

1

teaspoon

vanilla extract

1/2

teaspoon

lemon extract, optional
Instructions
Preheat oven to 375°F. Whisk together oat flour, granulated sugar, potato starch, cocoa powder, baking soda, and xanthan gum in a medium bowl. Add egg, sour cream, milk, and vegetable oil. Whisk until batter is smooth. Allow batter to stand for five minutes. Lightly coat pan with nonstick cooking spray. Fill cavities about halfway with batter.

Bake until doughnuts spring back to the touch, about ten minutes. Turn doughnuts out onto a wire rack to cool. Repeat with remaining batter. Allow doughnuts to cool completely. Place a wire rack into a parchment-lined baking pan. Whisk together powdered sugar, milk, vanilla, and lemon extract in small bowl. Dip doughnuts, one at a time, into glaze. Shake off excess glaze. Place dipped doughnuts onto wire rack. Store doughnuts covered at room temperature for up to three days