Moist, sweet, and delicious. This easy recipe makes the best gluten-free banana bread you've ever tasted. (Dairy-free option included!)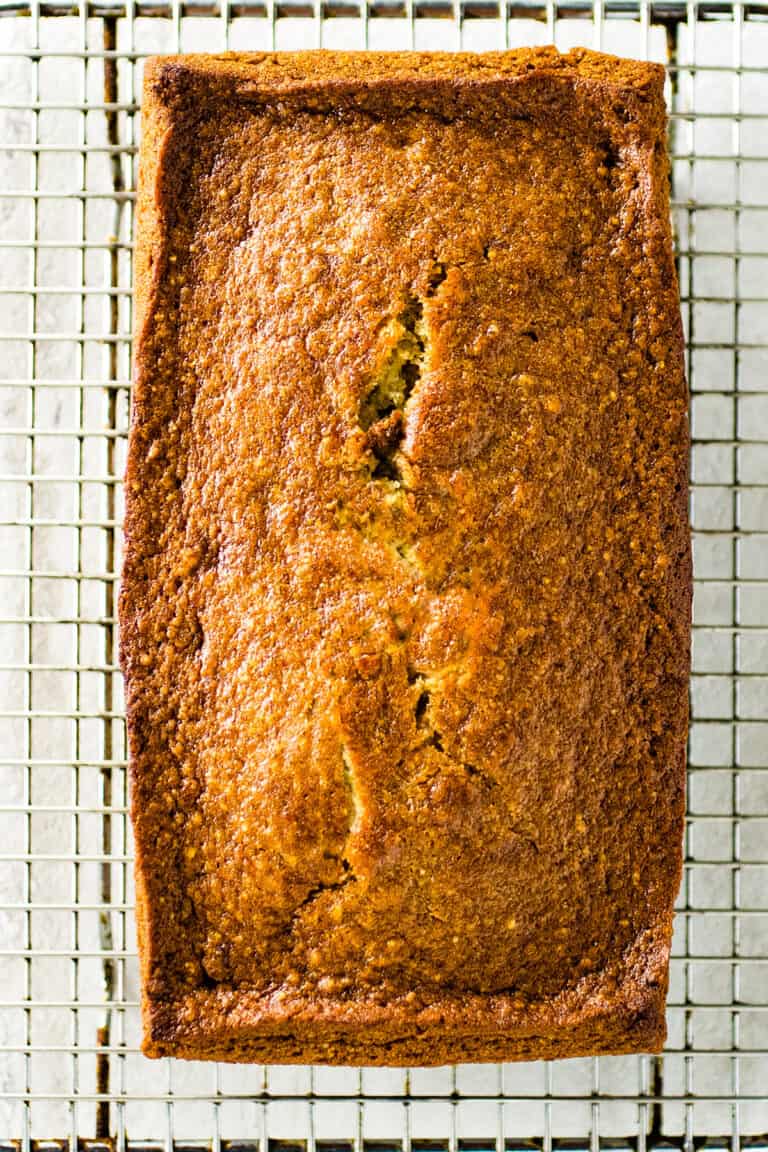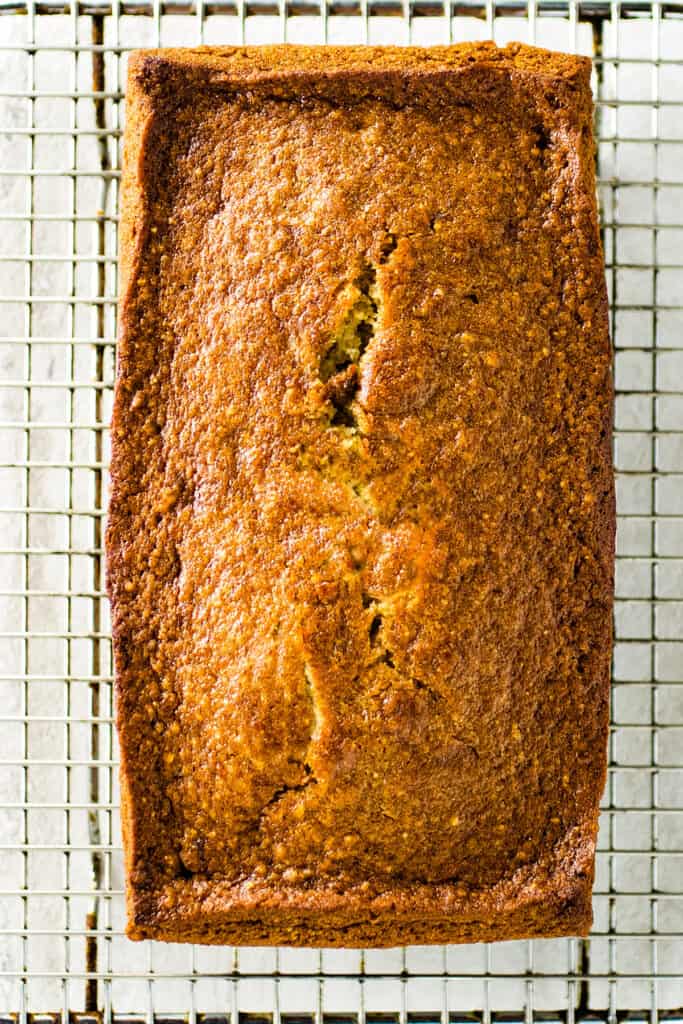 Why You'll Love This Gluten-Free Banana Bread
easy to make
flavorful and dense (without being heavy or gummy)
Perfect as is or with nuts, chocolate chips, or spices.
Gluten-Free Banana Bread: Important Ingredients
Ripe Bananas. Do you want a gluten-free banana bread that's got an intense banana flavor? Then start with really ripe bananas. Use bananas that are dark brown or almost black. The darker the bananas, the sweeter the banana bread.
Gluten-Free Flour Blend. I developed this recipe with Bob's Red Mill gluten-free baking flour. It makes a gluten-free banana bread that's moist but not gummy. (You know how I feel about gummy gluten-free baked goods!) All gluten-free flours and blends behave differently. So if you use a different flour (or several different gluten-free flours), you might get a different texture.
Sugar. This recipe uses granulated sugar. It adds sweetness while allowing the banana flavor to take center stage. If you prefer to make your banana bread with brown sugar, go ahead and use it. There's a note in the recipe below on how to swap the granulated sugar for brown sugar.
Butter. I make my gluten-free banana bread with butter because I prefer the flavor. If you're dairy-free, use a dairy-free butter replacement. The recipe works great when made dairy-free!
Eggs. The two eggs in the recipe add structure and help give the banana bread a delicate texture. If you're egg-free, you can try to use a flax egg in this recipe.

How to Make Gluten-Free Banana Bread: Four Easy Steps for Success
Use two bowls.

I wish this was a "one-bowl gluten-free banana bread." Because that would mean you only have one bowl to clean. It's not–but for a good reason. You want the baking powder and baking soda evenly mixed through the flour. This ensures that your banana bread rises evenly. So you'll need to whisk together the dry ingredients in a bowl before adding them to the banana mixture.

Mix with a wooden spoon. Or not! There's no need to use an electric mixer for this recipe unless you prefer to use one. I mash the bananas with a fork, mix the dry ingredients with a whisk, and then stir everything together with a wooden spoon or rubber spatula.
Bake gluten-free banana bread in a metal pan.

The best pan for banana bread is a metal pan. (see below for more information on this.)

Cover the bread, if needed.

Banana bread takes a long time to bake. This means that the top can get a little too dark in some ovens. If you notice that the top dark but the center still needs a little more baking time, cover the bread with a piece of foil for the last 10 minutes of baking.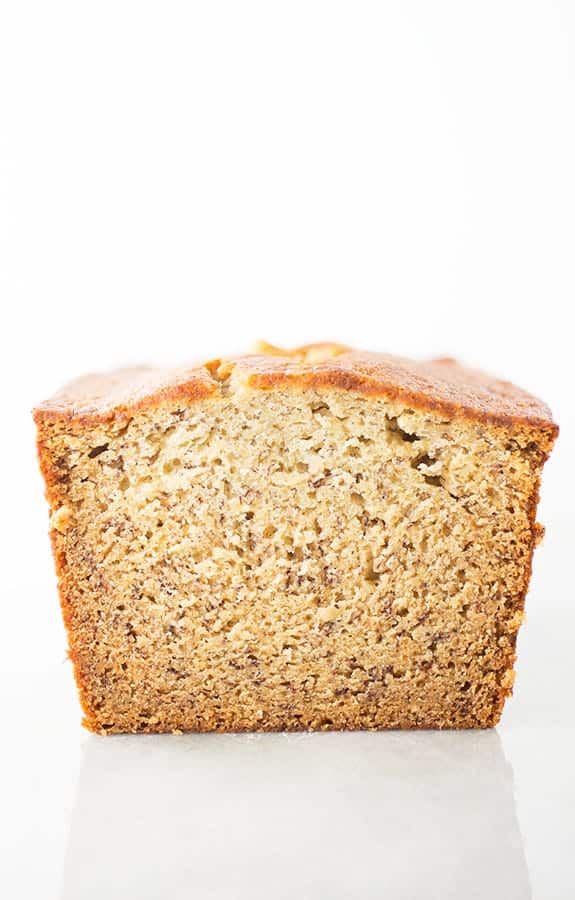 Gluten-Free Banana Bread: FAQs
Can I use this recipe to make banana muffins?
You can but I have a recipe for gluten-free banana muffins that works perfectly. You should probably just use that one.
Why was my gluten-free banana bread raw in the center?
Argh. This is the most frustrating thing about baking banana bread. Because the batter is thick and contains a lot of moisture, there's a risk that the bread can look done, only to have a raw center.
Here are a few ways to prevent this from happening:
Check your oven temperature. Use an oven thermometer to make sure your oven isn't running too hot or too cool.
Check your oven rack. You don't want the pan too far from the heating element. Adjust your rack so that the pan is about 8 inches from the heating element.
Take the temperature. Check the banana bread in a few spots. Taking care to place the thermometer in the middle of the loaf. The very top and very bottom bake faster than the middle. You want the temperature to between 205 and 210 degrees F.
Use a metal pan. Glass pans tend to bake the outside of the bread too fast, giving you a raw center. If you only have a glass pan, you can try reducing the oven temperature by 25 degrees F.
Baker's Tips for Perfect Gluten-Free Banana Bread
You'll need three medium bananas for this bread. That's about one cup of mashed bananas or 12 ounces of peeled bananas.
Want to use less sugar? This bread can handle it. (That's not true for a lot of baking recipes.) Reduce the sugar from 3/4 cup to 1/2 cup. You can go as low as 1/3 cup.
For an intense banana flavor: use deep brown, almost black bananas.
Other Gluten-Free Recipes You'll LOVE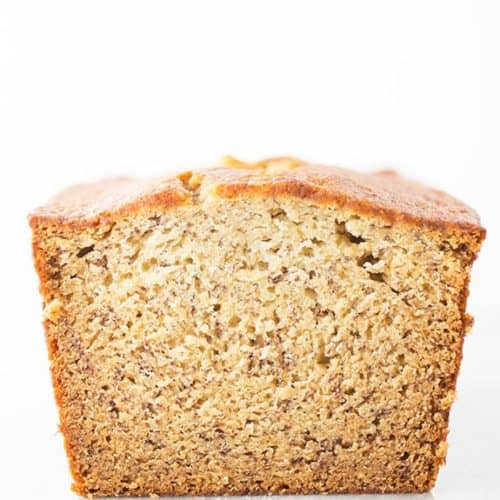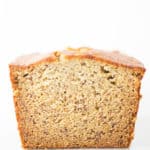 Gluten-Free Banana Bread
Easy Gluten-Free Banana Bread. This recipe makes a moist and classic banana bread.
Ingredients
3

medium

bananas, peeled

(about 12 ounces; 340 grams)

2

cups

Bob's Red Mill Gluten-Free Baking Flour

(10 ounces/ 280 grams)

3/4

cup

granulated sugar

(5 1/4 ounces; 150 grams)

1

teaspoon

baking powder

1

teaspoon

baking soda

1

teaspoon

salt

1/2

cup (1 stick)

butter, melted

(4 ounces; 115 grams)

2

large

eggs

(out of the shell: about 4 ounces/113 grams

1

teaspoon

vanilla extract
Instructions
Preheat oven and prepare pan. Preheat oven to 350 degrees F. Spray a 9x5-inch baking pan with nonstick cooking spray.

Make the batter. Mash bananas until almost smooth in a medium mixing bowl with a fork. Set aside. Whisk together gluten-free flour, sugar, baking powder, baking soda, and salt in a large mixing bowl.

Add mashed bananas, melted butter, eggs, and vanilla extract. Stir until a batter forms. Spread batter evenly into greased loaf pan. 

Bake the banana bread. Bake until a cake tester inserted into the middle of the loaf comes out clean. Also check the very top of the loaf for doneness. If the top browns too quickly and the center isn't done, cover the loaf a lightly greased piece of foil. (If the center is baked and top of the loaf is raw, cover with a greased piece of foil and reduce the oven temperature by 25 degrees. Bake until done.)

Cool. Remove pan from the oven and place on a wire rack. After ten minutes, turn bread directly onto the rack.

Store on the counter. Store, wrapped, at room temperature for up to three days or freeze, wrapped tightly in plastic wrap, for up to one month. 
Recipe Notes
Gluten-Free Flour Blend
This recipe was tested with Bob's Red Mill Gluten-free Baking Flour. Use a gluten-free flour blend that contains xanthan gum. If your mix does not contain xanthan gum, add 1/2 teaspoon to the recipe.
Dairy-Free Option
For a gluten-free and dairy-free banana bread, replace the butter with a dairy-free butter spread.
Brown Sugar Option
Replace the granulated sugar with an equal amount of light or dark brown sugar. When adding the brown sugar to the gluten-free flour mixture, rub the sugar to remove any lumps. 
Reduced Sugar Option
For a gluten-free banana bread that contains less sugar, reduce the sugar to 1/2 cup. You can use as little as 1/3 cup sugar. Please note that breads made with less sugar won't be as sweet or as moist as a bread made with 3/4 cup sugar.
Honey or Molasses
I do not recommend a liquid sweetener for this recipe.