Classic gluten-free banana bread. This recipe makes a moist and flavorful loaf that's great with nuts or without.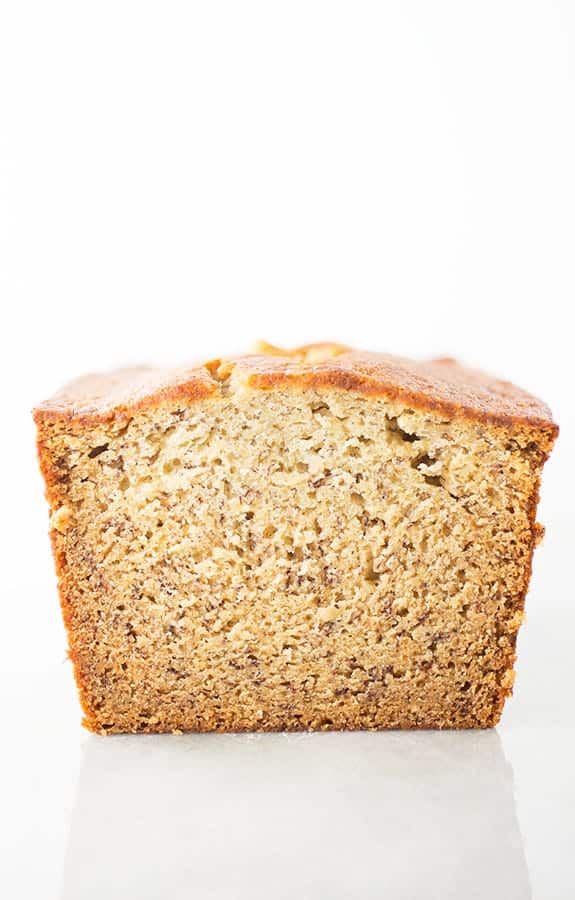 When I was growing up, my mom baked a lot. If you're the parent of a food allergic kid, you get this, right? (Do I hear the amens from the crowd? Yup. I do.)
Since I didn't have just one sweet tooth but, instead, an entire mouthful, I loved everything she made. But I loved one thing just a little more than the rest.
Banana Bread.
Yes. Banana bread.
It's terrible to judge people by what foods they enjoy. However, let me just say that if you're wondering what type of kid prefers banana bread to sugar cookies, I'll tell you that I was just the type of kid that your imagination conjured up. (Read: quiet, nerdy, and a wee bit odd.)
I probably snarfed down banana bread while reading indoors on a sunny summer day. Go outside? Pish-posh. No thank you!
There was only one thing I didn't like about my mom's banana bread. Sometimes she'd add a handful of raisins. Gah. Raisins. I still hate those things.
I preferred banana bread straight up. No raisins, no chocolate chips, no ground cinnamon.
To this day, that's still how I prefer my banana bread.
When I first started baking gluten-free, her banana bread was one of the first recipes I adapted. I included the recipe in my first cookbook, Easy Gluten-Free Baking. And whenever we have bananas past their prime, I make a loaf.
So imagine my surprise when someone asked me for a banana bread recipe and I went to send it to them. I searched my site.
No recipe. How was that possible? How could I have no shared my favorite recipe here? Major fail on my part.
Today that changes. We're baking banana bread! (My 8 year old-self just did a happy dance, btw.)
Gluten-Free Banana Bread: The Bananas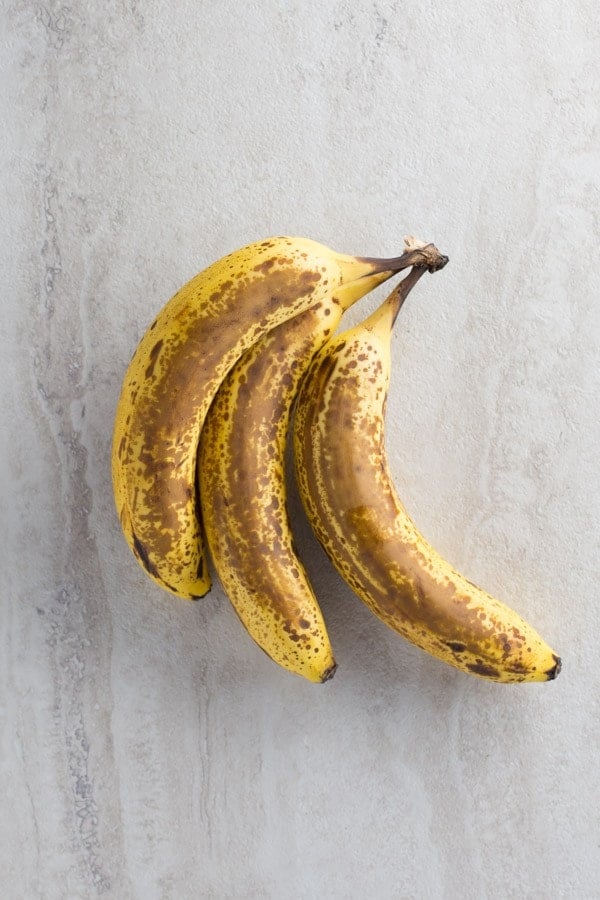 My biggest issue with gluten-free banana bread is waiting for the bananas to get overripe. You want them really fragrant and heavily dotted with brown spots. If the bananas aren't ripe enough, the banana bread won't taste great. Simple as that.
I've seen some tips floating around for how to rush the ripening process. The most popular is putting bananas in a low oven and baking them for about ten minutes. Other methods suggest putting them in the freezer–peel and all–and freezing for a few hours.
Neither of these methods wow me. The baking method gives you really sweet bananas, true. Yet they taste baked to me, with a funny caramel-like flavor. And the freezer method is decidedly so-so.
For the best flavor, wait for the bananas to ripen on the counter.
One the bananas are ripe, peel them and place them in a bowl. Don't worry about cutting them or anything.
Add the sugar and mash. You can use a fork or potato masher for this process.
It's amazing how fast the bananas mash. Don't worry if there's a few lumps left in the bowl. As long as the mixture isn't totally chunky, you're fine.
Let the mixture sit for about 15 minutes. The sugar dissolves and the bananas turn to a thick liquid. It's kind of cool.
Baker's Tip: Measure out the remaining ingredients and preheat the oven while the banana-sugar mixture sits.
Gluten-Free Banana Bread: Mixing and Baking
This recipe offers some flexibility when it comes to the gluten-free flours. If you want your recipe to taste just like my mom's, use a blend of white rice flour and cornstarch along with a little xanthan gum.
If you'd rather use a commercial flour blend, use Bob's Red Mill Gluten-Free Baking Flour. (Don't confuse this with their all-purpose gluten-free flour). I don't like that one.)
Elizabeth, what if I don't have/don't like Bob's Gluten-Free Baking Flour? Can I use (fill in flour blend of choice)?
Maybe. If it contains xanthan gum, it will probably work. If it doesn't, include the xanthan gum called for in the recipe. Gluten-free flour blends vary greatly and different flour blends affect recipes in different ways.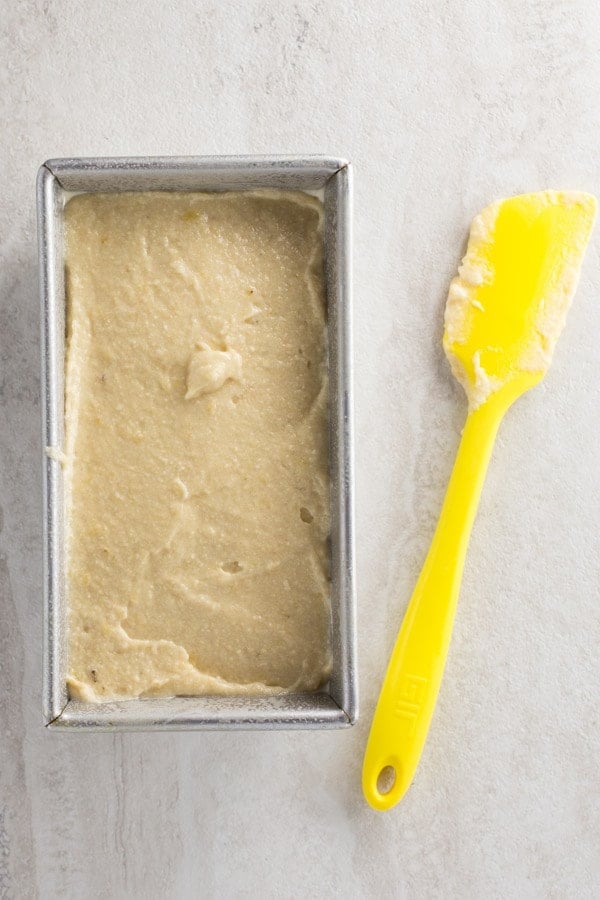 Spread the batter into a greased pan. I love my Chicago metallic loaf pan. It's the same pan I use for my gluten-free sandwich bread. If you love bread of any kind, treat yourself to this pan. You'll love it!
That's it! Throw that pan in the oven and you're set to go.
But! But! Elizabeth!
Yes?
I like raisins in my banana bread!
You do?
I do.
We can't be friends.
Oh, that seems harsh.
True.
Okay, go ahead and stir in whatever you want (raisins, chocolate chips, nuts) into the batter before you spread it into the pan.
Great! How much?
Hmm….no more than one cup total. You could do half cup of nuts and then a 1/2 cup each chocolate chips and raisins if you'd like.
Awesome!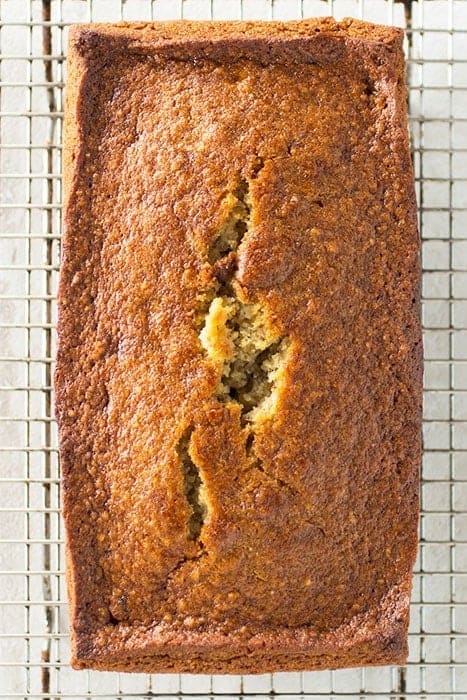 This loaf takes a while to bake. Make sure the entire loaf has baked all the way through. The center tends to drag its feet. To see if it's done, stick a cake tester into the center of the loaf. If it comes out with wet batter clinging to it, keep on baking.
Here's the thing, sometimes the top of the loaf starts to get too dark before the center finishes baking.
To fix this, put a piece of greased aluminum foil on top of the loaf. This stops the top from getting too brown. BUT! Remember to grease it. See that photo up there? Look at the middle. It's my baking shame.
I did not grease the foil and some of my pretty loaf stuck to the darn aluminum foil. Oy!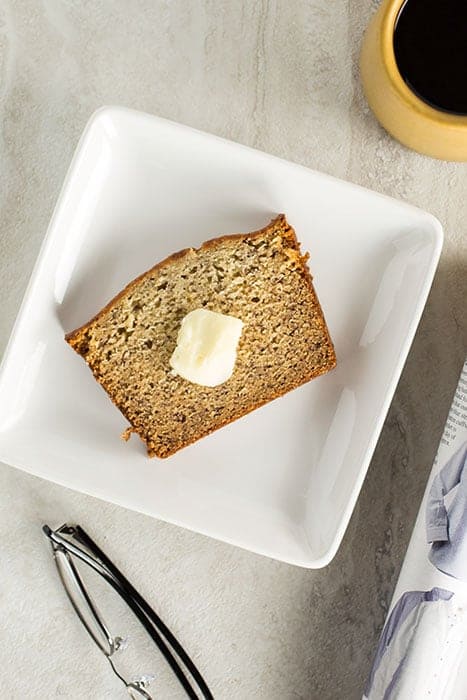 Serve when the loaf is cool-ish. (I can never wait for the bread to fully cool. So why should you?)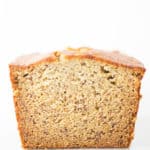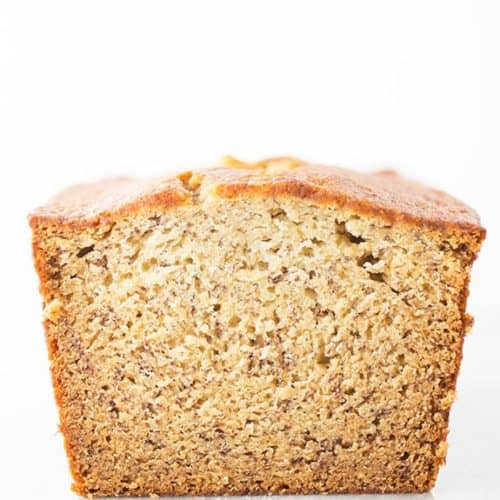 Gluten-Free Banana Bread
Easy Gluten-Free Banana Bread. This recipe makes a moist and classic banana bread.
Ingredients
1

cup

granulated sugar

3

medium

bananas

2

cups

gluten-free flour blend, see note below

1

teaspoon

baking powder

1

teaspoon

baking soda

1

teaspoon

salt

1/2

cup (1 stick)

butter, softened

2

large

eggs

1

teaspoon

vanilla extract
Instructions
Preheat oven and prepare pan. Preheat oven to 350 degrees F. Spray a 9x5-inch baking pan with nonstick cooking spray.

Make the batter. Mash the banana with a fork and stir in the sugar in a small mixing bowl. Let sit for 15 minutes. 

While the banana-sugar mixture sits, whisk together the gluten-free flour, baking powder, baking soda, and salt.

Combine the butter and eggs. Mix for one minute. Add half the dry ingredients. Mix until thick. Add the banana-sugar mixture. Mix to combine. Add the remaining flour and the vanilla extract. Mix until batter is smooth. Spread batter into prepared pan.

Bake the banana bread. Bake until golden brown. A cake tester should come out clean, about one hour. If the top gets too dark, place a greased piece of aluminum foil over the pan and continue baking. 

Remove pan from the oven and place on a wire rack. After five minutes, turn bread directly onto the rack.

Store on the counter. Store, wrapped, at room temperature for up to three days or freeze, wrapped tightly in plastic wrap, for up to one month. 
Recipe Notes
Gluten-Free Flour Blend
This recipe was tested with Bob's Red Mill Gluten-free Baking Flour. Use a gluten-free flour blend that contains xanthan gum. If your mix does not contain xanthan gum, add 1/2 teaspoon to the recipe.