This gluten-free, dairy-free, egg-free recipe makes a crispy gluten-free fish fry. If you can't find gluten-free beer, use plain seltzer water.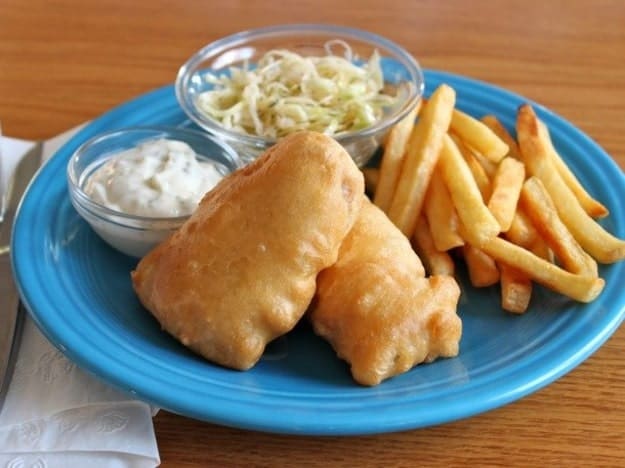 When most people think of food from Wisconsin, they think cheese or beer. While living in Milwaukee ten years ago, I found out that fish fry should also make this list.
Each Friday night, many Milwaukee area restaurants offer a fish fry specials. For a reasonable price, you get a plate of beer battered fish, a couple of potato pancakes and, often, a slice of rye bread. The fish fry tends to be "all you care to eat." I never asked for more fish but, I have to admit, there were a few times when I was tempted! The batter that coated the fish was so light and so crispy. It would have been easy for me to ignore my full stomach just to enjoy a bite or two more.
Now that I'm back in New York and need to eat gluten-free, popping out to a restaurant is no longer an option. Thankfully, I live with a fish fry expert! My Wisconsin-born husband worked in a Milwaukee restaurant that served upwards of 500 fish fry dinners each Friday night. The biggest challenge in converting his recipe to gluten-free? Paring it down. His original recipe made 10 gallons of batter.
Since the original recipe contained about half cornstarch, converting it to gluten-free was easy. White rice flour replaced the wheat flour to produce a super-crisp, light batter for the fish. The best part? It's also egg and dairy-free!
Gluten-Free Fish Fry: How to Make It At Home
Making the batter is as easy as whipping together pancake batter, and you can make it ahead of time. Greg remembers, "We were so busy at the restaurant, I made the fish fry batter hours before service started. If I hadn't, we would have been in the weeds all night."
To make the batter, combine the dry ingredients in a large bowl. Add the gluten-free beer. (If you don't want to use beer, go ahead and use plain seltzer.) You want the consistency of the batter to resemble heavy cream. It should flow easily from a spoon. If the batter seems too thick, add a little more beer or seltzer.
Cut your fish into individual pieces, about five-inch each. Of course this is a personal preference. If you to cut the fish into smaller pieces, go for it. I find pieces larger than five inches unwieldy to fry but that's just me.
To help the batter stick to the fish, pat it dry, and then coat it in a white rice flour-cornstarch mixture. You don't want too much flour, so give the fish a gentle shake after coating it. Then dip the fish into the batter. Hold the fish above the bowl for a second or two. This allows excess batter to drip off. Then gently place the fish into the hot oil. you don't want to hold the fish high above the oil and drop it in. That's a recipe for splatter and possible burns! Get the fish very close to the surface of the oil and gently guide it in. Depending on your fryer, you can fry up to three pieces at one time. If you fry too much fish (or anything for that matter) at one time, the temperature of the oil drops and the coating of the fish gets oily.
If you don't want to serve your fish in batches, place the freshly fried fish onto a paper towel-lined baking sheet and keep warm in a 250 degree F. oven.
When having a fish fry, I like to serve it with French fries because…why not? 🙂 In our house, coleslaw and tartar sauce are also a must!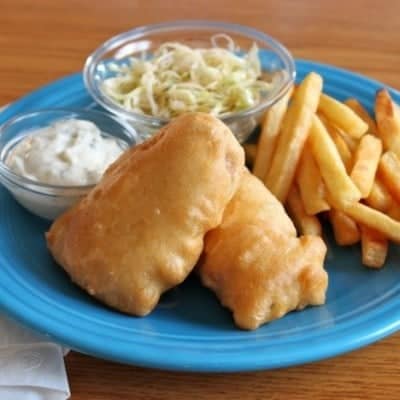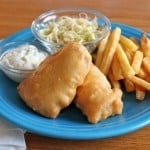 Gluten-Free Beer Battered Fish
Ingredients
For the Batter
3/4

cup

cornstarch

(3 ounces; 85 grams)

1/2

cup

white rice flour

(2 ounces; 56 grams)

1/4

cup

sweet rice flour

(1 ounce; 28 grams)

1

teaspoon

baking powder

1

teaspoon

granulated sugar

1/2

teaspoon

salt

1/4

teaspoon

freshly ground black pepper

3/4

cup

gluten-free beer, more as needed
For the Fish
1 1/2

pounds

skinless fillets (cod, flounder, or haddock), cut into six pieces

2

ounces

1/2 cup white rice flour

(2 ounces; 56 grams)

2

ounces

1/2 cup cornstarch

(2 ounces; 56 grams)
Instructions
In medium bowl, whisk together cornstarch, white rice flour, sweet rice flour, baking powder, granulated sugar, salt, and black pepper. Add gluten-free beer. Whisk until batter forms. Batter should flow easily from a spoon, slightly thicker than the consistency of heavy cream. If it's too thick, add an additional tablespoon beer. Set aside. In large bowl or pie plate, whisk together remaining white rice flour and cornstarch.

Preheat oven to 250°F. In heavy bottomed Dutch oven, heat oil to 375°F. Coat (dredge) cod, one piece at a time, into the white rice flour-cornstarch mixture. Shake off excess. Dip cod, one piece at a time, into batter. Allow excess batter to drop off. Carefully lower fish into hot oil. Cook until batter sets, about three minutes. Turn fish and cook until batter turns golden brown, about another three to five minutes. (Frying time varies depending in the size of the cod pieces.) Fry cod in batches, about two to three pieces at a time depending on the size of your fryer.

Drain fish on paper towel-lined plate. Serve at once or transfer to rimmed baking sheet and keep warm in preheated oven for up to twenty minutes.