Gluten-Free Berry Muffins or How Much Do You Love Ina?
Ina Garten inspired these muffins. My friend's copy of Barefoot Contessa at Home was plopped face-down on her kitchen counter. During a visit, I noticed the pile of muffins on the back of the book. And these weren't just any muffins— no, these were berry muffins. Let's be honest, looking at a picture of berry muffins during the height of berry season practically guaranteed I'd head into the kitchen to whip up a gluten-free version.
The muffins easily converted to gluten-free. During testing, I found brown rice flour contributed a heavy texture to the muffins. To keep them light, I settled on a blend of white and sweet rice flour and potato starch. Interestingly, the original recipe calls for the granulated sugar to be added at the end of mixing instead of creaming it together with the butter at the beginning of mixing. This leaves the muffins with a "delicious crunchy outside," according to Ina. The gluten-free version didn't have the crunchy outside. Instead the sugar simply melted into the muffins during baking as always, but didn't crunch.
The muffins were just what I wanted: light, sweet, and bursting with berries.
Recipe adapted from Barefoot Contessa at Home by Ina Garten (Clarkson Potter)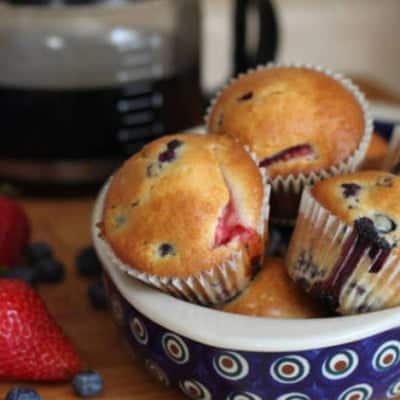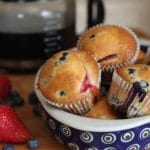 Gluten-Free Multi-Berry Muffins
Ingredients
2

cups

finely ground white rice flour

(8 ounces; 226 grams)

1/2

cup

sweet rice flour

(2 ounces; 56 grams)

1/2

cup

potato starch

(2 ounces; 56 grams)

1

tablespoon

baking powder

1/2

teaspoon

salt

1/2

teaspoon

xanthan gum

1 1/4

cups

milk

(10 ounces; 283 grams)

2

large

eggs

(about 3 1/2 ounces; 100 grams, out of shell)

3/4

cup

oil

(5 1/4 ounces; 148 grams)

2

teaspoons

vanilla extract

1 1/2

cups

fresh blueberries

washed and picked over

1

cup

diced strawberries

1/2

cup

fresh raspberries

1 1/2

cups

granulated sugar

(10 1/2 ounces; 297 grams)

non-stick gluten-free cooking spray
Instructions
Preheat oven to 375°F. Line muffins pans with paper cupcake liners or spray pans with non-stick gluten-free cooking spray.

In large bowl, whisk together white rice flour, sweet rice flour, potato starch, baking powder, salt, and xanthan gum. In small bowl, whisk together eggs, milks, oil, and vanilla. Add wet ingredients to dry. Whisk together until a batter forms, about 30 seconds. Add granulated sugar. Whisk to combine. Switch to a rubber spatula and gently fold in berries.

Fill prepared muffin cups about 2/3 full. Bake until muffins are golden brown and cake tester inserted into the center of muffins comes out clean, about 20 to 25 minutes.

Transfer muffins to wire rack to cool. Store muffins in an airtight container for up to three days or freeze once cooled.