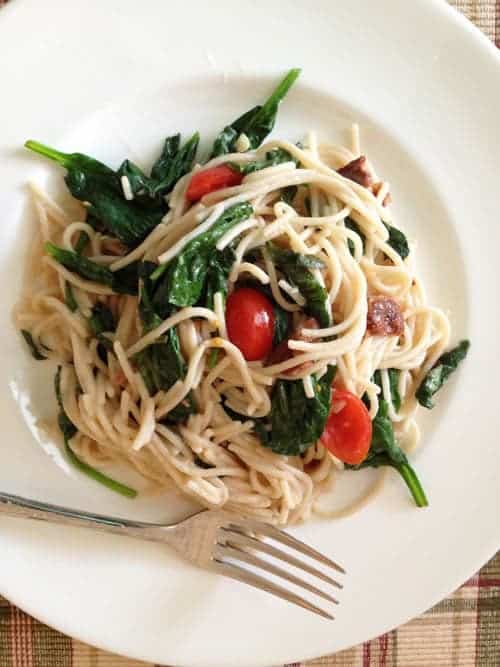 On my list of favorite summer foods, BLTs are right at the top. This easy weeknight pasta came about when I wanted a BLT but (gasp) I didn't have any gluten-free bread in the house. For once, it was a good thing that I was out of bread because this recipe is awesome.

To make, simply boil a pound of pasta. Toss it with a pint of halved grape tomatoes, sauteed baby spinach (the stand-in for the "L" in the BLT"), and crumbled bacon. If you're feeling frisky, add some chopped basil or a generous shake of Parmesan cheese. That's it.
Oh, and as for that baby spinach. That's what I use. Any green leafy vegetable works (and tastes great!) in this pasta. Use what you love and then tell me about.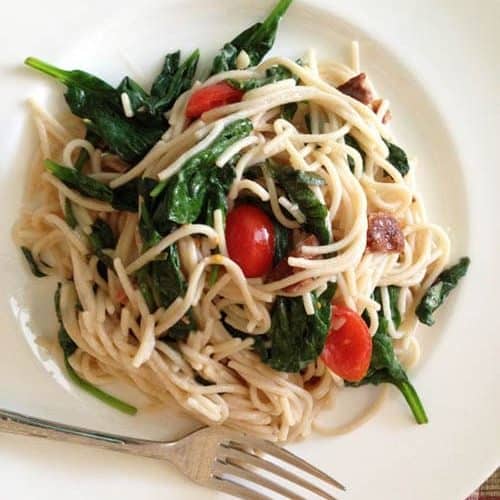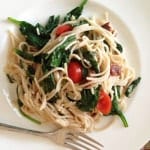 Gluten-Free BLT Pasta
For this pasta, I love the flavor of uncooked tomatoes. To heat them up just a little, I place the tomatoes in a medium bowl. After I cook the spinach, I place the hot spinach into the bowl on top of the sliced tomatoes. It warms the tomatoes just enough to help them release their juices. For the "lettuce" part of the BLT, I use baby spinach. Any leafy green vegetable works well and tastes great in the recipe. Use whatever you fits your diet.
Ingredients
1

teaspoon

olive oil

4

pieces

bacon

1

pound

gluten-free spaghetti

4

tablespoons

olive oil, divided

2

cloves

garlic, peeled and minced or put through a garlic press

5

ounces

baby spinach

1

pint

cherry or grape tomatoes, washed and halved.

kosher salt and freshly ground black pepper
Instructions
Fill a large (5 1/2 quart) pot three-quarters with water. Cover and bring to a boil over high heat. Set a colander in the sink for draining the pasta.

While waiting for the pasta to reach a boil, cook the bacon. Heat one teaspoon olive oil in a large skillet over medium high heat until oil begins to shimmer but not smoke. Add bacon and cook, turning occasionally, until crisp. Place bacon on a paper towel-lined plate. Carefully discard bacon grease (don't pour it down the drain) and wipe out skillet.

Check pasta water. As soon as it reaches a boil, add 1 tablespoon kosher salt and the pasta. Stir for the first 30 seconds to prevent the pasta from sticking. Then stir pasta occasionally. Cook until pasta is tender, about 11 minutes.

While pasta boils, cook the spinach. In large skillet, heat 1 tablespoon olive oil over medium high heat until oil shimmers but doesn't smoke. Add garlic. Cook until garlic is soft, about 30 seconds. Add spinach. Cook until wilted, about 45 seconds. Place hot spinach in bowl with tomatoes.

Before draining pasta, reserve one cup of the pasta cooking water. (Ladle carefully into a heatproof bowl or measuring cup.) Drain pasta and return to pasta cooking pot. Toss pasta with remaining olive oil. Add cooked spinach and halved tomatoes. Crumble crisp bacon over pasta. Toss to combine. (If you prefer, chop the bacon with a knife.) Season pasta to taste with salt and freshly ground black pepper. If pasta seems dry, add a generous splash of pasta cooking water. Transfer pasta to serving bowl. Enjoy!