Gluten-free blueberry cobbler made with lots of fresh blueberries and a tender biscuit topping.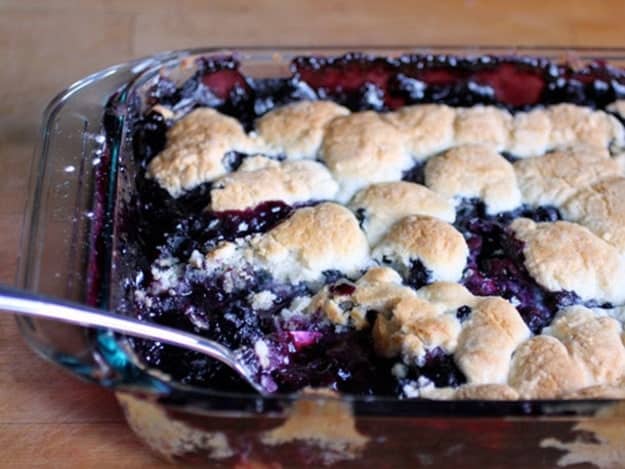 I'm curious. What do you think of when someone mentions cobbler? (Hint: I'm not talking about someone who fixes shoes.) The only thing dessert-lovers seem to agree on is that a cobbler is a fruit dessert topped with pastry. Oh, but the variations in that pastry topping! Some folks like a biscuit crust, others a sweet cakelike topping, and some even prefer their cobbler to be topped with a rolled-out pie crust. While I enjoy all forms of cobbler (and cobbler's many cousins: the slump, brown Betty, and pandowdy), my favorite version is a biscuit crust over seasonal fruits.
Sadly this variation is often lackluster, and it's the usually the fault of the biscuits. Soggy, heavy, or even dry biscuits seem to plague what should be a wonderful dessert. Therefore, when I set out to make a gluten-free biscuit cobbler, I focused my attention on the biscuits. I wanted them to be light with a crisp exterior and fluffy interior. No heavy, soggy biscuits for me! During my testing, I learned a few things:
1. A higher ratio of starch to white rice flour created light, tender biscuits.
2. Heavy cream, not buttermilk, provided the best flavor and texture.
3. The structure that xanthan gum provides to many gluten-free baked goods wasn't needed in this recipe.
Once I had the biscuits of my dreams, it was time to focus on the filling. I started with two pints of blueberries. My result wasn't a cobbler as much as it was a pan of biscuits with some blueberry filling. Clearly more blueberries were needed. A generous four pints of blueberries yielded a filling that all but shouted "I'm a blueberry filling!" without overpowering the biscuits.
I also discovered that I liked my filling simple. While ground cinnamon and fresh lemon juice is nice, my tasters all preferred the flavor of just berries and sugar. (Of course, if you love spices in your blueberry filling, add them.)
My final cobbler had a fantastic biscuit topping over a flavorful blueberry filling. Plus, it was easy to make. What more could I ask for from a simple cobbler?
How to Make It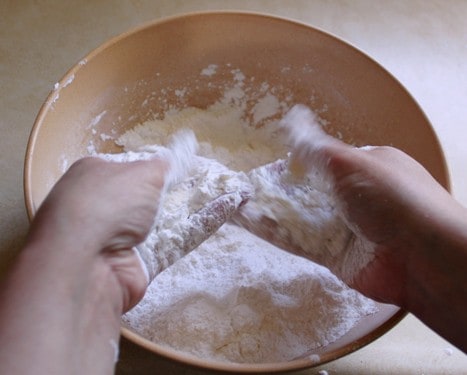 After whisking together the dry ingredients, cut in the butter. For this, I like to use my hands. Rub (or "snap") the flour and butter together. This takes a minute or two. No large pieces of butter should remain. (If you don't want to use your hand, a pastry cutter or two knives will also do the job.)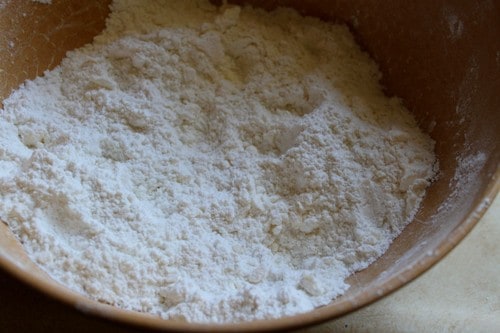 The butter is nicely cut into the flour.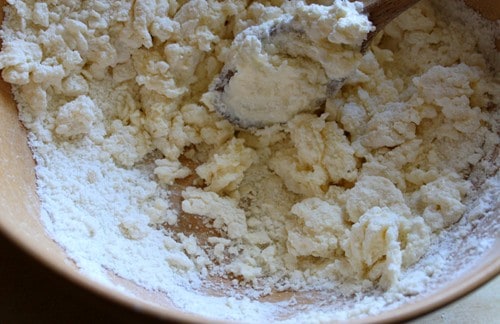 When the butter is fully incorporated into the flour, the mixture will look slightly coarse.
I've added 3/4 cup of heavy cream and stirred the dough together. As you can see, some dry flour remains in the bowl. You don't want this. Adding an additional tablespoon or two of heavy cream solves this problem.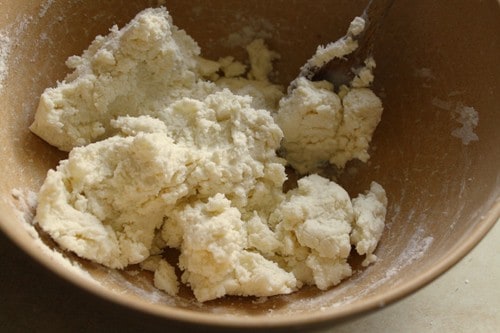 Ah! This is what we want the dough to look like. There's no dry flour in the bottom of the bowl and the dough has formed a cohesive ball. Now comes the fun part! Pinching the dough!
Pinch the dough into small pieces. I like my cobbler to have a slightly uneven top. To achieve this, simply vary the size of the dough balls. This is one of the rare times in baking where the dough can be uneven and will still bake up beautifully.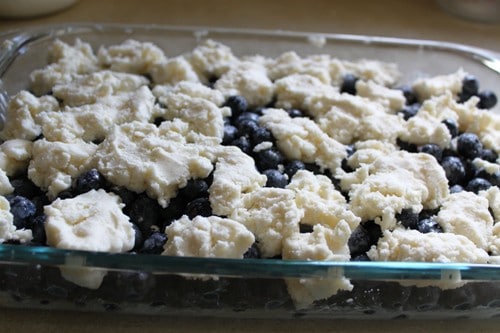 Cover the top of the berries with the dough pieces, leaving just a little bit of space between the pieces. This cobbler is ready for the oven.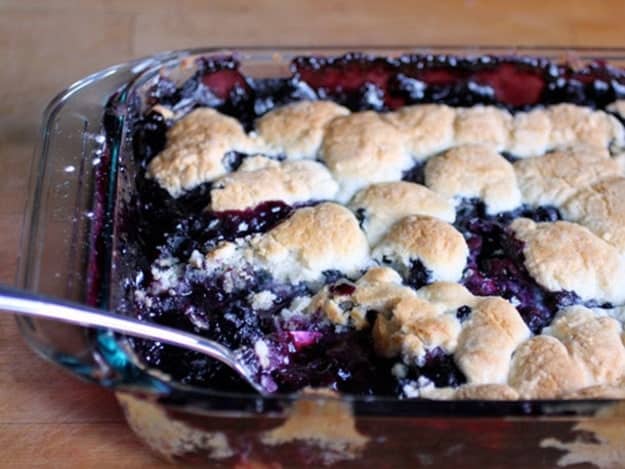 The baked cobbler will have a golden brown crust covering a thick (but not too thick) blueberry filling. If you wanted to serve this with ice cream or whipped cream, I wouldn't stop you.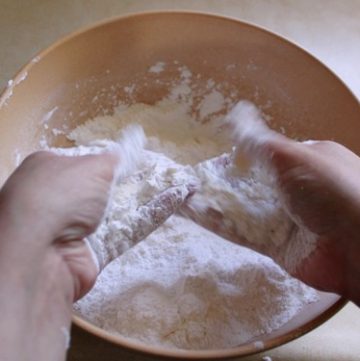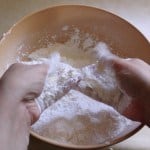 Gluten-Free Blueberry Cobbler
Ingredients
For the Filling
4

pints

blueberries, washed, dried and picked over to remove any steams

3/4

cup

granulated sugar

(5 1/4 ounces; 148 grams)

2

teaspoons

cornstarch

2

teaspoons

ground cinnamon

optional (I found I preferred the cobbler without the cinnamon
For the Cobbler
1 1/3

cup

white rice flour

(5 1/3 ounces; 150 grams)

1/3

cup

tapioca

(1 1/3 ounces; 38 grams)

1/3

cup

cornstarch

(1 1/3 ounces; 38 grams)

1/4

cup

granulated sugar

(1 3/4 ounces; 50 grams)

1

tablespoon

baking powder

1/2

teaspoon

salt

6

tablespoons

butter, cut into pieces

(3 ounces; 85 grams)

3/4

cup

heavy cream plus 1 to 2 tablespoons, chilled

(6 ounces; 170 grams)

vanilla ice cream, for serving, optional
Instructions
Preheat oven to 425°F. Butter a 9-by-13-inch baking dish.

Make the Filling: Stir together blueberries, granulated sugar and cornstarch in a large bowl. (Add ground cinnamon if using.) Pour berry mixture into the prepared pan. Set aside.

Make the Topping: Whisk together white rice flour, tapioca starch, cornstarch, granulated sugar, baking powder, and salt. Add the butter. Using your fingers or a pastry cutter, cut the butter into the dry ingredients until no large pieces of butter remain.

Stir in 3/4 cup heavy cream until a dough forms. If the mixture is dry, add the additional tablespoon of heavy cream. Dough should form a dough ball.

Pinch the dough into small balls. Place on top of berries, leaving a little space between the biscuits. (This recipe makes a generous amount of biscuit topping. There won't be too much room between the biscuit pieces.)

Bake for 35 minutes or until the biscuit topping is golden brown and the filling is boiling. (Thanks to the cornstarch, the filling won't thicken until it boils.)

Remove from the oven and place on a wire rack to cool. Serve warm with ice cream, if desired.