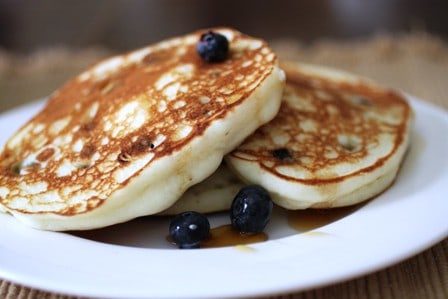 One day I had a little tub of ricotta in the fridge. It wasn't really enough to do anything with but not enough to throw away. (Well, not enough to throw away until it got moldy from sitting in the fridge for too long.)
In a flash of brilliance that rarely happens on a Sunday morning before I've had my coffee, I decided to add the ricotta to my blueberry pancakes.
Instead of mixing the ricotta into the batter until it's smooth, I left it lumpy. This was a good idea. Warm cheese dotted the pancakes and elevated blueberry pancakes from awesome to unbelievably awesome.
If you make these pancakes, and I really hope you do, be sure to use full fat ricotta cheese. Low and no fat ricotta cheese are too watery for these pancakes.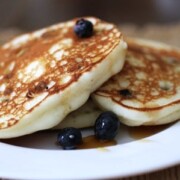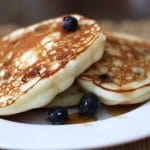 Gluten-Free Blueberry Ricotta Pancakes
Ingredients
1

cup

finely ground white rice flour

(4 ounces; 113 grams)

1/2

cup

cornstarch

(2 ounces; 56 grams)

1/2

cup

sweet rice flour

(2 ounces; 56 grams)

1/4

cup

granulated sugar

(1 3/4 ounces; 50 grams)

1

tablespoon

baking powder

1/2

teaspoon

salt

1/4

teaspoon

xanthan gum

2

large

eggs

(about 3 1/2 ounces; 100 grams, out of shell)

1

cup

milk

(8 ounces; 226 grams)

1/4

cup

vegetable oil

(1 3/4 ounces; 50 grams)

1

teaspoon

vanilla extract

3/4

cup

ricotta cheese

(6 ounces; 170 grams)

1

cup

blueberries, washed and picked over to remove stems
Instructions
Whisk together the white rice flour, cornstarch, sweet rice flour, granulated sugar, baking powder, salt, and xanthan gum. Add the milk, eggs and oil. Whisk until a batter forms.

Add the ricotta. Stir to just combine. You WANT lumps. This is important. The lumps of ricotta are what make these pancakes awesome. So don't stir too much or the cheese will disappear when you make them.

Add the blueberries. Stir to just combine.

Cook on a hot, oiled griddle, about 1/4 cup each. Serve with syrup. I find butter to be an overkill but you might think differently about this!