The addition of brown butter and golden syrup makes these gluten-free chocolate chip cookies rich and chewy.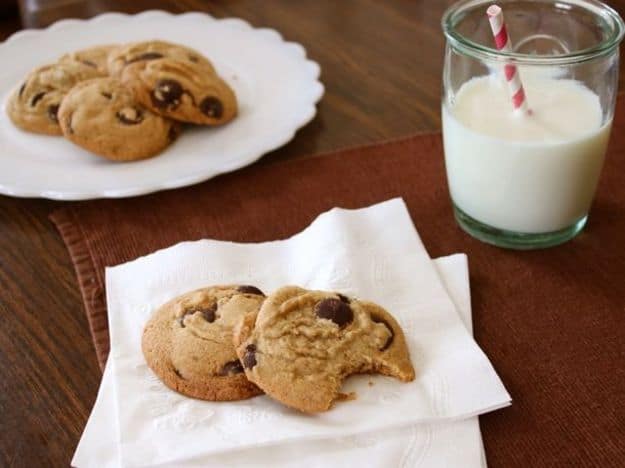 The other day I tried to create chewy gluten-free chocolate chip cookies, and while this version missed the chewy mark, they was so flavorful that I didn't mind. The flavor comes from golden syrup and browned butter, two ingredients you don't usually find in chocolate chip cookies. They lend a nutty, caramel-like flavor to the already buttery cookies.
While these aren't super-chewy cookies, they are softer than traditional gluten-free chocolate chip cookies because of the golden syrup, egg yolks, and a low baking temperature. If you prefer soft and chewy cookies, under-bake the cookies slightly. To do this, reduce baking time until the cookies are just set and faintly brown on the edges.
If you're dairy-free or egg-free, this recipe can be adapted to fit your diet. For dairy-free cookies, replace the browned butter with melted shortening or vegetable oil. The finished cookies lack the caramelized flavor from the browned butter. To make up for this, add a splash (about two teaspoons) of vanilla. For egg-free cookies, replace the eggs with ground flaxseed.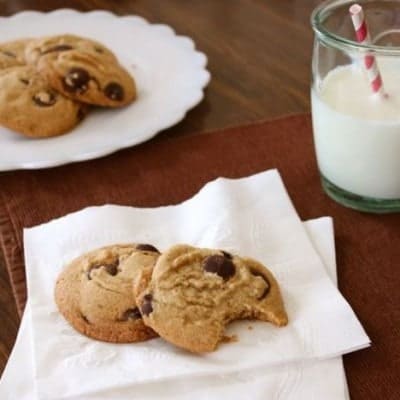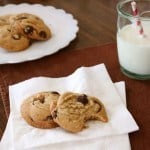 Gluten-Free Browned Butter Chocolate Chip Cookies
Brown butter makes these gluten-free chocolate chip cookies rich and tender.
Ingredients
1 1/2

sticks

unsalted butter

(3/4 cup; 6 ounces; 170 grams)

1 1/4

cups

finely ground white rice flour

(5 ounces; 142 grams)

1/2

cup

sweet rice flour

(2 ounces; 56 grams)

1/4

cup

cornstarch

(1 ounce; 28 grams)

1/2

teaspoon

baking soda

1/2

teaspoon

salt

3/4

cup

dark brown sugar, packed

(5 1/4 ounces; 148 grams)

1/4

cup

golden syrup

(2 3/4 ounces; 78 grams)

2

large

egg yolks

(1 ounce; 28 grams)

2

cups

gluten-free chocolate chips

(12 ounces; 340 grams)
Instructions
Adjust oven rack to center position and preheat oven to 325°F. Line rimmed baking sheet with parchment paper and set aside.

In small pot over medium-low heat, melt butter. Stir occasionally. After foam subsides, watch butter until milk solids turn golden brown, about five minutes. Remove pot from heat and allow butter to cool. While butter cools, whisk together white rice flour, sweet rice flour, cornstarch, baking soda, and baking powder in medium bowl.

In bowl of stand mixer fitted with paddle attachment, combine brown sugar, golden syrup, and cooled brown butter. Mix on medium speed to combine. Stop mixer. Add dry ingredients. Turn mixer on to medium. Blend until a thick dough forms. Dough will be dry. Add egg yolks. Blend until smooth dough forms. Stop mixer. Add chocolate chips. Turn mixer to low. Mix until chocolate chips are incorporated.

Drop dough, about one tablespoon each, onto prepared baking sheet. Space dough about two inches apart. Bake until edges are just set and cookies are faintly golden brown, about 13 minutes. (For softer and chewier cookies, bake until cookies are just set.) Remove cookies and allow to cool on baking sheet for two minutes. Transfer cookies to wire rack to cool completely. Repeat with remaining dough.