This easy gluten-free carrot cake recipe makes a moist and delicious cake. Add pineapple for an extra treat. Make the best cupcakes or muffins for the carrot lover in your life.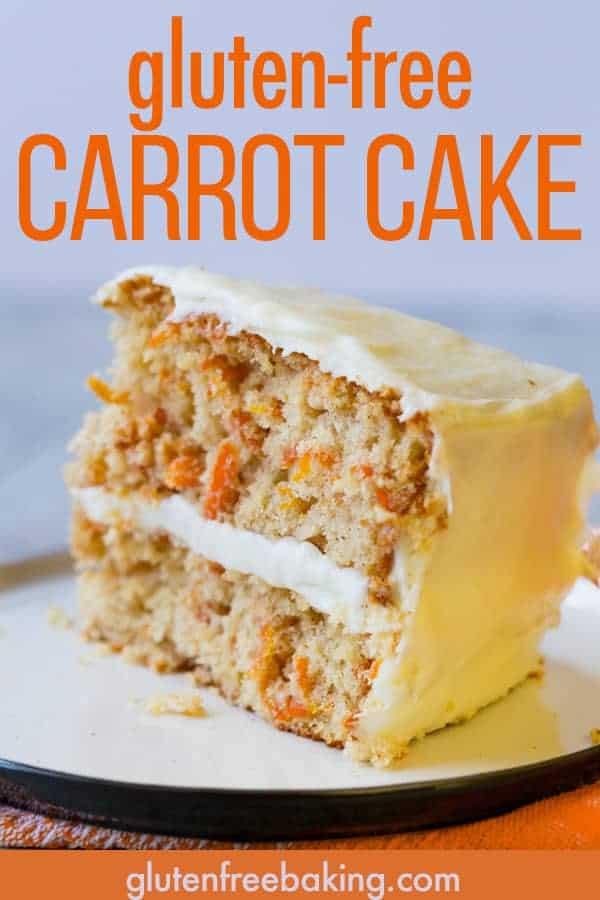 Is this recipe simple to make?
Yes! This recipe is really easy. You only need one bowl, a whisk and a wooden spoon. (Of course, you can use an electric mixer if you find that easier.) To make this cake, whisk together the dry ingredients, then add the eggs, and oil. Stir with a wooden spoon until the batter is smooth. Then stir in the carrots. That's it!
What Flour(s) should I use for Gluten-Free Carrot Cake?
For this recipe, use Bob's Red Mill's 1:1 Gluten-Free Baking Flour. It makes for a nice moist carrot cake with a tender crumb. (If you want to mix your own flours, see recipe note.)
Can I use Almond Flour in this Recipe?
No. This recipe was created with grain-based flours. It won't work with almond or coconut flour. Sorry.
How to Shred Carrots for Carrot Cake?
There are two ways to shred/grate the carrots for carrot cake:
Use a box grater.

Use the grater attachment on a food processor.
But! I think both of these methods have one shortcoming: the carrot shreds can be too long.
Here's what I like to do:
If using a box grater, place the shredded carrots on a cutting board. Chop the grated carrots lightly with a Chef's knife.
If using a food processor, you have two options. You can chop the carrots in the bowl of the food processor by removing the grating disk and inserting the food processor blade, then pulse the grated carrots a few times. (Don't go wild or you'll get carrot mush.) If that's too much of a pain (the ease of this step really depends on your food processor) place the grated carrots onto a cutting board and chop.
Do I need to do this?
No, you don't. I just think that shorter piece of chopped, shredded carrot are more pleasing in a cake than long strands.
Can I add pineapple?
Yes! Add one 8 ounce can of crushed pineapple. Any more than that and the cake gets too moist, almost gummy.
How about raisins?
If you like raisins in your carrot cake, go for it! (Just don't offer me a slice…)
Is this Carrot Cake Dairy-Free?
Yes! The cake contains no dairy.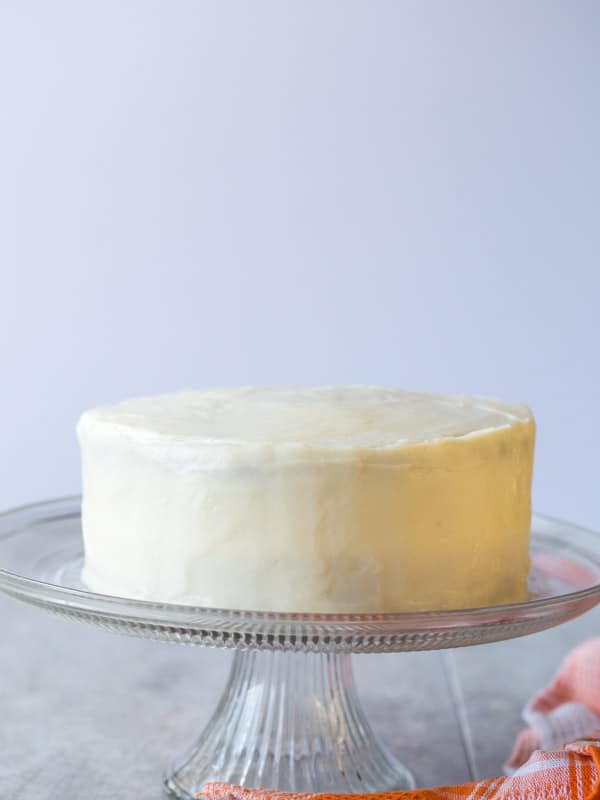 What Kind of Frosting Do You Use on Carrot Cake?
Most of the time, cream cheese frosting is used. If you have a dairy allergy, try using a dairy-free cream cheese or finishing the cake with a classic dairy-free buttercream.
How Do I Make Carrot Cake Muffins?
If you want to use this recipe, you'll be making carrot cake cupcakes. There really isn't a big difference between carrot cake muffins and cupcakes. If you want a recipe for carrot muffins, let me know!
Why Does Carrot Cake Turn Green?
Hopefully with this recipe you won't have to wonder why your carrot cake turned green!
If this happened to you in the past, there are two possible culprits:
The recipe called for too much baking soda. Carrots contain a pigment that make them sensitive to alkaline. (Baking soda is alkaline.)

The baking soda wasn't mixed into the recipe and, therefore, came into direct contact with the carrots. To prevent this, be sure to mix the dry ingredients well before adding the eggs, oil, and carrots. That will solve this problem!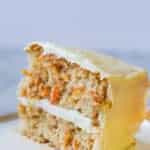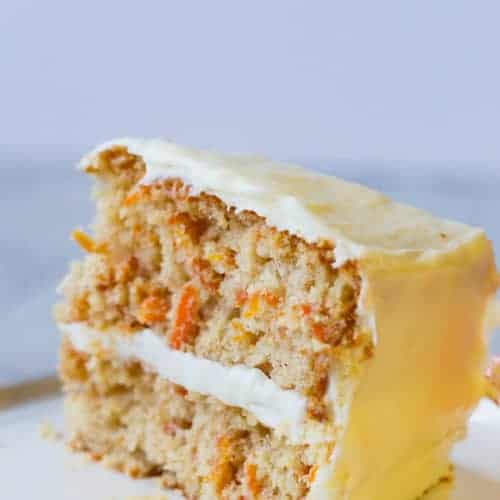 Gluten-Free Carrot Cake
Easy gluten-free carrot cake recipe makes a moist and delicious cake. Add pineapple for an extra treat. Make the best cupcakes or muffins for the carrot lover in your life.
Ingredients
Nonstick cooking spray

2

cups

Bob's Red Mill 1:1 Gluten-Free Baking Flour

3/4

cup

granulated sugar

3/4

cup

packed dark brown sugar

1 1/2

teaspoons

baking powder

1

teaspoon

baking soda

1

teaspoon

salt

1 1/2

teaspoons

ground cinnamon

1

teaspoon

ground ginger

1/2

teaspoon

ground nutmeg

3/4

cup

canola or other vegetable oil

4

large

eggs

1

teaspoon

vanilla extract

3

cups

grated carrots (about 5 to 6 large carrots)

1

(8 ounce)

can crushed pineapple, drained

optional

1

cup

coarsely chopped pecans

optional

½

cup

raisins

optional
Cream Cheese Frosting
1

(8 ounce)

package cream cheese

softened

1/4

cup

butter

softened

2

teaspoons

vanilla extract

4

cups

powdered sugar

sifted
Instructions
For the carrot cake, preheat oven to 350° F. Grease two 8-inch round cake pans with nonstick cooking spray and set aside.

Whisk together the flour, sugars, baking powder, baking soda, salt, cinnamon, ginger and nutmeg. Add the oil, eggs and vanilla extract. Whisk until smooth. Stir in the carrots, drained pineapple, pecans, and raisins, if using.

Divide the batter evenly between the two prepared pans.

Bake until golden brown. A toothpick inserted into the center of the cake should come out clean, about 35 minutes.

Allow cakes to cool in the pan for 5 minutes before turning out onto a wire rack to cool completely. When cool, frost with Cream Cheese Frosting.
Cream Cheese Frosting
Combine cream cheese, butter and vanilla extract in a large bowl. Cream until light and smooth. Add powdered sugar. Mix until smooth.
Recipe Notes
NOTE:
To use your own flour blend, replace the Bob's Red Mill Flour with:
1 cup white rice flour
1/2 cup sweet rice flour
1/2 cup tapioca starch
1/2 teaspoon xanthan gum
Whisk together in a small bowl before using. 
Pineapple and Sweetness
Because pineapple adds sweetness, you can reduce the brown sugar by 2 tablespoons if desired.