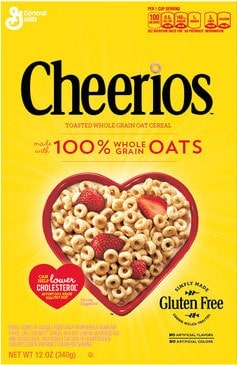 Yesterday General Mills announced that Cheerios cereal would carry a gluten-free label later this year. (you can read more about that here.)
This news spread pretty fast in the gluten-free community. On my own Facebook pages—both personal and public— folks were pretty excited. Then something happened.
People began to question the oats that General Mills would use in the cereal.
That's a good thing to do. I'm curious and cautious about it too.
What I don't support is what happened soon after. Many people who questioned the gluten-free status of the oats began telling folks who were excited about the cereal that they shouldn't "fall for it." People were accused of being foolish, not understanding the complexities of the diet, and not caring about gluten-free safety.
Urgh.
Here's my two cents: you can be both excited and cautious. Feeling excitement doesn't make you a fool.
I think it's great when new gluten-free foods are available—especially if it's something that you've missed. It's also great to question things to ensure they are safe. It's not okay or nice or cool to get nasty about someone's excitement.
For all you know Cheerios holds a special place in someone's heart because a beloved grandfather gave them the cereal and now he's gone and they want to enjoy it again.
Or, you know, they just like the taste
All are valid.
So if you're excited about the idea of gluten-free Cheerios. Yay!
And if you are worried about it, I understand that.
But, for the love of all that's gluten-free, could we not squabble over excitement vs. safety?
Read more information about Cheerios from the Gluten-Free Watch Dog here.
Love ya!