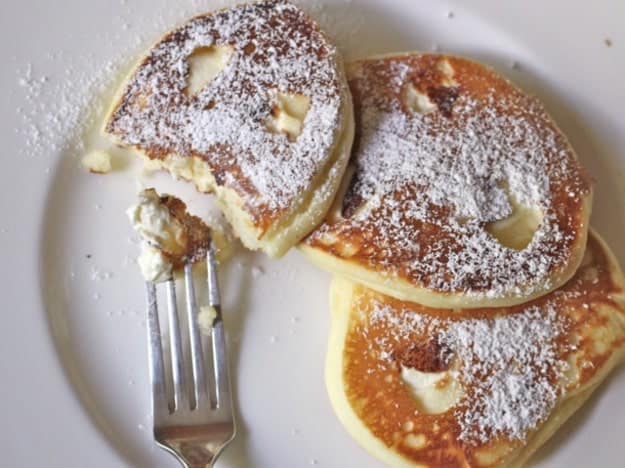 Dotted with small piece of cream cheese, these gluten-free cheesecake pancakes are a decadent way to begin a lazy weekend morning. These pancakes would make a great savory side dish. Replace the cream cheese with  soft goat cheese and add a some freshly ground black pepper. For savory pancakes, reduce the sugar from 1/4 cup to 2 tablespoons.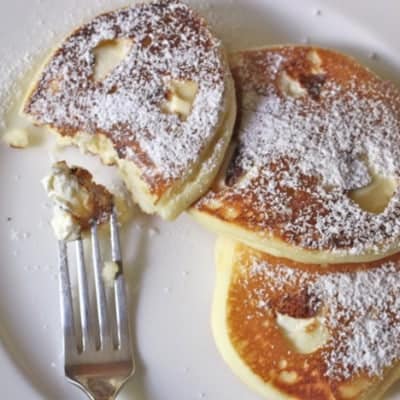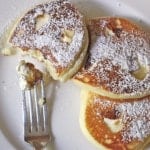 Gluten-Free Cheesecake Pancakes
For savory pancakes, replace the cream cheese with goat cheese, reduce the granulated sugar from 1/4 cup to 2 tablespoons, and add a generous pinch of freshly ground black pepper.
Ingredients
1

cup

white rice flour

(4 ounces; 113 grams)

1/2

cup

cornstarch

(2 ounces; 57 grams)

1/2

cup

sweet rice flour

(2 ounces; 57 grams)

1/4

cup

granulated sugar

(1 3/4 ounces; 50 grams)

1

tablespoon

baking powder

1/2

teaspoon

salt

1/4

teaspoon

xanthan gum

2

large

eggs

(about 4 ounces, 100 grams)

1

cup

milk

(8 ounces; 226 grams)

1/4

cup

vegetable oil

(1 3/4 ounces; 50 grams)

1

teaspoon

vanilla extract

2

ounces

cream cheese, cut into 1/2 teaspoon size pieces
Instructions
In a medium bowl, whisk together white rice flour, cornstarch, sweet rice flour, granulated sugar, baking powder, salt, and xathan gum. Add eggs, milk, vegetable oil, and vanilla extract. Whisk until smooth.

Lightly oil a flat griddle pan. Heat griddle over medium-high heat. Pour batter, approximately 1/4 cup, onto griddle. Batter should "sizzle" when it hits the pan. Dot the surface of each pancake with a few pieces of cream cheese.

Cook for approximately 3 minutes. Flip pancakes when bubbles appear all over the surface of the pancake and begin to pop. The pancake should begin to look almost dry. Flip and cook another 1-1 1/2 minutes.
Gluten-Free Cream Cheese Pancakes: How bad cheese turned into a beautiful breakfast.
One morning, in an attempt to use some leftover ricotta cheese, I decided to make ricotta pancakes. My ricotta turned out to be well past its prime. Basically, it had turned into a mini-science experience. Even though I ditched the ricotta, I didn't let the idea of a cheese-studded pancake go. Instead I grabbed some cream cheese.
Unlike ricotta, which melts gently into pancakes, dense cream cheese holds its shape and creates lovely little pockets of warm, oozing cheese throughout the cooked pancakes. Since pancakes are sweet enough, especially when topped with syrup, you don't need to add any sugar to the cream cheese. Simply cut cold cream cheese into cubes, place a few pieces on a cooking pancake, as you would do with berries or chocolate chips, and you're done!