With a wonderfully moist crumb, this gluten-free chocolate bundt cake feels at home on a birthday party table or simply sitting on the counter for guests. The recipes doesn't use any dairy; so it's ideal for those who follow a gluten-free and dairy-free diet.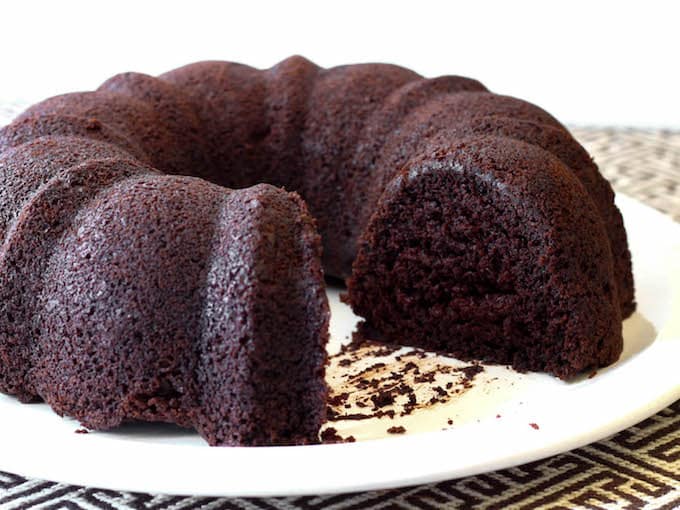 Gluten-Free Chocolate Bundt Cake: To Ice or Not To Ice?
Beautiful cakes often require a big investment in time and effort. Thankfully, there's an alternative for those occasions when you want a pretty cake but don't have the time to make one: a bundt cake. There's a ton of REALLY pretty bundt pan shapes available, from swirls to roses, the pan takes care of the decorating for you. As much as I love those pan, I still use the pan my mom gave me. It's the traditional bundt pan shape and I think it's lovely.
Almost as lovely as the method for this cake. It's a, um, "dump cake." (Let me apologize for using the word "dump" in a baking post.) The method for this cake couldn't be any easier—you dump drop all the ingredients into one bowl, whisk, bake, and you're done.
For this cake, I wanted to make something deeply chocolaty. So I relied on an old baker's trick: I boosted the chocolate flavor, not by adding more chocolate, but by using coffee as my liquid. You'd think coffee combined with the chocolate would make the cake taste like mocha. It doesn't. It tastes simply of chocolate. Of course, if you don't like coffee or are allergic to it, you can replace it with milk or a dairy-free milk replacement.
The resulting cake turned out so chocolaty and moist it almost begged to be served with a hot cup of coffee. Since it's a bundt cake, you don't need to do anything to finish it. The pan takes care of the decor for you. Still want to ice it? I'm not going to stop you! If you feel like it, gild that lily. Or, you know, glaze that cake!
Two icings work really well. For something rich, finish the cake with a chocolate ganache—if you're dairy-free, use full-fat coconut milk instead of heavy cream. If you want something a little lighter, whip up a quick confectionery glaze of powdered sugar and water. To flavor the icing, add a little vanilla extract or a little lemon- or orange-oil (I'm partial to the citrus oil myself).
Whether you ice this cake or not, you'll be rewarded for your (very little) work with a classic chocolate cake that's as easy to eat as it is to make!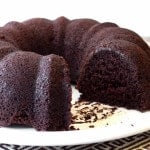 Easy Gluten-Free Chocolate Bundt Cake
This easy-to-make chocolate bundt cake bakes up moist and dense. It's perfect for parties or "just because." The recipe is dairy-free. If you want to make a dairy-free chocolate glaze, use dairy-free chocolate chips and full fat coconut milk. It makes a wonderful glaze!
Total Time
1
hour
20
minutes
Ingredients
For the Cake

nonstick cooking spray

1 1/2

cups

granulated sugar

(10 1/2 ounces; 297 grams)

1

cup

finely ground white rice flour

(4 ounces; 113 grams)

3/4

cup

cocoa powder, natural or Dutch process

(3 ounces; 85 grams)

1/2

cup

sweet rice flour

(2 ounces; 57 grams)

1/4

cup

tapioca starch

(1 ounce; 28 grams)

2

teaspoons

baking powder

1

teaspoon

baking soda

1/2

teaspoon

salt

1/2

teaspoon

xanthan gum

1 1/2

cups

strong black coffee, cooled

(12 ounces; 340 grams)

1/2

cup

vegetable oil

(3 1/2 ounces; 100 grams)

2

large

eggs, whisked

(about 4 ounces; 100 grams, out of shell)
For the Chocolate Glaze
6

tablespoons

heavy cream or full fat coconut milk

3/4

cup

dark chocolate chips

(4 1/2 ounces; 127 grams)

1

teaspoon

vanilla extract
For the Orange Glaze
1 1/3

cups

powdered sugar, sifted

(5 1/3 ounces; 150 grams)

2 1/2

tablespoons

water

(1 1/4 ounces; 35 grams)

2

teaspoons

vanilla extract or 1 teaspoon orange oil or lemon oil

see note above
Instructions
Adjust oven rack to middle position and preheat oven to 350°F. Spray a 12-cup Bundt pan with nonstick cooking spray.

In large bowl, whisk together granulated sugar, white rice flour, cocoa powder, sweet rice flour, tapioca starch, baking powder, baking soda, salt, and xanthan gum. Add coffee, vegetable oil, eggs, and vanilla extract. Whisk until batter is smooth. Pour batter into prepared pan.

Bake until a cake tester comes out with a few damp crumbs clinging to it, about 55 minutes (If you tap the top of the cake, it should feel firm.)

Allow cake to cool in the pan for five minutes and then turn cake out onto a wire rack to cool. (The easiest way to do this is to place a small wire rack upside down on to the cake pan. Carefully invert the cake and the wire rack. Slowly lift the cake pan off the cake. Ice as desired with chocolate glaze or confectionary glaze.

For the Chocolate Glaze: Set cooled cake on a plate. On top of a double boiler, combine heavy cream and chocolate. Heat, stirring frequently, until melted. Allow to cool for two minutes. Stir in vanilla extract. Pour chocolate glaze evenly over cake. Allow to set for 15 minutes before serving.

For the Orange Glaze: Set cooled cake on a plate. In a small bowl, combine powdered sugar, water, and vanilla extract. Stir with a fork until smooth. Icing should be thick but pourable; if the icing is too thick, add a little more water. Pour icing evenly over the cake and allow to set for 15 minutes before serving.