Gluten-Free Chocolate Chip Cookie Bars are easy to make. Loaded with chocolate chips!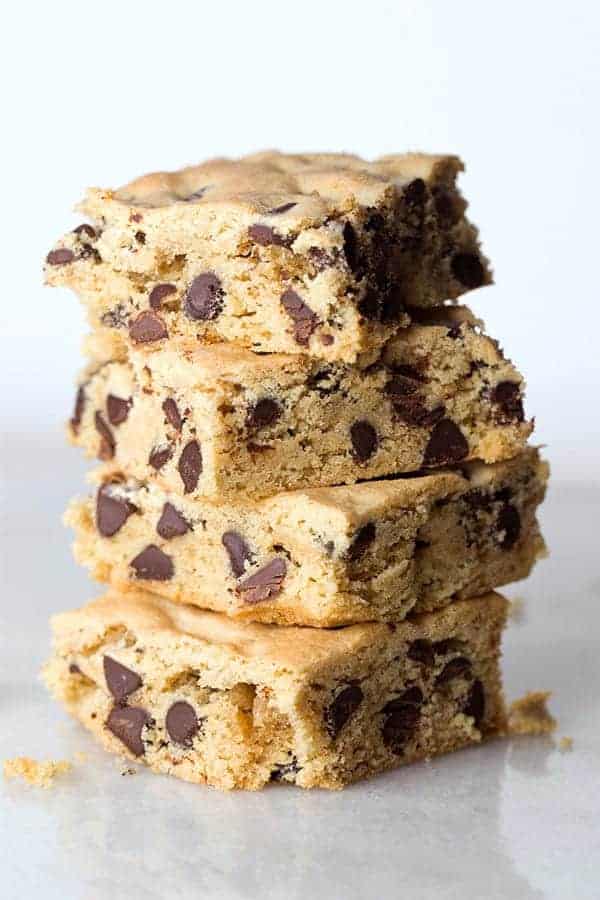 How much do you love gluten-free chocolate chip cookies? SO MUCH, right? And how about chocolate chip cookie bars?
If it's possible, I think I might love them more than chocolate chip cookies. Why? Let me count the ways! Gluten-Free chocolate chip cookie bars are
easy to make.

thick and chewy.

loaded with chocolate chips

perfect for celebrations. (more about this in a sec)
As a child of the 1980s, chocolate chip cookie cakes were everywhere. My eighth grade teacher made a chocolate chip cookie cake each month to celebrate students' birthdays. I looked forward to that day like crazy. Then there was the mall. Mrs. Fields and Famous Amos devoted prime spots to displaying these cakes. (For some reason, the heart shaped one really stands out in my memory.)
So, yeah, chocolate chip cookie bars and I go back. Way back.
How to Make Gluten-Free Chocolate Chip Cookie Bars
Preheat Your Oven. The dough doesn't need to chill. Get that oven heating while you make the dough.
Prep Your Pan. The success of these bars starts with the pan. You need a 9×13-inch pan. I used a glass pan but a metal pan works fine. Just be sure it's at least 2-inches thick. You don't want a thin jelly roll pan for these bars.
Pick Your Flour Blend. I really like either Bob's Red Mill Gluten-Free Baking Flour or a homemade blend that contains xanthan gum. If you prefer a different blend, use one with xanthan gum, or add 1/2 teaspoon to the recipe.
Make the Dough. Cream together the butter (or dairy-free margarine), sugars, and eggs in a large bowl. Make sure the butter-sugar mixture is thick and smooth. Then add the remaining ingredients, leaving out the chocolate chips for a second. Mix until a thick dough forms. This only takes a minute or so.
Add the Chocolate Chips. I usually stir these in with a wooden spoon. This prevents the chocolate chips from breaking, which can happen with an electric mixer. But the wooden spoon step is totally optional.
Spread the Dough Into the Pan. You want to press the dough evenly into the pan. Take a second to make sure the edges aren't too thin.
Bake until golden brown. These bars turn a light golden brown when done. If you're unsure about whether or not they've baked enough, stick a cake tester in the center. It should come out clean.
Cool and Cut. This is the hardest step. But you really do want to allow the bars to cool before you cut 'em.
That's it! From mixing to cooling, gluten-free chocolate chip cookie bars usually take me under an hour to make. And I love that about them. Because, sometimes you need a cookie, fast.
Remember when I said that these bars are great for celebrations? I wasn't kidding. Mix up a small batch of vanilla buttercream frosting, or buy a gluten-free tube or two at the store, and go to town. Frost the entire top or just write "Happy Birthday" on it. It makes a great "cake" for folks who don't love cake.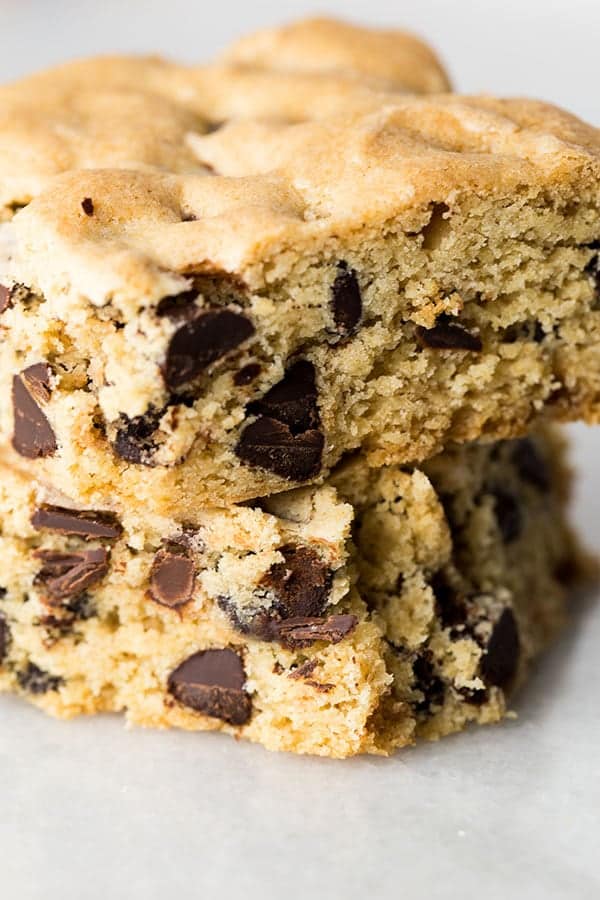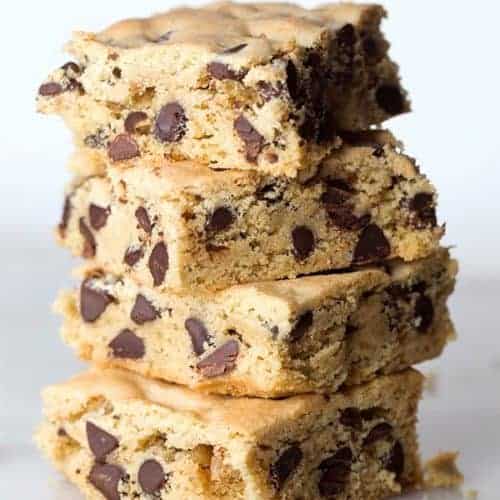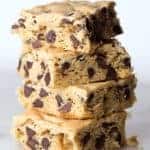 Gluten-Free Chocolate Chip Cookie Bars
Gluten-Free Chocolate Chip Cookies Bars. Easy-to-Make. Great with nuts or without.
Ingredients
nonstick cooking spray

2

sticks

butter, softened

(8 ounces; 226 grams)

1

cup

packed light brown sugar

(7 1/2 ounces; 213 grams)

1/4

cup

granulated sugar

(2 ounces; 56 grams)

2

large

eggs

1

teaspoon

vanilla extract

2 1/4

cups

gluten-free flour

(10 ounces; 284 grams)

1

teaspoon

baking soda

1

teaspoon

salt

2

cups (one 12 ounce package)

chocolate chips
Instructions
Preheat oven to 350 degrees F. Spray a 9x13 pan with nonstick cooking spray.

Beat together butter, brown sugar, and granulated sugar until thick, about 30 seconds. Add eggs and vanilla extract. Beat until fluffy. Add gluten-free flour, baking soda, and salt. Mix until a thick batter forms. Stir in chocolate chips.

Spread batter evenly into prepared pan. Bake until golden brown, a cake tester inserted into the center of the pan should come out clean, about 30 minutes.

Remove pan from oven. Allow to cool in the pan. Cut into bars. To store: wrap tightly and keep at room temperature for up to three days or freeze for up to 2 months.