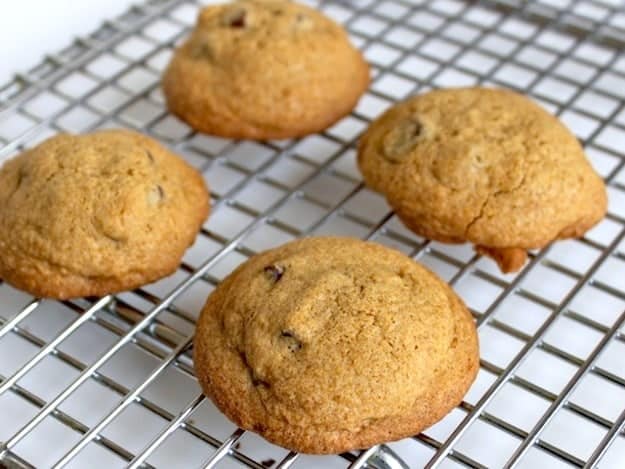 Gluten-Free Chocolate Chip Cookies for Two or Now's a Great Time to Bake Some Cookies
I don't think there's ever a bad time for cookies but sometimes, even when the cookie craving strikes, I'm just not in the mood to bake an entire batch. While I often keep a stash of homemade dough in the freezer—scooped and ready to bake—sometimes that stash runs out. Enter: the mini-batch cookie recipe.
A few days ago, a reader sent me an e-mail saying, and I quote: "Please, please, please, PLEASE convert this recipe to gluten-free." There was no description just a link to the Budding Bakeress' blog. I clicked on the link. It was for a recipe that made just four chocolate chip cookies! Brilliant! I had to make a gluten-free version.
The recipe makes only four cookies like the original but I've tweaked a few things. I swapped butter for shortening because that's what I like in my chocolate chip cookies. (See below if you are dairy-free.) And I reduced the amount of sugar for two reasons: the original cookies were a little sweet, and my gluten-free cookies kept spreading. Cutting back on the sugar solved both the sweetness problem and the spreading problem.
Although this recipe yields a small batch of dough, it makes full size cookies. If you'd prefer to make mini-cookies, reduce the cookies from one tablespoon of dough to one teaspoon. Bake these diminutive cookies for four minutes and then check them. You want them to be golden brown. Adjust baking time as needed.
Gluten-Free Chocolate Chip Cookies for Two: Allergen Notes
Dairy-Free
Replace the butter with shortening and add 1/2 teaspoon additional egg.
Egg-Free
Replace the egg with 1 teaspoon ground flax and 2 teaspoons hot water. Whisk mixture together, allow to stand, and use as you would the egg.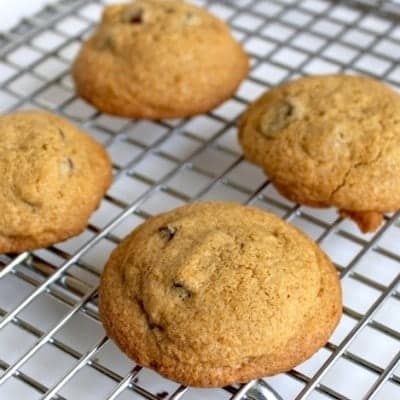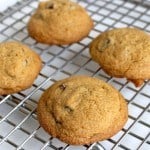 Gluten-Free Chocolate Chip Cookies for Two
Ingredients
3

tablespoons

white rice flour

(3/4 ounce; 21 grams)

3

tablespoons

sweet rice flour

(3/4 ounce; 21 grams)

1

teaspoon

cornstarch

1/8

teaspoon

baking soda

1/8

teaspoon

salt

2

tablespoons

dark brown sugar

1

teaspoon

granulated sugar

2

tablespoons

softened butter

(1 ounce; 28 grams)

1

tablespoon

beaten egg

about two tablespoons chocolate chips

more or less to taste
Instructions
Preheat oven to 350°F. Line baking sheet with parchment paper. In small bowl, whisk together white rice flour, sweet rice flour, cornstarch, baking soda, and salt. In another small bowl, cream together sugars and butter until a thick paste forms. (Use a wooden spoon or handheld mixer. This batch is too small for a stand mixer.) Add the egg. Beat until smooth. Add dry ingredients. Mix until a dough forms. Add chocolate chips. Stir to combine.

Scoop dough, about one generous tablespoon each, onto prepared baking sheet. Bake until golden brown, about 10 minutes. Remove pan from oven. Allow cookies to cool on the pan for two minutes. Using a metal spatula, transfer cookies to a wire rack to cool completely.